(12) Notre Dame vs (18) Wisconsin Preview
Believe it or not, it has been over 50 years since the Notre Dame Fighting Irish and Wisconsin Badgers have faced off. Even though the two schools are a mere few hours away from each other. This week is an exciting neutral site matchup at the legendary Soldier Field. In a week that lacks high profile matchups, this is the biggest game on the schedule.
These programs come into this game looking very similar. Both Brian Kelly and Paul Chryst are looking to get more out of their quarterbacks moving forward. As well, both offenses have struggled to take care of the football, each ranking outside of the top-65 in giveaways.

Tale of the Tape
Notre Dame (3-0) – Wins: Florida State (41-38), Toledo (32-29), Purdue (27-13) | Losses: N/A
Yards Per Play: 5.4 (63rd)
Passing Play Percentage: 52% (45th)
Yards Per Completion: 13.9 (29th)
Rushing Play Percentage: 48% (86th)
Rushing Yards Per Attempt: 2.9 (101st)
Third Down Conversion Percentage: 37.5% (72nd)
Opponent Yards Per Play: 5.0 (51st)
Opponent Yards Per Completion: 10.0 (30th)
Opponent Yards Per Rushing Attempt: 4.3 (75th)
Opponent Third Down Conversion Percentage: 36.7% (56th)
Wisconsin (1-1) – Wins: Eastern Michigan (34-7) | Losses: Penn State (16-10)
Yards Per Play: 5.1 (80th)
Passing Play Percentage: 34.7% (119th)
Yards Per Completion: 9.2 (117th)
Rushing Play Percentage:  65.3% (12th)
Rushing Yards Per Attempt: 4.7 (46th)
Third Down Conversion Percentage: 35.3 (85th)
Opponent Yards Per Play: 4.2 (18th)
Opponent Yards Per Completion: 11.5 (52nd)
Opponent Yards Per Rushing Attempt: 1.8 (6th)
Opponent Third Down Percentage: 20.8% (4th)
When Notre Dame's Offense Is On The Field
The Notre Dame offense kicked off the season by giving the ball away 6 times in their first 2 games. This was the reason Toledo gave them a real scare in week 2. They cleaned it up against the Purdue last week, with no giveaways to speak of.
The biggest story of this game is how successful Kyren Williams can be in the run game. The Badgers have been stout against the run through three weeks with opponents averaging just 1.8 yards per carry. Notre Dame has been inefficient running the ball so far as well. Only 2.9 yards per attempt AND Williams has broken two 40+ yard runs. Jack Coan is likely to be throwing the ball a lot more than the 52% passing rate so far this season. This isn't a recipe for success when it comes to the Irish as the pass protection has been abysmal so far. With the Badgers defense having 2 weeks of rest and preparation for this matchup, Jack Coan is going to need to come up with some timely big plays.
Wisconsin has been great when playing downhill but the way to beat this team is with the deep ball. I'm not sure Notre Dame has this type of player like Penn State has Jahan Dotson. Michael Mayer is a great player and key option for Coan but doesn't have the elite speed to beat the defense over the top. Kevin Austin has been looked to frequently on the outside, having amassed 22 targets through 3 games. He's very athletic for his 6'2 220 frame but lacks breakaway speed. The Irish will need to throw the ball on early downs and avoid third and long situations. The Badgers are one of the top teams in the country on third down, giving up a 1st down on just 20.8% of third downs.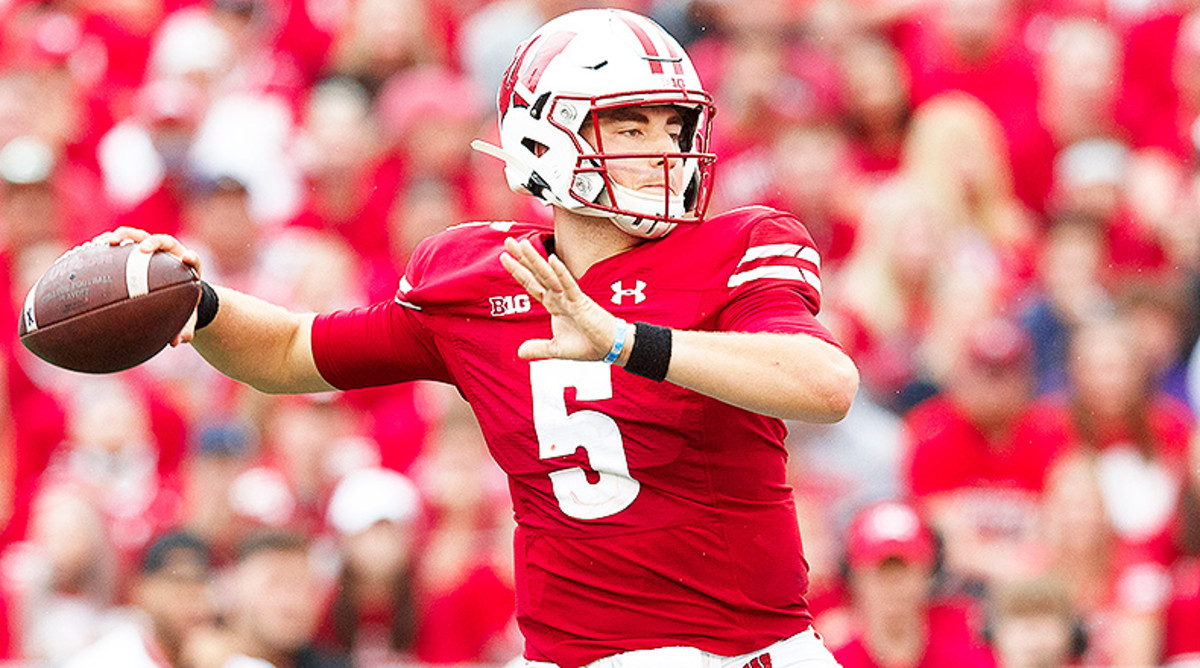 When Wisconsin's Offense Is On The Field
The Badgers' rushing attack was abysmal in 2020. To the surprise of nobody, Paul Chryst went right back to the well in 2021 and the team is running the ball on over 65% of plays, the 12th highest rate in the country. As a result, the passing attack has been stale, ranking 117th in yards per completion. Expectations were high after Graham Mertz's 5 touchdown game to open his career against Maryland. It's tough to be successful when the team is passing at a low rate, meaning he's throwing in obvious passing situations.
As much as I'd like to see Chryst open up the offense, it's not going to happen in this game. Mertz made some costly mistakes against Penn State and now he's got Kyle Hamilton to look out for in the secondary. Notre Dame's defense hasn't been great against the run so far, against inferior competition as well. So I'd expect to see a lot of Chex Melusi, who already has 51 rushing attempts and 265 rushing yards in 2021.
Prediction
As exciting as it is to see these two teams face off at a neutral site like Soldier Field, I can't see many casual college football fans enjoying this game. Wisconsin is 6.5 point favourites and I expect them to really control the tempo of this game. Brian Kelly's team won't be able to win in the trenches, the team is 115th in the country in sacks allowed and cannot run the football. Kyren Williams is the most explosive offensive weapon and will need to get involved in the passing game. With the Irish forced to throw the football I'm worried about Coan and the offense losing the turnover battle. Wisconsin wins ugly.
Wisconsin 23 – Notre Dame 17
OwnersBox has launched the first ever Weekly SuperFlex Salary Cap game! Use the promo code "DREW9" for a FREE $10 entry into our $50,000 Week 3 contest.