NFL Draft Round 1: Winners & Losers
The first day of the NFL Draft did not disappoint. Despite the belief that this years class didn't have the type of top end talent from years past, there was still plenty of teams wiling to trade up to secure a player they felt they couldn't let go anywhere else. There were a total of 9 deals made that resulted in a team moving up or into the first round.
Then there is the fact that the Titans and Ravens dealt key pieces in AJ Brown and Marquise Brown, which certainly raised some eyebrows, especially amongst some of the current players on their respective rosters.
Wtf

— Lamar Jackson (@Lj_era8) April 29, 2022
I've got a few winners and losers for you, even though it's much too early to do this type of thing. But regardless it's great to be getting excited about the NFL season. Let's have some fun and talk football.
WINNER: New York Giants
This was the dream scenario in my mind for the Giants. These were the two guys I mocked to New York but in reverse order. The best way to turn things around quickly is to build through the trenches, Kayvon Thibodeaux and Evan Neal are a great way to start.
The Giants finished 2021 ranking 25th in sack rate and their pressure rate ranked 29th in the league. The recipe to winning football games isn't all about pass rush win rate, but look at the last two Super Bowl Champions. The Los Angeles Rams and Tampa Bay Buccaneers wreaked havoc on opposing quarterbacks late in the season and playoffs on their way to the Lombardi trophy.
Thibodeaux was thought to be the future #1 overall pick prior to the season and his play this past season to me did not do anything to make me think he can't be the best player in this class. He was a game breaker at Oregon to the level that Travon Walker and Aidan Hutchinson weren't.
After not addressing the offensive line in any manner in the 2021 draft, the Giants use a premium pick on the position after having some of the worst pass protection in the NFL last season. Let's not forget when Joe Judge opted to run a QB sneak on 3rd & 9 instead of dropping back to pass on his own 4-yard line.
Neal and Thibodeaux were both thought to be the number 1 pick in this years draft at one point or another. Instead the Giants got them with the 5th and 7th picks. I really like what Brian Daboll is getting to work with in year 1.
LOSER: Washington Commanders
I don't like what the Commanders did on day 1 of the NFL Draft. But let's start with the good. The trade back, although in my mind was not a good decision, netted them a few good quality picks in a deep draft. The return for moving back 5 spots was a 3rd and 4th round pick. Which is valuable to a team that has plenty of holes to fill.
Washington trades out of the pick with the Saints, in which the Saints then selected Ohio State wide receiver Chris Olave. Followed by the Lions trading up to take WR Jameson Williams. This closed a run of three straight wide receivers selected and four in five picks. This left them with their dick in their hands and for some reason reaching massively on Jahan Dotson.
Dotson is a proven player at the college level, scoring 13 touchdowns and racking up 1182 yards in his senior season. His hands are right up there with any of the wide receivers in this class. But his 4.43 40 time is not transferable on the football field. He is not an elite separator and lacks physicality to make plays after the catch.
In that scenario I would have much preferred Treylon Burks if they were dead set on wide receiver. But in reality, this defense had the 27th ranked coverage grade according to PFF and= was 28th in opponent yards per pass attempt. With Kyle Hamilton falling he would have been slam dunk pick for this secondary that desperately needed a ball hawking safety.
The Commanders are too many pieces away from contention to be taking the 7th best wide receiver in the class with the 16th overall pick.
WINNER: Baltimore Ravens
Does a lot of this have to do with my love for Kyle Hamilton? Probably. I know the league doesn't value the safety position very highly, but there are few things this guy can't do. And the Ravens didn't have to do a damn thing in order to get him, he just fell to their lap at pick 15.
This wasn't just a best player available pick either, this was a position of need. The Ravens had dealt with a plethora of injuries last season in their secondary, it's fair to wonder if some of these guys can return to play at the same level. With the Notre Dame standout's versatility, he can even move into the slot in nickel packages.
The Ravens weren't done though, they then dealt Marquise Brown to the Cardinals in order to get back into the 1st round. This was a fantastic return, I really couldn't picture a package with Brown that would net you a first round pick. I don't think it makes this team worse either as Rashod Bateman has all the tools to step into his role.
It's what they did with that pick that makes things even more exciting for Ravens fans. Tyler Linderbaum slots in right away in the middle of this offensive line. This was another direct need checked off the board.
If I were you, I'd be running to the Caesars sportsbook as they have the Ravens listed at +2200 to win the Super Bowl.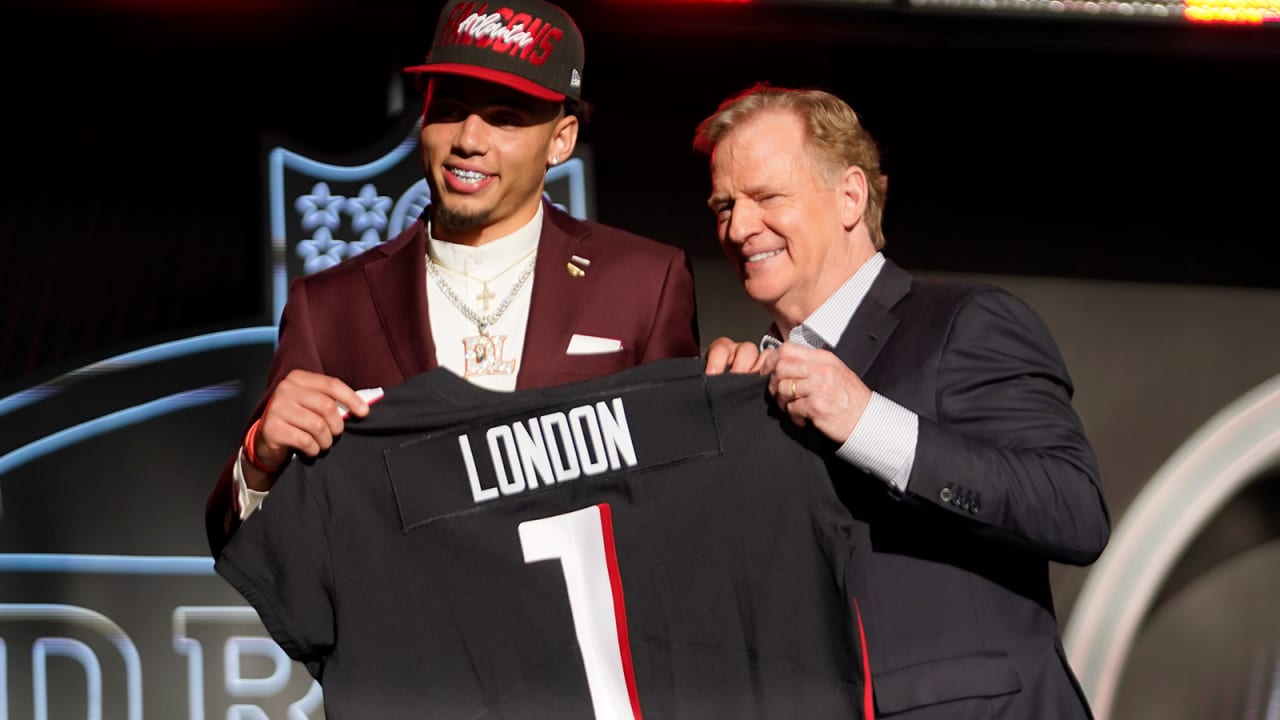 LOSER: Atlanta Falcons
Are we just going to overlook the fact that the Falcons spent two premium picks in the last two drafts on pass catchers? Is that the way to be rebuilding a franchise that is a completely barren wasteland at the majority of other positions?
Look at last season's draft results so far. LG Jalen Mayfield was taken in the third round, he was forced to play 17 games and nearly a thousand snaps. He registered a 27.6 pass blocking grade from PFF. They also had the worst pass rush in the entire NFL last season by a significant margin as they left that position alone until the 5th round. If you can't protect the quarterback or get after the quarterback you aren't winning in this league.
Drake London may end up being the best receiver in the 2022 draft class, that doesn't mean that this is automatically a great pick. He can score 15 touchdowns and have 1500 yards receiving on a team that trails all season long.
This was a good wide receiver class but it feels like that's been the case for a number of years now. It's time for this organization to stop focusing on finding the prettiest girl on the block and look for some foundational pieces to marry themselves to.
For more NFL content check out the OwnersBox YouTube channel and follow our NFL page!