LA Chargers Season Preview
The Los Angeles Chargers head into 2021 with a plethora of optimism. But that has been the case for a few years now. It always seems like media and fans talk about the Bolts as a "darkhorse" or "sneaky playoff contender". Is this the year that they break through and get back to the playoffs for the first time since 2018? They are going to need to stay healthy to do, something the organization has struggled with for quite some time now.
The necessary changes were made this off-season. The departure of Anthony Lynn was paramount to the progression of this franchise. Lynn is a terrific man and motivator, he proved that when the team won 4 straight games to finish the season. But his game management and offensive philosophy hindered this roster.
Enter Brandon Staley, the 38 year-old has risen up the ranks in short order and for good reason. His split safety defensive philisophy is the future of the NFL. Say goodbye to Cover 1 and Cover 3 dominant schemes. We saw it on display with the Buccaneers in the SuperBowl. Teams will be successful in the NFL by being able to get pressure with 4 and having 2 safety sets that keep a cap on opposing offenses. The typical gripe with split safety, nickel defenses is the ability to stop the run. Well Brandon Staley flipped that narrative on it's head last season when the Rams finished third in the NFL in yards allowed per carry (3.8) and fourth in explosive run rate allowed at 9.7% (meaning only 9.7% of runs gained 10 or more yards).
Don't think that the Chargers can't match the personell of the Rams on defense this season. Joey Bosa is one of the premier pass rushers in the NFL. Kenneth Murray is in for a big season under Staley's 3-4 front, he thrived in college at Oklahoma playing sideline to sideline as a run stopper. Not to mention the fact that Derwin James is probably the most versatile player in all of football.
Reasons For Concern
Positional depth to me is the biggest issue with this roster and something I'm surprised they didn't address with all of the available cap space they still have. It starts with the offensive line which was completely overhauled this off-season and looks to make the same turnaround the Cleveland Browns did last season. The front 5 looks great, Corey Linsley, Bryan Bulaga, Rashawn Slater, Matt Feiler, and Oday Aboushi. But the depth behind these 5 is a serious question mark. Trey Pipkins is a development peice at best. Scott Quessenberry took just 3% of offensive snaps last season. Brendan Jaimes is a 2021 5th round pick. This position group is bound to deal with injuries, when one of these backups step in it will create a signifcant hole in protection.
The positional depth in the secondary also baffles me. It was really surprising to see Rayshawn Jenkins move on in free agency. At safety the Chargers will be led by Derwin James and Nasir Adderley. Adderley was an exciting prospect coming out of Delaware but hasn't lived up to his second round draft stock. He gave up 6 TDs and a 133.7 passer rating when targeted last season. By no means am I saying we should be closing the door on the 24 year-old developing into a starting calibre safety but there is a lot of pressure on him to perform. His backup is 7th round pick Alohi Gillman and his safety partner Derwin James has played just 5 of the teams last 32 games.
Reasons For Optimism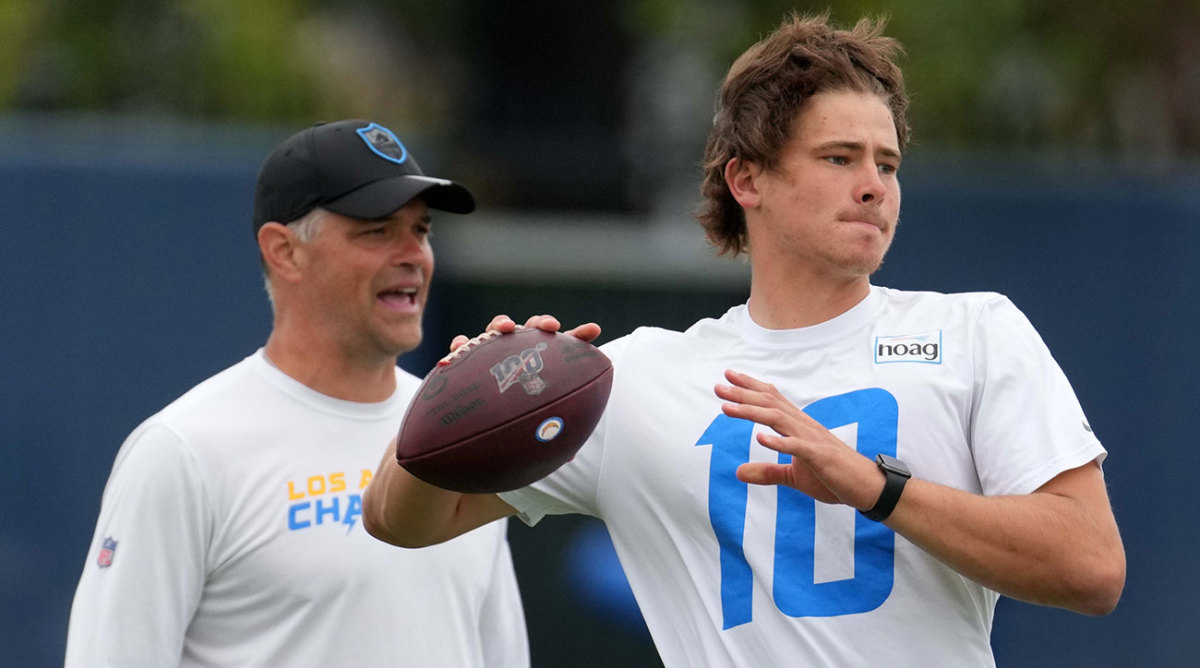 The offensive coaching staff is made up of personell that come from some of the best offensive minds in football. Offensive Coordinator Joe Lombardi worked under Sean Payton as the quarterbacks coach for the last 5 seasons and passing game coordinator Shane Day has spent the last two seasons working under Kyle Shanahan.
Back in the spring Herbert commented on what he expects the offense to look like:
"It's kind of outside zone, inside zone, a lot of play action stuff that the 49ers do," Herbert said. "And then you get a lot of the Saints stuff that they bring in. It's kind of been a big combination of those two so far."
Look at what the Bills were able to do last season under Brian Daboll with play action last season! With a horrible running game that averaged 4.2 yards per carry they had one of the best pass offenses in the NFL. Now imagine play action with a versatile RB like Austin Ekeler in combination with a super athletic Justin Herbert.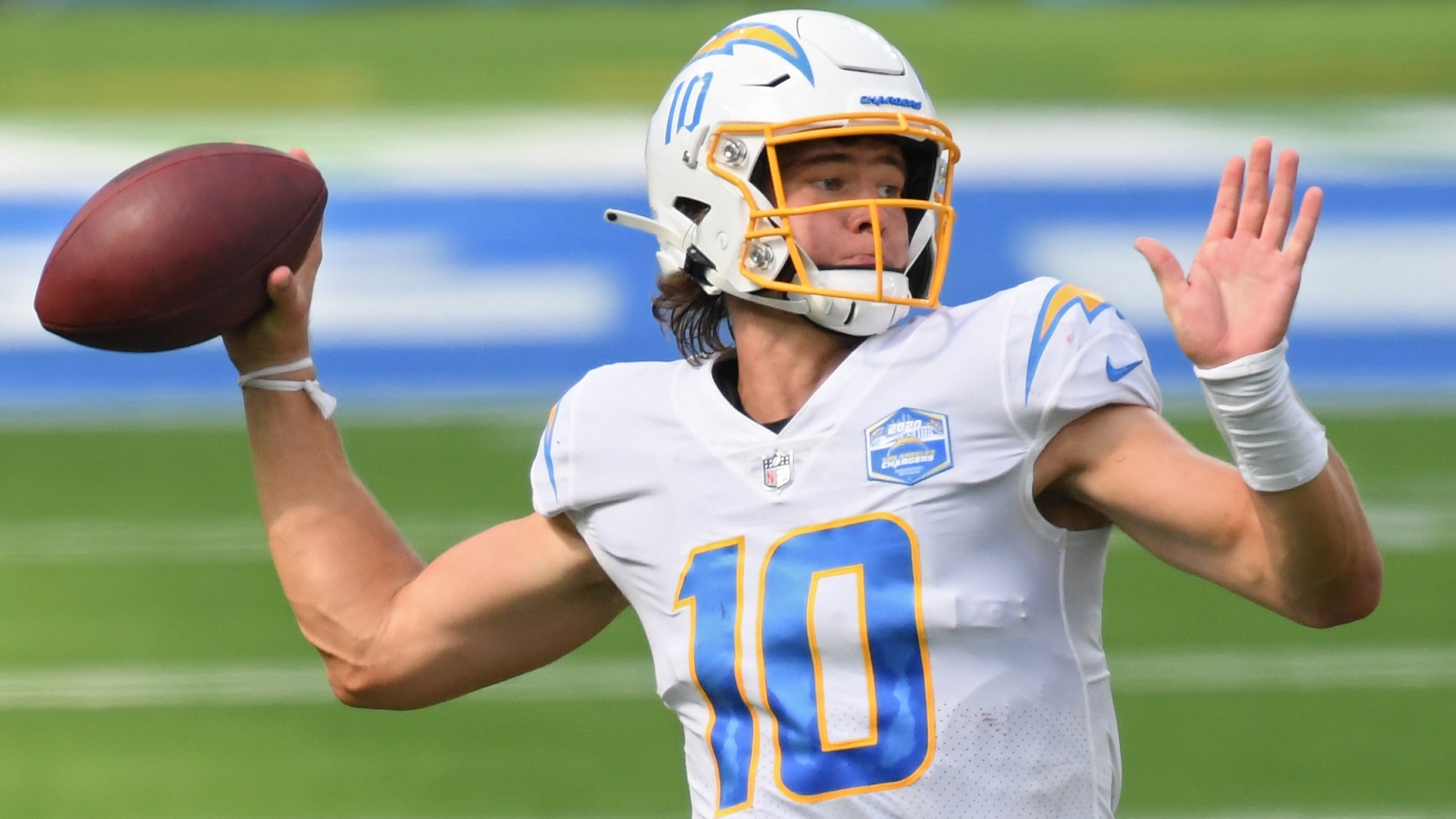 One narrative that has taken over this off-season is Justin Herbert's success under pressure and in a clean pocket. He had the best passer rating in the NFL against pressure (99.4). But when he had a clean pocket his 7.1 yards per attempt was below average, along with his passer rating. People are using this as a knock against Herbert, which is absurd. He faced an astounding 28.8% of snaps under pressure last season. When he put up 31 points against the Super Bowl champion Bucs last season, he faced pressure on 56%, FIFTY SIX PERCENT, of snaps. Justin Herbert faced pressure much too often last season. With a new offensive line he won't be constantly worried about where the pressure is coming from. This will lead to much better play in a clean pocket. The sophomore slump isn't coming under this coaching staff and protection up front.
I wanted to cap this off by talking about Staley's defensive prowess. As much as I am concerned with the secondary, Staley's scheme and play calling can certianly overcome the personell on the field. This is the benefit of hiring a defensive minded head coach. Staley can focus on the development of the defense and trust that Herbert's skill set can lead the offense. The quarterback proved it under lackluster play calling last season. Staley can take this team to the playoffs if the injury bug doesn't hit as hard as it has the last 2 seasons.
If you like this article, be sure to check out more of our football content! Also, we are launching our new Weekly Tournament game for NFL this season so be sure to look out for that. We will be doing free-rolls and large prize pools all season!