Head Coach: Matt LaFleur
General Manager: Brian Gutekunst
2020 Regular Season Record: 13-3
2020 Result: Lost NFC Championship Game
Super bowls: 4
New Additions and Losses – Offensive Outlook
The Packers have most certainly been in the spotlight this offseason. It all stemmed around the trouble between Aaron Rodgers and the Packers organization. Rodgers has been getting increasingly frustrated with the team and shit really hit the fan this year. Many conflicting reports came out from multiple different sources over the past few months, but in the end, Aaron finally decided to come back to the team. In doing so, he got his contract restructured to give him an out after this season, and with the post him and Davante Adams made on Instagram about a month ago, this feels like it's their last go at it.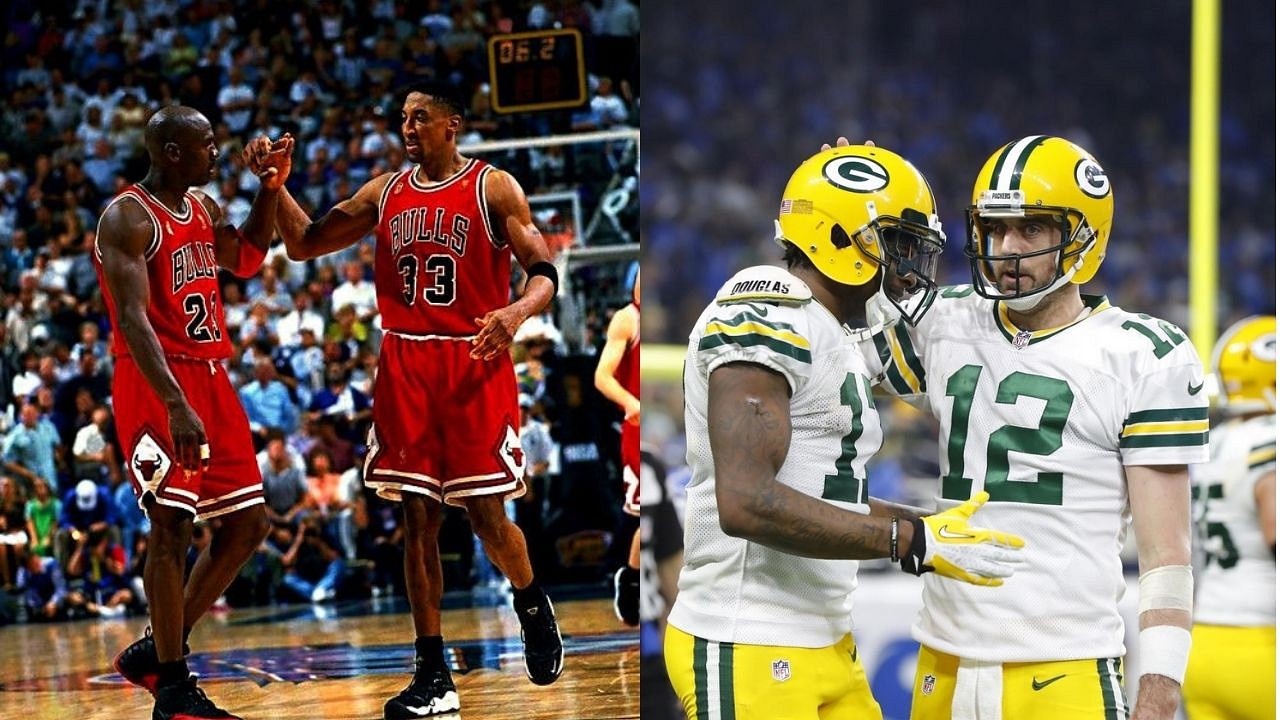 One of the issues Rodgers has had with the organization over the years, is their reluctance to draft or sign weapons for him. For some reason the Packers have always just refused to use a first or second round pick on a wide receiver. So when the Packers used their first round pick on quarterback Jordan Love in 2020, I think that just added to the fire. To appease to Rodgers, the Packers brought in 3rd round rookie Amari Rodgers and 30 year old Randall Cobb this offseason. Definitely not guys I'd consider difference makers at the position, but hey, it's what Rodgers wanted.
The main trio staying together is the important part of this offense. Rodgers, Jones and Adams are the keys to the Packers success offensively and it's safe to expect a big year out of all 3 again. The Rodgers to Adams connection was absolutely lethal last season, and while I don't expect to see quite as many TDs from Rodgers (set a career high last season with 48) they're still going to be slinging it.
There were 2 main losses this offense saw, running back Jamaal Williams and center Corey Linsley. Williams isn't that big of a deal with how replaceable the running back position is, but Linsley is a tough loss for this team. He's one of the league's best center's and was a key piece to their oline. In to replace him is 2nd round rookie Josh Myers, who is by no means a sure thing replacement. Myers was pretty solid in the run game at Ohio State, but struggled quite a bit with pass protection. Hopefully he can adjust quickly to the NFL game and be a serviceable starter.
The rest of the offensive line is still intact and it should still be one of the leagues best. David Bakhtiari is arguably the best offensive lineman in the league.
Best Player – David Bakhtiari
Breakout Candidate – Allen Lazard
Biggest Concern – Aaron Rodgers giving up on the team
New Additions and Losses – Defensive Outlook
There were very few changes to the defense this offseason. They used their 1st round pick on cornerback Eric Stokes who is an absolute burner on the outside, as he ran a 4.28 at the combine. It's safe to say not many guys are going to be able to beat him with speed. It's expected that he's going to immediately get thrown in to a starting role behind Jaire Alexander and with how Kevin King played in the playoffs last season, I'm sure that's a great thing to hear for Packers fans. Amos and Savage are a great safety duo in the back end too.
Another offseason addition was linebacker De'Vondre Campbell, formerly of the Arizona Cardinals. Campbell was a pretty solid linebacker last year, and in the 4 years prior with Atlanta. With the loss of Blake Martinez last offseason, the Packers have been looking for a replacement down the middle of the field, Campbell may be that guy. If Krys Barnes can take another step up, the two of them could combine to fill the shoes of Martinez.
Up front things should look very similar. Kenny Clark is a great interior linemen, making his mark in the pass rush and run defense. Za'Darius and Preston Smith caused havoc upon opposing offenses in 2019, but last year they weren't quite as impactful, well at least one of them wasn't, that being Preston Smith. Preston saw a major dip in sacks, going from 12 in 2019, to just 4 last season.
If we don't see him get back to form, I wouldn't be surprised to see 3rd year player Rashan Gary take over that role. Za'Darius was just as good, if not better in 2020 from the previous year, as he had 12.5 sacks, 4 forced fumbles and 2 fumble recoveries. Him, Kenny Clark and Jaire Alexander are the 3 locked and loaded studs of the defense.
Best Player – Jaire Alexander
Breakout Candidate – Eric Stokes
Biggest Concern – Kevin King getting playing time
Season Schedule, Predictions and Packers Season Preview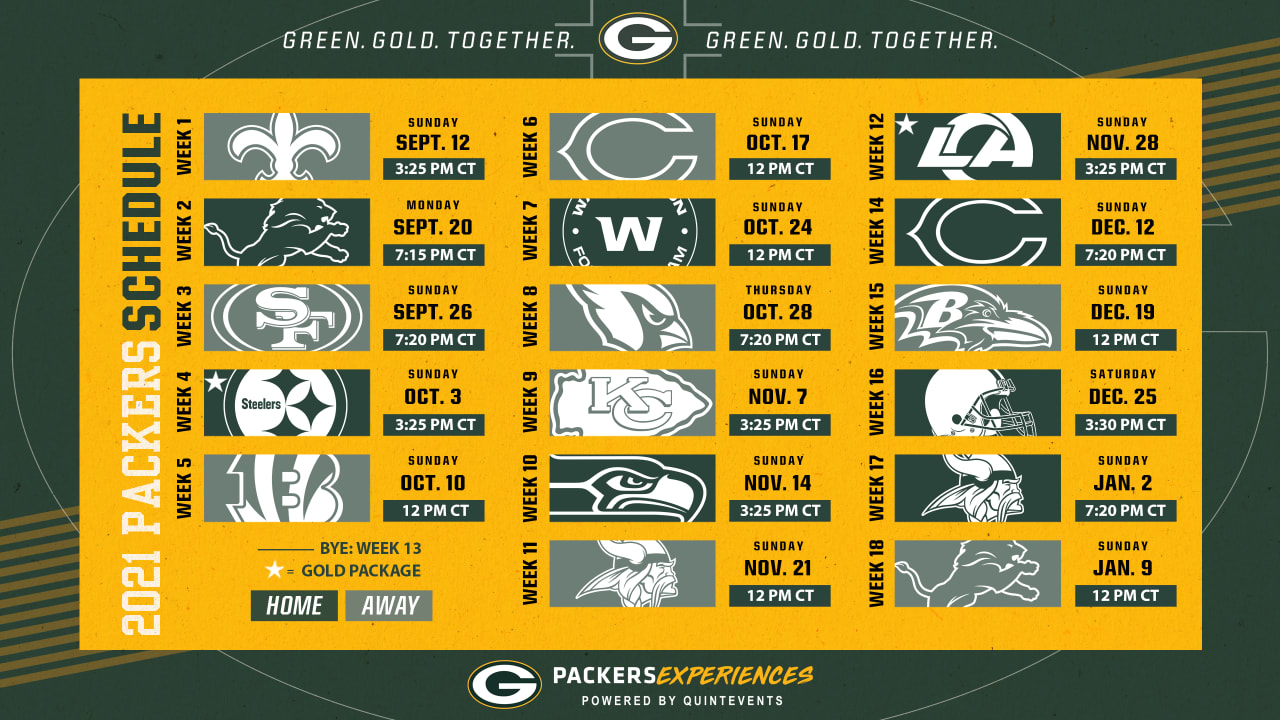 Week 1: @ New Orleans Saints – W
Week 2: vs Detroit Lions – W
Week 3: @ San Francisco 49ers – L
Week 4: vs Pittsburgh Steelers – W
Week 5: @ Cincinnati Bengals – W
Week 6: @ Chicago Bears – W
Week 7: vs Washington Football Team – W
Week 8: @ Arizona Cardinals – W
Week 9: @ Kansas City Chiefs – L
Week 10: vs Seattle Seahawks – W
Week 11: @ Minnesota Vikings – L
Week 12: vs Los Angeles Rams – L
Week 13: BYE
Week 14: vs Chicago Bears – W
Week 15: @ Baltimore Ravens – L
Week 16: vs Cleveland Browns – W
Week 17: vs Minnesota Vikings – W
Week 18: @ Detroit Lions – W
Season Total: 12-5
The Packers are a lock for the playoffs, the question is, can they finally pull it off? They seem to make the playoffs every year, but haven't made the super bowl in over 10 years. I'm not convinced they can do it this year. The Buccaneers and Rams both look like they have better overall rosters than the Packers, so I wouldn't be surprised to see another divisional or conference final exit for them.
This is a very important year and maybe the last chance for Green Bay to get back to the super bowl. With Rodgers given an out after 2021 and Davante Adams contract expiring after the year, plus throwing in the fact that both guys posted The Last Dance pictures on their Instagram, I wouldn't be surprised to see both gone in 2022.
Follow me on Twitter: @sexypats
OwnersBox has launched the first ever Weekly SuperFlex Salary Cap game! Use the promo code "DREW9" for a FREE $10 entry into our $100,000 week 1 contest.