The saying "fake news" is a relatively new one in our society. It's a saying that originated because people started to realize that members of the media would say things that were inaccurate in order to have society believe one way or another. It is in my opinion that if you are a member of said media, that you have a responsibility to be 100% certain that the news you put out is 100% accurate. Call me naive but I tend to trust those who have a blue check mark next to their name on twitter dot com and when they announce news, I don't normally doubt it.
That is not the case anymore.
For those who don't know, this week is Trade Deadline week in the MLB which means baseball fans like myself have spent all week refreshing Twitter like our lives depended on it waiting to see if our teams were going to make any moves. As a San Diego Padres fan, this year was a rare year where we were "buyers" meaning we were looking to trade our young prospects for stars who can help us compete for a title this year. There were rumors that we were interested in just about every player on the market after already trading for Adam Frazier earlier in the week so I was in a great mood yesterday waiting to see what else my guy AJ Preller was going to do.
And then my wildest trade deadline dream came true.
BREAKING: Padres close to acquiring Max Scherzer, sources tell @TheAthletic.

— Ken Rosenthal (@Ken_Rosenthal) July 29, 2021
MAD MAX ON HIS WAY TO SAN DIEGO. AJ PRELLER DID IT AGAIN. IN PRELLER WE TRUST. WORLD SERIES BOUND.
Ken Rosenthal, one of the most reliable "insiders" in the world, dropping news that my guys acquired the most coveted arm on the trade market. Our starting pitching issues were solved all in one tweet and my fellow Friar fans and I were elated.
And then the doubt started to creep in.
Padres are working hard to try to reach agreement on a Scherzer deal with Nats. They may be in the lead but no sense the Dodgers or others are out yet. Also very important; in the end, while Scherzer will consider these finalists, with full veto rights, he can call the shot.

— Jon Heyman (@JonHeyman) July 29, 2021
Sources say other teams are still trying to top Padres for Scherzer. Nationals and Padres essentially have agreed on players in trade. Situation may be complicated by Scherzer's ability to veto any trade and effectively choose next club.

— Ken Rosenthal (@Ken_Rosenthal) July 29, 2021
In less than 10 minutes my excitement was erased by doubt. The 4 foot 11 inch bow tie wearing clown's tweet making my dreams come true was starting to expose itself as the aforementioned "fake news."
Even with this doubt, I remained confident that they were just wrapping up the details. Dotting some i's and crossing some t's if you will. As I've said, I considered Kenny to be one of the most reliable sources out there. One of my friends even texted me earlier that morning asking who he should be following for reliable news and Ken was one of the five names I gave him.
And then… a bomb was dropped by the most reliable of them all, Jeff Passan, that turned my dream day into an absolute utter nightmare.
BREAKING: The Dodgers are finalizing a deal to acquire star right-hander Max Scherzer and star shortstop Trea Turner from the Washington Nationals for a massive prospect haul, sources tell ESPN. The blockbuster of blockbusters is going to happen.

— Jeff Passan (@JeffPassan) July 30, 2021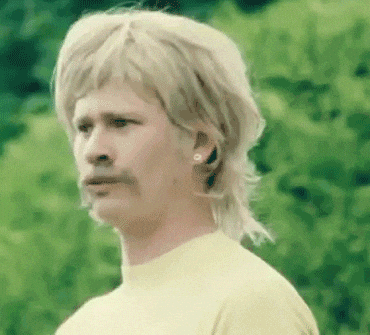 ;HGNVUICKEAFHNVDLIHUA;OUHFVNQUEFIJ!!!!!!!
Like CMON MAN!!! Not only did my most hated rival get the starting pitcher I thought was going to be mine. But they get Trea Turner, who in my opinion is the 2nd best shortstop in all of baseball (you can probably guess the best). The worst part of all of this is that I never expected the Padres to get Max in the first place. I knew we were going to make moves but didn't see him as a viable option and was more of a dream if we could pull it off. If that little fool never tweeted that he was going to my Padres and this trade went down then, while I'd obviously be upset that the Dodgers got better, I wouldn't feel like they did it at the expense of the Padres.
This tweet from a fellow fan really sums up how I think we all feel.
If Rosenthal didn't prematurely ejaculate on the Scherzer news I would have been okay with Frazier, Hudson, then eventual starter. But this mofo raised my hopes just to steal it like a theft in the night. Unforgivable.

— Giannis Auntiegotapoodle (@TooMuchMortons_) July 30, 2021
And now I want to get into our buddy Ken Rosenthal a bit more. As I've said, he was someone who I always considered to be one of the more reliable sources in baseball. When Ken tweets something, it's very fair to take it as a fact because he's rarely (if ever) wrong and you'd think he would be 100% certain before putting something out to the world. However, we live in a world where these "insiders" care way more about being first instead of being correct. It's pathetic, shameful, disrespectful, and just absolute bullshit that that clown is able to tweet out what he did and then simply change his tweets over time with no repercussions. The tiny man is literally on MLB Network as I write this blog talking about other moves the Padres might make before tomorrow's deadline like nothing happened. At the very least he needs to be banned from breaking any news until the deadline passes but ideally he should be locked up in Guantanamo Bay for the rest of eternity where he belongs. Ken Rosenthal will never be trusted again. All of his credibility has been stripped and it will never be recovered. Never try to step foot in San Diego ever again Kenny. You and that stupid ass bow tie are not welcome in our beautiful town. Asshole.
Just checked the "deleted" @OwnersBox blogs and came across this 💀😂@CGange6 pic.twitter.com/N5TEoCaY2y

— Sandy Plashkes (@SandyPlashkes) July 30, 2021
I hate you Ken Rosenthal.
If you like this article, be sure to check out more of our baseball content. Also, we are hosting daily free-roll MLB contests on our platform for the rest of the season. Sign-up to play Weekly Fantasy Baseball here and use promo code "skippers5" for a free entry into any MLB tournament contest!