I've talked about a lot of guys this offseason, and like anyone, my opinions on players are constantly changing. So now that we're set to kick off tonight, I've finalized my list of my guys in fantasy I'm all in on this season, and all out on. I've separated them by tier, from absolute favourites, to complete busts.
Guys I'm Betting my Life on
Antonio Gibson – All signs are pointing to a massive season for Gibson in 2021. The Football Team released Peyton Barber, showing their confidence in Gibson on the goal line. Plus they've been saying all offseason they want to get him more involved in the passing game. The sophomore is going to be used in all phases of the game and an absolute force in fantasy.
D'Andre Swift – Swift has fallen down draft boards recently with his groin injury. Am I worried? Not at all. Doctors are saying this isn't anything to worry about so I believe it too. This team is going to be bad, but Swift is easily the best player on this offense. I predicted earlier in the offseason he could have a Christian McCaffrey (in his sophomore season) type year and I stand by that. He's an extremely talented back and I wouldn't be surprised to see him have a massive involvement in the receiving game.
Tee Higgins – The fact that this man is going as late as the 6th or sometimes even 7th round in drafts is baffling to me. Ja'Marr Chase has looked like shit throughout the preseason, while it's been the opposite for Higgins. I fully expect him to be the WR1 over Chase, and this team is going to be throwing the ball a lot. After a great rookie season, expect a massive breakout for him.
Must Draft Players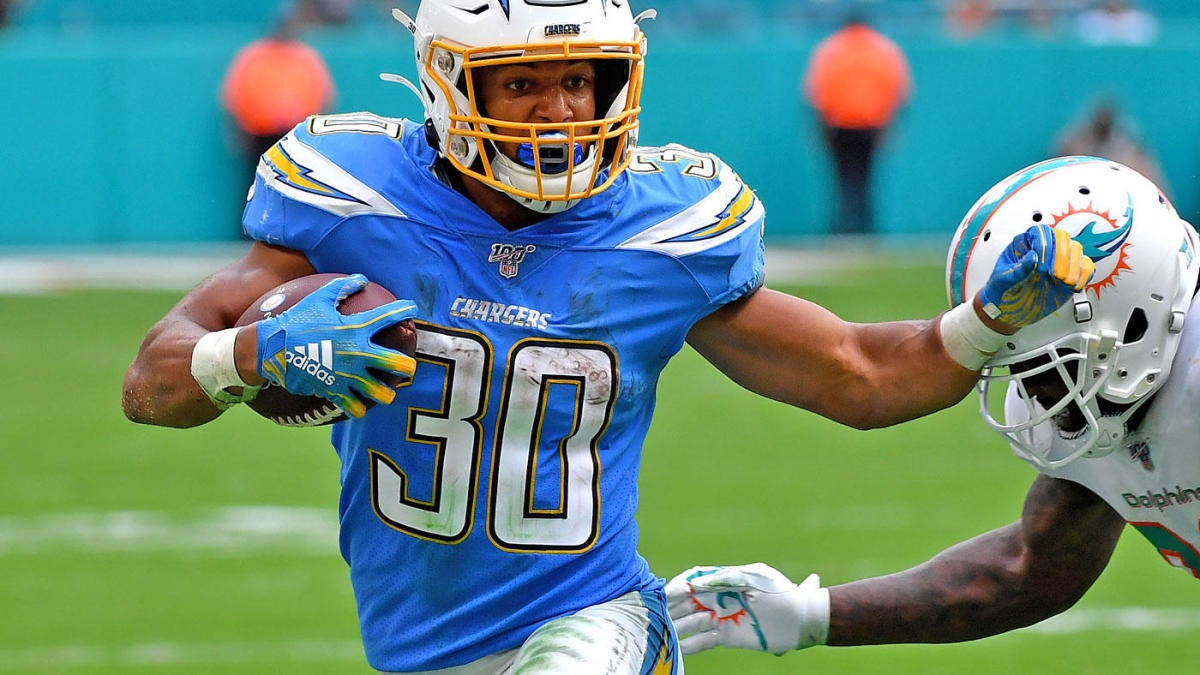 Austin Ekeler – Ekeler fell off the list of guys I'd bet my life on, simply because of the hamstring injury yesterday. While I don't believe it's a serious injury, it's never good to see a hamstring injury pop up. If anyone can beat this ASAP, it's Ekeler, and when he's on the field, his upside is being severely undervalued by many. Besides CMC, he's likely the only RB that has 100 reception upside if this offense is humming like I believe it will. All he needs is the goal line work to have legit RB1 overall upside, just take a look at his incredible numbers with Herbert last season:
Brandon Aiyuk – Just like with Ekeler, Aiyuk fell off my top tier because of a hamstring injury. While I'm not overly worried, it could linger into the season and he misses a couple weeks, but I'm still very confident in him. I fully expect him to be the WR1 on this offense, and used in many ways by Kyle Shanahan. He's got all the talent in the world, the only concerns people have are that there's too many mouths to feed. However I believe the cream always rises to the top, and Aiyuk is definitely that guy.
Clyde Edwards-Helaire – After disappointing his fantasy owners in his rookie season, Clyde is back with a vengeance in 2021. Andy Reid is known for giving his guys workhorse roles, but he's also known for not immediately throwing them in to one. Brian Westbrook is a great example of that, as it wasn't until his 3rd season he took over that backfield. All signs point to Clyde getting that now, as even in the preseason his usage rates showed he's not going to come off the field on 3rd down or goal line situations. On the best offense in the league, Clyde has monster upside in fantasy.
Best Late Round Targets
Jakobi Meyers – His ADP has shot up a fair amount since the release of Cam Newton, but I still love the value on Meyers in the double digit rounds. Agholor will be in contention for the WR1 role, but he's more of a downfield threat with Meyers being the possession guy. Meyers has legit WR2 upside if the connection is there with Mac Jones, definitely a guy I've looked to take on as many rosters as possible.
Terrace Marshall – I've compared Marshall to Chase Claypool's rookie season quite a bit this offseason, and I truly believe he has that upside. It's a crowded WR room, but he's shown some great flashes in the preseason and I wouldn't be surprised if he's the number 2 red zone threat after CMC. There's absolutely no floor with this pick, but with how late you can usually get him (14th or 15th round), I've found myself taking him in almost every draft.
Bryan Edwards – Edwards had a pretty atrocious rookie season, which typically doesn't bode well for future outlooks. However, with what we've been hearing out of Raiders camp, he definitely has some upside in 2021. It's probably not saying much, but to me he has the best odds of being the WR1 on this team. The comparisons we've heard are ridiculous, as the team has compared him to Randy Moss and Terrell Owens, but at least that means we know the team loves him. I loved him coming out of college so I'm willing to take a chance on him with how late he's going.
Biggest Busts
Joe Mixon – I've been a Joe Mixon hater all offseason, and that still hasn't stopped. Every year people try and find a new BS reason to like him, this year being the departure of Giovani Bernard and his 4 touches a game. Mixon hasn't been an efficient or talented back since 2018, and the lack of an offensive line doesn't help that. He'll get a large amount of touches, but I don't think he has anywhere close to enough upside to be considered a good pick in the 2nd round.
Laviska Shenault – Shenault has received quite a bit of praise this offseason, and has sometimes creeped into the 7th round of drafts. I don't understand this at all. D.J. Chark is still there and the team brought in the always underrated Marvin Jones this offseason, so there's plenty of competition on this offense. Urban Meyer has said he plans to run the ball a lot as well with James Robinson and Carlos Hyde. It also doesn't help that the team sucks. If this was a good offense I might be intrigued, but it's impossible this many guys can succeed on such a bad team.
Adam Thielen – My final fade is Adam Thielen who had a monster season from a touchdown perspective, but severely underperformed in terms of yardage. I discussed this on full on Twitter recently, and this thread is all you need to know about his outlook for 2021:
Adam Thielen scored 14 touchdowns with just 925 yards last season.

Since 2005 just 3 WRs have hit that touchdown mark with less than 1200 yards receiving.

Doug Baldwin (1069/14)
James Jones (784/14)
Dwayne Bowe (1162/15)

(1/3)

— Jared Hall (@sexypats) September 2, 2021
Those are the 12 guys I'm planting my flag on in 2021, the 12 guys I'm most confident about.
Follow me on Twitter: @sexypats
OwnersBox has launched the first ever Weekly SuperFlex Salary Cap game! Use the promo code "DREW9" for a FREE $10 entry into our $100,000 week 1 contest.