NFL Wide Receiver Prospect Rankings
We talked about the quarterback recruiting class last week, now it's time to get into the crop of wide receivers in the 2022 NFL Draft. The quarterbacks outside the top-5 don't have much upside. But the wide receiver position has plenty of depth outside of it, including some players at the position that could make an impact instantly in year 1.
The 5 players I talk about in this article are almost certainly going to be selected in the first round of the NFL Draft. I've poured over the tape, now let's get into the evaluation.
5. Chris Olave – Ohio State
There are a number of things I can point to that elevates Olave into this top-5 over some of his counterparts. He's not the most physically dominant receiver in this class, standing at approximately 6'1 and 188 pounds. But he finds ways to overcome that on a consistent basis against high level competition.
What separates him is his release and ability to beat press coverage at the line of scrimmage. There is such a nuance to his game at this level, he turns defenders inside out in an instant with his acceleration and quick twitch ability. This translates to his overall route running as well, he may be the best route runner in this class. His angles and hard sells in his route tree are really really good.
With all the good that comes with his ability to create separation there are a few concerns when it comes to the next level. What these receivers ahead of him are more polished in is catch radius. This gets masked at the college level when he's so consistently detached from coverage. If the ball is away from his body you may see some inconsistency.
4. Jameson Williams – Alabama
If these rankings were purely based on talent alone, Williams would get a bump a few spots ahead in this group. But the reality is that the former Alabama wide receiver tore his ACL in January and it can't be left out of his evaluation. Williams has the type of breakaway speed you don't come across very often so the concern is whether that will sustain itself post surgery.
One thing I noticed from his tape is that he lined up in the slot or in bunch sets a fair bit, which gave him a lot of free releases as opposed to dealing with the physicality of opposing defensive backs at the line of scrimmage. His frame is similar to that of Olave at 6'2 and 188 pounds. The only real knock on him at the next level is his competitive toughness and being able to deal with physicality.
Williams has the chance to be a premier big play wide receiver and would be an excellent addition to any team looking for a field spreader. The Chargers are a fit people will be talking about all the way up until the draft. He's an after the catch nightmare as well with not just breakaway speed but the athleticism to make multiple defenders miss in tight windows.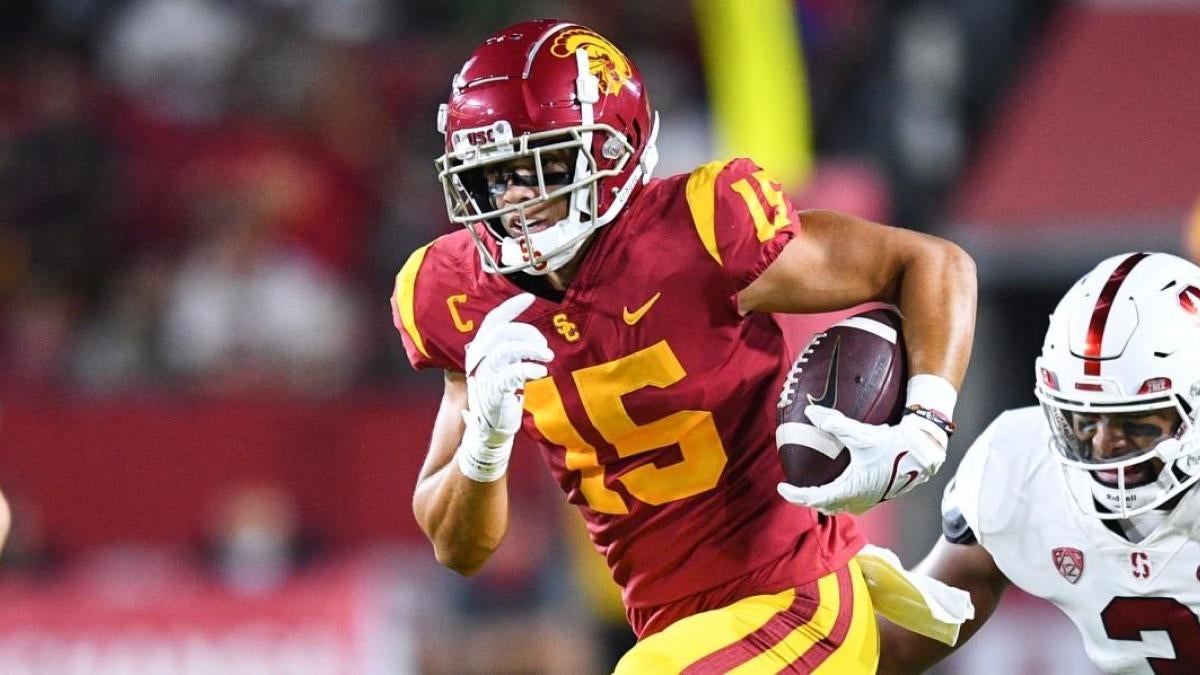 3. Drake London – USC
Standout wide receiver Drake London from the University of Southern California is the biggest frame amongst this class at 6'5 210 pounds. You can't evaluate his talent the same way you would your traditional player at the position. His experience as a dual sport athlete, playing basketball at USC as well, has created a freak athlete for his size.
London is great in contested catch situations and has really strong hands to make plays in traffic. He tracks the ball incredibly well and with his basketball background can elevate to make plays with a really good catch radius. Even at his size he can create separation and has deceptive speed to make big plays as well.
With the level of competition and physicality in the PAC-12 you have to wonder how well his overwhelming size will translate against the best defenders in the sport. London hasn't played more than 8 games in a season and in 2020 played a conference only schedule. Will he be able to create separation and big plays in the NFL?
2. Garrett Wilson – Ohio State
There is a reason why Jameson Williams left Ohio State to join Alabama and why Chris Olave seemingly didn't have as statistically impressive of a season as the public may have thought. It's because of the talent that Garrett Wilson has and his ability to demand targets from his quarterback. He is a quarterbacks best friend and will make an impact instantly in the NFL.
Wilson is so shifty at the point of attack and creates separation easily. Even at 6'0, 190 pounds he can still break press coverage and get off the line of scrimmage in an instant to leave defenders in the rear view mirror. His best trait is probably his work after the catch, he's great in one on one situations or in the open field. He'd thrive in an offense that uses bubble screens and jet motion options for him.
Wilson would be best suited playing in the slot or making plays in the short and intermediate areas of the field. Unlike some of his counterparts, he isn't as useful if he's used as a vertical threat. Another note from his film is his concentration, you'll see some drops that just shouldn't happen if there was better focus from him.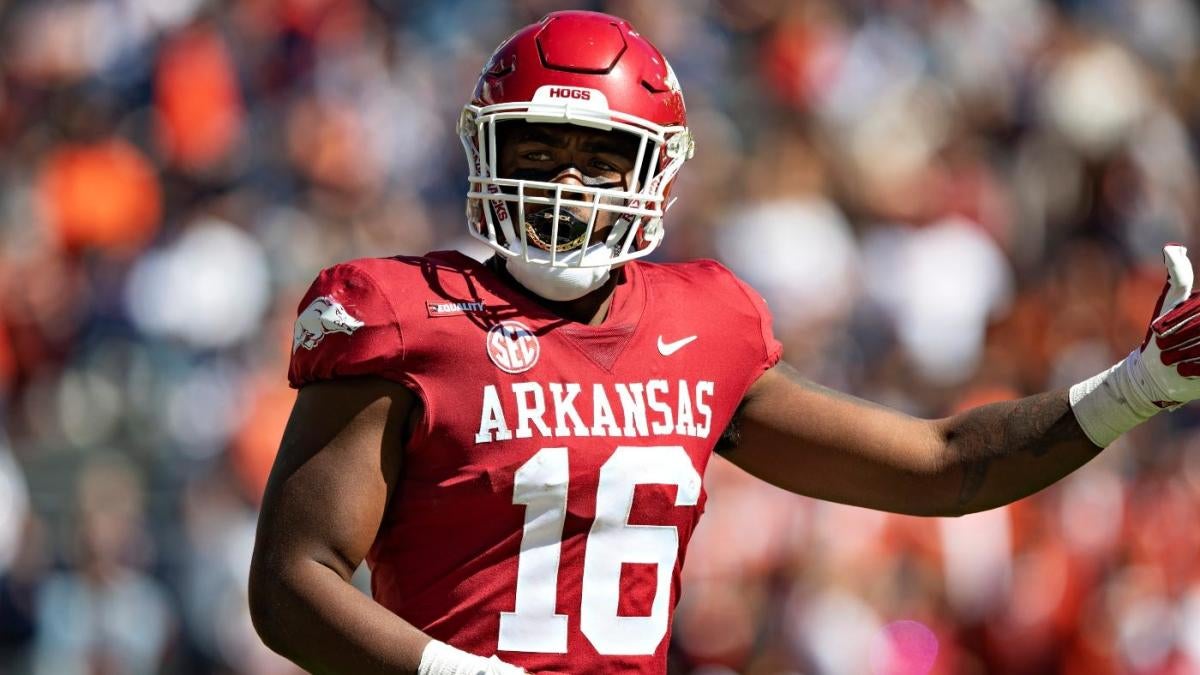 1. Treylon Burks – Arkansas
Treylon Burks is the most unique talent in this class, you'll be hearing plenty of comparisons between him and DK Metcalf or even Deebo Samuel. Burks was all over the field with the Razorbacks whether it was in the slot, on the outside or even in the backfield. His frame at 6'3 225 pounds make him a tackling nightmare for opposing defenses.
You can pin down Burks' number one trait by watching just a single game of his in 2021. Arkansas would look for as many ways as possible to get Burks into a 1-on-1 situation as he consistently wins in those circumstances. He can go up and get it with just about anyone, reminiscent of Mike Williams with the Chargers.
You can go on and on about his contested catch ability and it comes down to more than just physicality, he's got great hands to make difficult catches look routine and is always getting in proper hand position to locate the pass. With such a high usage rate at Arkansas, a 31% college target share, he's got a high football IQ to create space for himself with so much attention from opponents.
The biggest concern for him in the NFL will be separation, he's not as quick or shifty like Williams or Wilson. NFL evaluators are going to question whether is sure handedness as a pass catcher is going to be enough if he isn't creating through his route running.
For more NFL content check out the OwnersBox YouTube channel and follow our NFL page! You can play fantasy football on OwnersBox for free with promo code "DREW9".