OwnersBox Salary Cap Lineup
We're back at it again with another MLB salary cap lineup. I got very analytical with this one and it is going to perform. If you haven't already, use code "skippers5" for a free $5 entry into a salary cap contest on OwnersBox! Without further ado, let's get into it.

Pitchers
Tarik Skubal ($25,600) – Two starts for the Tigers righty this week, against the Rangers and Royals. The Rangers hitting a paultry .225 against right handed pitchers. Getting Skubal at $12,800 per start against two of the bottom feeders in the American League is a steal. He's also a very safe play as well, as he's only had negative fantasy points in 2 starts.
Zac Gallen ($13,500) – The Diamondbacks ace has struggled to stay healthy this season but he's primed for a big week in his 1 start against the Cubs. Chicago has the worst average in major league baseball against right handers at .218 and have the second most strikeouts vs RHP as well. He his a must add to your lineups.
Outfielders
Hunter Renfroe ($21,000) – Renfroe is in line to see 3 left handed pitchers this week, he's hitting .301 against them this season. Mix in a spot start today against Thomas Hatch and the Red Sox outfielder has some nice value with 7 games this week.
Bryan Reynolds ($15,500) – One of the sneakiest hitters in baseball this season. The Pirates centerfielder is has hit 17 home runs and has an xwOBA in the 92nd percentile. A couple games against Arizona should give him a chance to start our week hot.
Joey Gallo (22,800) – Gallo has cooled down since returning from the All-Star break.You know what will help? A visit to Detroit to face the lowly Tigers, who are giving up a 34.6% hard hit rate to left handed hitters. Gallo moon shots incoming.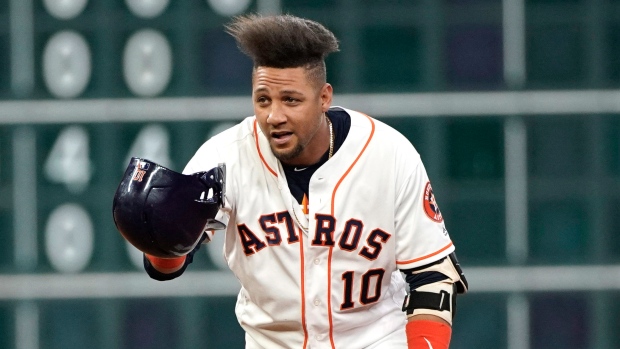 Infielders
Tyler Stephenson (14,400) – The Reds catcher has been hitting in the 3 spot recently. This is a nice fantasy recipe as he's going to have the opportunity to drive in runs with India and Winker in front of him. The Reds host the Cardinals and Stephenson has had some of his best fantasy outputs against them, including a couple home runs.
Jared Walsh (19,800) – The Angels corner infielder is one of my favourite plays this week. The Twins give up the most home runs and have a .276 average against left handed hitters.
Yuli Gurriel (20,400) – Speaking of teams who give up home runs, Gurriel is in for a three game set with the Rangers this week. Texas gives up the most home runs to right handed hitters. Gurriel also provides a safe floor with a K% in the 99th percentile.
Matt Olson (19,000) – Olson is averaging 18.4 fantasy points per game in his last 5. Last time he was in Seattle he went off for 21, 32 and 18 OwnersBox points. Get him in your lineups.
Rafael Devers ($28,000) – With the value I've found on all my other players I was able to grab a big bat in Devers here. With 7 games this week all in the AL East, this is the biggest stretch of the Red Sox season.
Ditch setting it and forgetting it, join OwnersBox and have more control over the outcome. OwnersBox has 7 day contests. Build your lineup, manage it throughout the week and get paid like the pros. Am I more likely to be right if I predict Ohtani to hit a homerun tonight or if I say he'll hit a home run this week?