Week 3 Fantasy Football Takeaways
We are three weeks into the NFL season, by now you should be willing to adjust your expectations on players fantasy outputs this season. There are some performances so far that are sustainable while others demise has the writing on the wall. In this article, I'm going to touch on 5 things we learned this past week that you need to consider moving forward in the fantasy football season.
Mike Williams Is For Real
If you weren't in on Mike Williams before this season you need to change your tune. His success isn't even impacting early round draft picks Keenan Allen and Austin Ekeler. The Chargers currently have two wide receivers in the top-5 in targets. Under a new coaching regime they've put the ball in Herbert's hands and brought a much more balanced attack. But this is just the beginning as to why Williams emergence is for real.
The coaching staff told us that Mike would take over the X-receiver position that Michael Thomas played with the Saints under new OC Joe Lombardi. That is exactly what they've done as he's gone from a career average 70% of routes out wide to now 84.4% through 3 games. Not only that but his yards per reception has ticked down to resemble Thomas' dominant 2019 season. Before this season Williams was at 16.7 yards per reception in his career, through three games he's down to 13.4.
Williams running his routes closer to the line of scrimmage is a good thing considering how much damage his body has taken over the last few years. He was running a lot of deep routes in contested catch situations, contorting his body and constantly landing awkwardly. In his new role that is happening far less and he is flourishing. You can tell Keenan Allen's elite route running has rubbed off on him too. This guy is legit and a potential top-12 wide receiver in fantasy football.
Brandon Aiyuk Has A Chance
It seemed through the first few weeks like Brandon Aiyuk was destined to be another Dante Pettis. Aiyuk's draft pedigree and skill set made that type of drop-off pretty unlikely. But it seemed like the second year breakout we'd all been hoping for wasn't going to come to fruition. He had run just 34 routes and received 2 targets through the first two games.
On Sunday Aiyuk was back to his 2020 usage, picking up 4 receptions on 6 targets for 37 yards and a touchdown. But it's not the fantasy output that makes me believe Aiyuk is back on track. It's the fact that he was running a route on 89% of Jimmy Garoppolo dropbacks. The 49ers have divisional matchups with the Seahawks and Cardinals coming up, with both teams being plenty susceptible to giving up points.
Rondale Moore Is Not A Reliable Option
Rondale Moore took the fantasy football world by storm through the first two weeks of the season. Fantasy analysts and media pundits were drooling over his 14.3 yards after catch per reception. But the issue is his usage isn't there to be a sustainable weekly start in your fantasy lineups. Moore has run just 52 routes through 3 games this season, good for 17.3 per game.
Moore is a quality talent, his athletic traits make it so Kliff Kingsbury can get creative in how they use him. The issue for fantasy managers is what needs to happen when you play him. You're relying on a player with less than 50% route participation to break a big play on targets that don't have many air yards. Meaning he has to be a tackle breaking machine that ends up in the endzone.
AJ Green and Christian Kirk are not going away. Green ran more routes than the banged up DeAndre Hopkins this past week while Christian Kirk has been taking away much of Moore's slot snaps. Rondale is a great talent that could eventually earn more snaps but for the time being he is a stash that you should avoid starting week in and week out.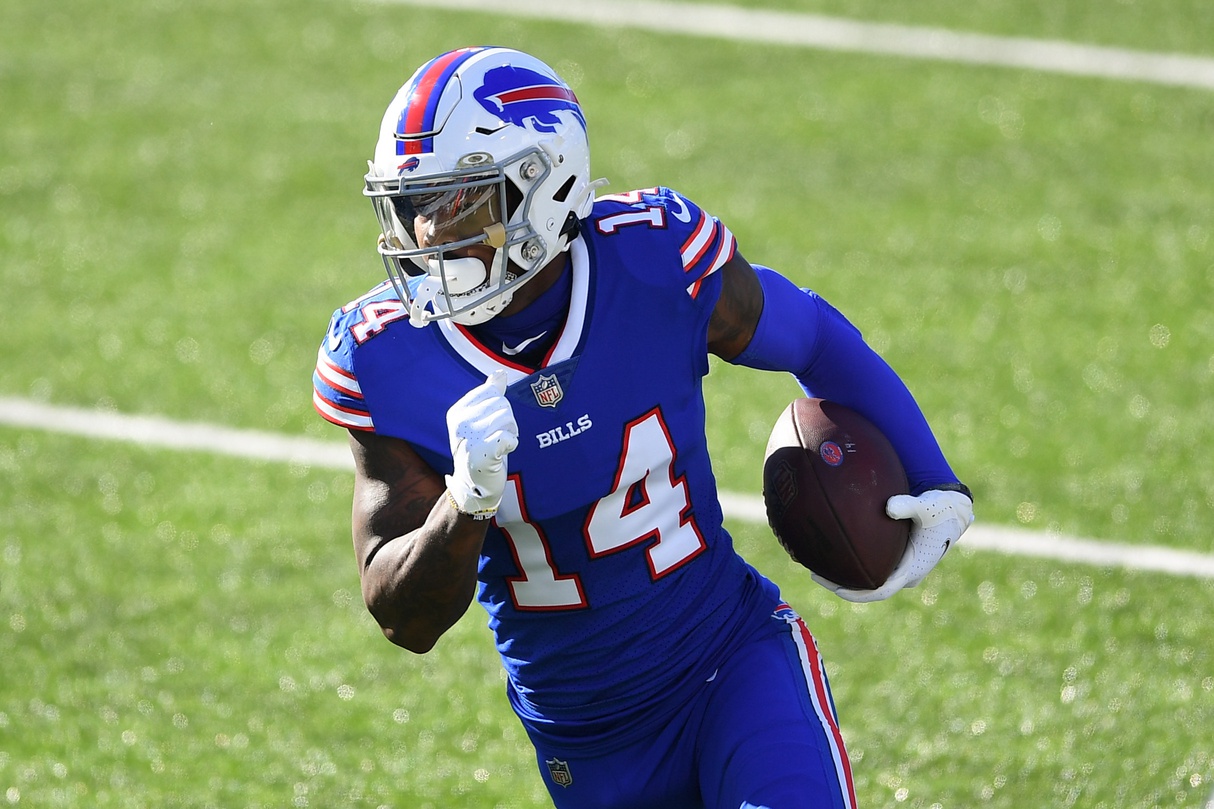 Stefon Diggs Will Be Fine
Through 3 weeks of the fantasy football season Stefon Diggs is the WR24 in PPR formats. He's also ranking outside of the top-30 in receiving yards, a stat in 2020 that he dominated with 1535 yards. It's disappointing considering the 2nd round draft stock you spent on the Bills wide receiver prior to the season. But fantasy managers shouldn't worry.
Diggs 30 targets through the first three weeks is on the same pace he was in 2020, so he's still Josh Allen's most utilized wide receiver. He's also seen his average depth of target grow from 2020, as it was at 10.5 and so far it's been 13.2. This team is passing the ball at an absurd rate as well. Diggs has run the third most routes in the NFL, only behind Bucs wideouts Chris Godwin and Mike Evans. The Bills were up 14+ points for most of the day on Sunday and Josh Allen still dropped back to pass 46 times. They've won their last two games by a combined 57 points and Diggs has still received 18 targets in those games!
There is room for the emergence of Emmanuel Sanders in this offense while Diggs still finishes as a top-5 wide receiver on the season. Hang tight on Diggs or even buy low on him if you can.
Respect Tim Patrick
What more does Tim Patrick have to do to be rostered in your fantasy league? On Yahoo he is a mere 23% rostered! Patrick has run a route 75% of Teddy Bridgewater dropbacks. That includes week 1 when Jerry Jeudy was healthy and he ran just 66% of the routes. We've seen in previous seasons that Teddy Bridgewater can support multiple fantasy relevant pass catchers and he's doing it again.
The season ending injury to KJ Hamler opens up even more opportunity to Patrick as the replacements are very inexperienced and unreliable. It looks like 29-year old Diontae Spencer will step in, having only registered 10 total targets in his career.
Considering that Patrick managed 742 yards and 6 touchdowns last season with Drew Lock under center, it's certainly in the realm of possibilities that Patrick finishes as a top-30 fantasy wide receiver and over 1000 receiving yards.
OwnersBox has launched the first ever Weekly SuperFlex Salary Cap game! Use the promo code "DREW9" for a FREE $10 entry into our $50,000 Week 4 contest.