CFP National Championship Preview
College Football National Championship

Alabama (13-1) vs Georgia (13-1) -2.5 | O/U 52.0

Monday January 10th @ 8:00pm EST

Lucas Oil Stadium – Indianapolis, IN
As underwhelming as New Year's Eve was for the College Football Playoff, at least know unequivocally that these are the two best teams in college football. The fact these two teams are playing each other for the 2nd time in their last 3 games may make this unappealing to some. But I can assure you that the National Championship will not be a repeat of what happened in the SEC Championship game.
This game has so much intrigue if you love the chess match that opposing coaches play. Both these teams have so much film and information to work with from their previous matchup. So how does Georgia find a way to find a different result in this game? How does Alabama make sure they replicate the same success?
If you've read my previews before, you'll know that I won't just tell you who I think will win, but how I believe this game will play out. We'll cover what to expect when each of these offenses are on the field. Capped off with a bet against the spread and some prop bets that I like.
When the Alabama Offense is on The Field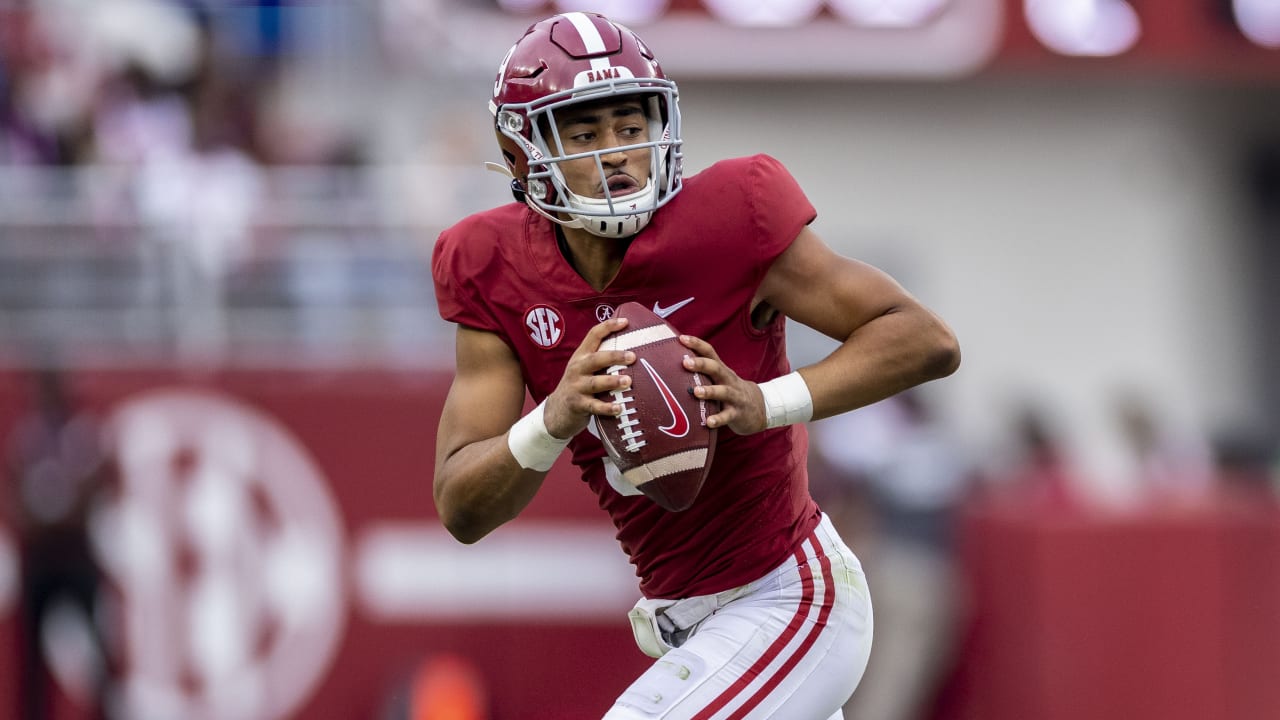 Bryce Young didn't play at a Heisman level in the semifinal against Cincinnati. But Nick Saban didn't need him to as the Tide outmatched the Bearcats in the trenches and Brian Robinson had a career day. I wouldn't expect that to continue in the National Championship, Nick Saban knows that though. Robinson isn't able to create yards on his own, he takes what his offensive lines gives him and they gave him a lot against Cincinnati.
Even in Alabama's blowout win in the SEC Championship, the Tide's running backs averaged just 3.8 yards on 23 attempts. Georgia has one of the country's best run defenses, they allow just 83.9 rushing yards per game this season. With Jordan Davis stuffing opposing RBs at the line of scrimmage and Nakobe Dean's range at the second level, it's very hard to move the ball on the ground.
Alabama will trust their quarterback and put the ball in the air plenty, it's what they'll have to do. But it could be more difficult with John Metchie no longer being in the mix. Freshman Ja'Corey Brooks was able to step up for a big play in the semifinal, but can he win consistently for Bryce Young in this game?
Cincinnati relied on a lot of man coverage to supress the Alabama passing attack and it was very successful, aside from a couple big plays. You have to expect that to happen when you're playing man to man though. Georgia doesn't need to attack in this manner, they have a highly skilled group up front that can cause havoc. They're 11th in the country in sack rate this season.
What I expect to see from Kirby Smart is a lot of different looks. Press man, cover 3, zone blitzes predominantly. If you give Bryce Young the same looks the coaching staff will find ways to beat it. The Tide are averaging 9.2 yards per pass attempt and Bryce Young does a fantastic job taking care of the football.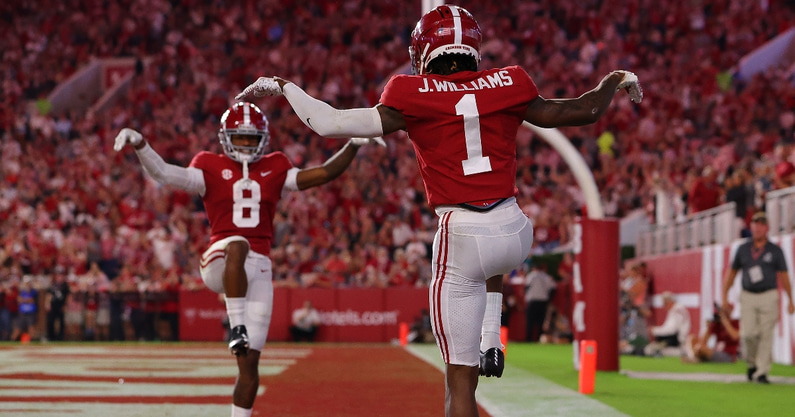 Here is my biggest cause for concern when it comes to this Alabama offense. How well are they going to be able to operate in the red zone? Georgia is allowing a RIDICULOUS 28.5% of opponent red zone trips turn into touchdowns. Jameson Williams thrives in open space and between the 20's, can he find success in the most important area of the field? John Metchie played a major role in these situations, 6 of his 8 touchdowns came in the red zone.
The difference in this game will be whether or not Georgia can get after Bryce Young. That isn't just pressure, that is some numbers on the stat sheet. They need to convert those pressures into sacks. They didn't have a single one in the last meeting. Young got away for some big runs as well, he had 40 yards on the ground. If there is any team in the country that you should trust to make plays in the backfield, it's the Dawgs. But the best player in the country is on the other side.
When the Georgia Offense is on The Field
The Bulldogs ground attack is what got them to this National Championship game. The Georgia offensive line just churns out yards and doesn't let teams behind the line of scrimmage, they're 7th in both stuff rate and sack rate this season. The problem is, as it was in the previous meeting, Alabama has arguably the best defensive front in the country.
Alabama is giving up just 2.6 yards per carry which ranks 2nd in the country. Will Anderson and the entire front seven just live in the backfield, they're 12th in stuff rate and 2nd in sack rate this season. It really is the unstoppable force against the immovable object type of matchup. The Tide forced Georgia to go to the air early and often in the previous game as Georgia ran for just 3.6 yards per carry. Well below their 5.7 yards per carry season average.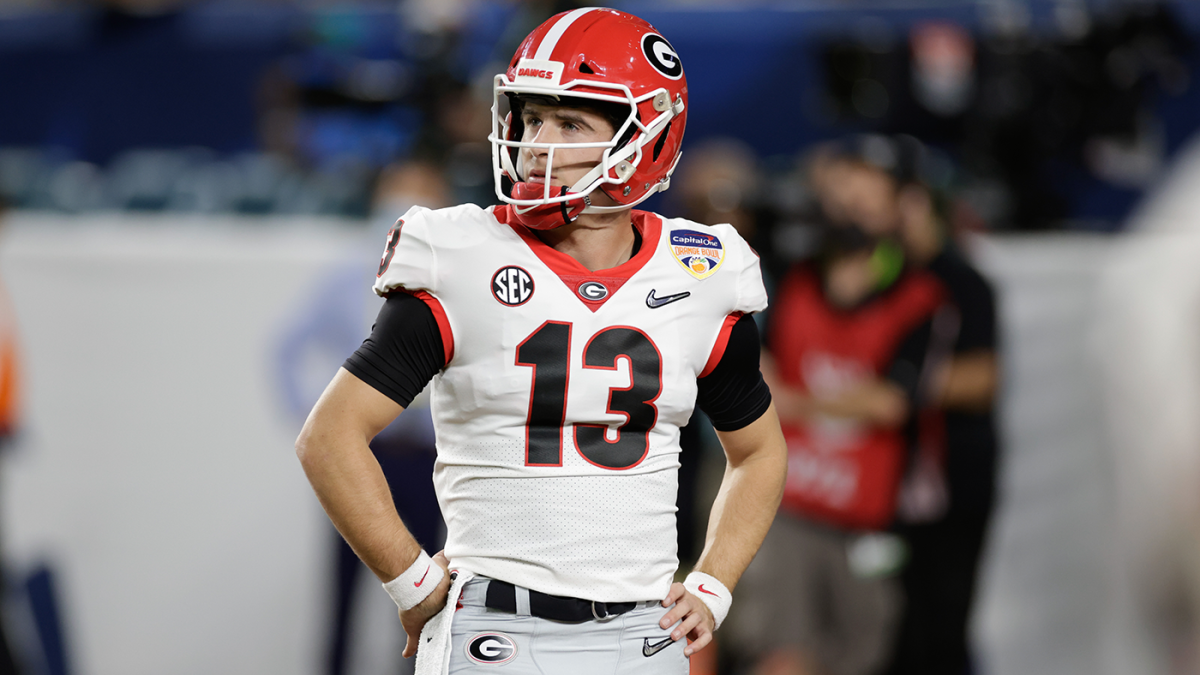 If Georgia is going to win this game, Stetson Bennett cannot throw the ball 40+ times like he did in the SEC Championship game. If their defense can give them a more neutral game script that shouldn't be a problem. The play-action is going to be very important for Bennett as I see them trying to open up the seams with their tight ends Brock Bowers and Darnell Washington. If they find success early, the Alabama linebackers may be cheating to help out in the secondary and this should open up some lanes for their running backs on the second level.
What will keep Georgia from having any chance of running away with this game is their lack of explosiveness. Yes, they averaged 6.9 yards per play this season. But they were 60th in the country in 40+ yard plays as they're missing that home run hitter. That is unlikely to change here as Alabama is 9th defensively in that same category.
I see both teams being laser focused on the middle part of the field when Georgia has the ball. But perhaps Bennett can attack the Alabama secondary that is now without two of it's starting corners. First they lost Josh Jobe in the conference championship and now they could be without Jalyn Armour-Davis as well. With all this focus on the middle of the field keep an eye on George Pickens and Jermaine Burton on the outside.
Prediction & Best Bets
Georgia 31 Alabama 23
Georgia -2.5
Brian Robinson Jr UNDER 72.5 rushing yards
Brock Bowers OVER 67.5 receiving yards
I think Kirby Smart and the Georgia Bulldogs finally get over the hump and win their seventh National Championship. This defense will be much better prepared, hungry and humbled. Look for the defense to convert those pressure into sacks of Bryce Young and they continue to thrive in the red zone. Stetson Bennett does just enough through the air to free up those important Georgia running backs.
If you enjoyed the article follow us on Twitter and TikTok at @cornercfb and check out College Corner wherever you get your podcasts!