Who Should the Jaguars Take 1st Overall?
The NFL Draft seems as wide open as it's been in the last decade. Mock drafts are a ton of fun to comb through and discuss but it's going to be incredibly difficult to project picks this year. It always is but as I've read through mock drafts around the industry I've seen at least 4 different players going first overall to the Jaguars.
Jacksonville likely has two different paths they can go with this pick. They can look to shore up the offensive line for their "generational" quarterback Trevor Lawrence, whom they took 1st overall in 2021. The other option is taking one of those two nasty edge rushers from Oregon or Michigan.
So what is the better approach for new head coach Doug Pederson? Improve his starting quarterbacks protection up front or get an edge defender to cause havoc in opposing backfields?
What I'm going to be doing in this article is make the case for bolstering the defensive line. I know what you're thinking, "Tyler the Jaguars already have Josh Allen, why not look at other positions?". I'm not forgetting that, in fact that's part of my case. Let's get into it.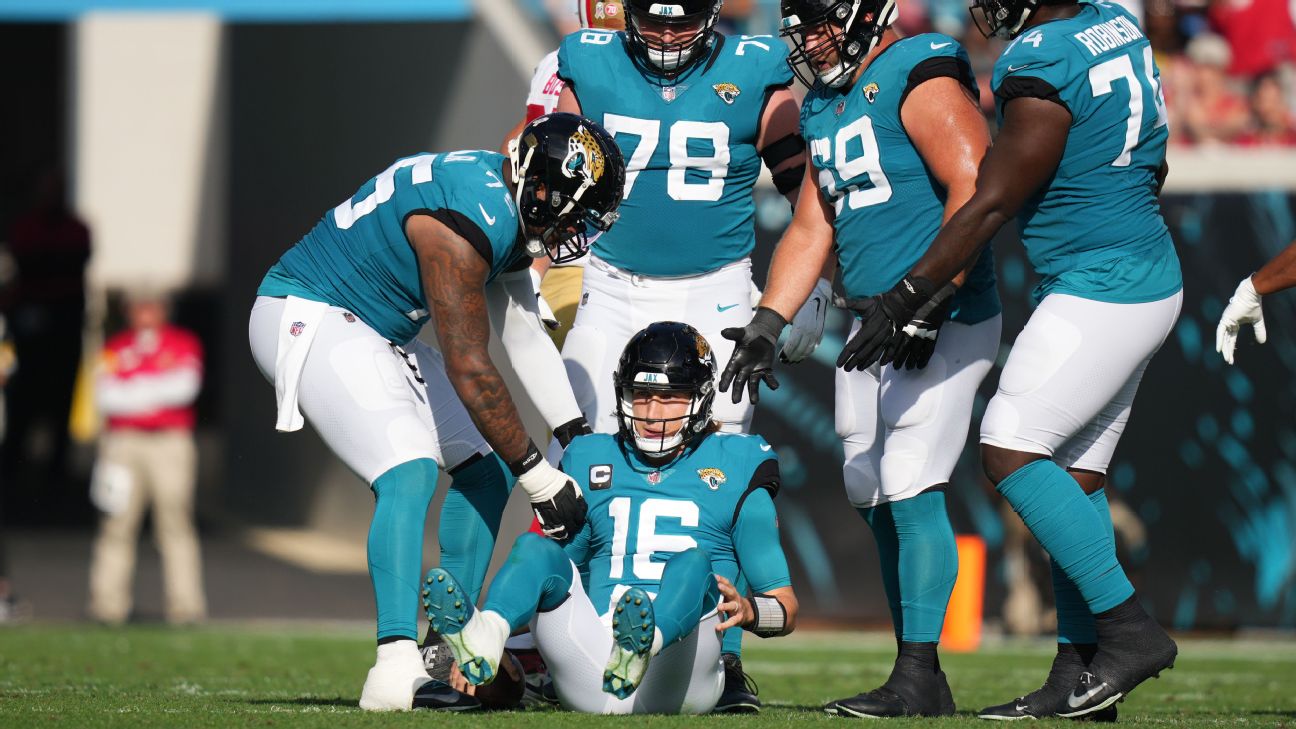 The Jaguars Offensive Line
Believe it or not the Jaguars pass protection was quite good this past season. PFF's pass blocking efficiency metric had the Jaguars offensive line as the 7th best group in the league. Diving a little deeper, there is another stat from PFF that tracks pressures allowed that the quarterback is responsible for. Lawrence ranked 34th in the NFL in this category, he held responsibility for 20.3% of his pressures. Only 4 quarterbacks were at a higher percentage.
There are some decisions to be made on the offensive line in free agency though, the most important being Cam Robinson. The Jaguars left tackle played this past season on the franchise tag and is set to be a free agent. Whether or not they bring him back will play a crucial role in how they attack the draft. Robinson allowed just 1 sack this season. The Jaguars have $71 million in cap space so they can certainly afford an extension.
There are some other solid pieces on the line, Walker Little was a second round pick in 2021 and progressed well in his rookie season. He's ready to take on a larger role in 2022. Center Brandon Linder is on the wrong side of 30 but it hasn't effected his play. Jawaan Taylor gave up the most sacks from the right tackle spot, his position would be a place for potential improvement after a lack of progression in his third year.
The Jaguars offensive line is not in as bad of a place as you may think, especially for many of you that likely didn't want to watch this team play in 2021. There are a lot of areas to improve, the offensive line is one of them but I wouldn't call it the weakest part of this team.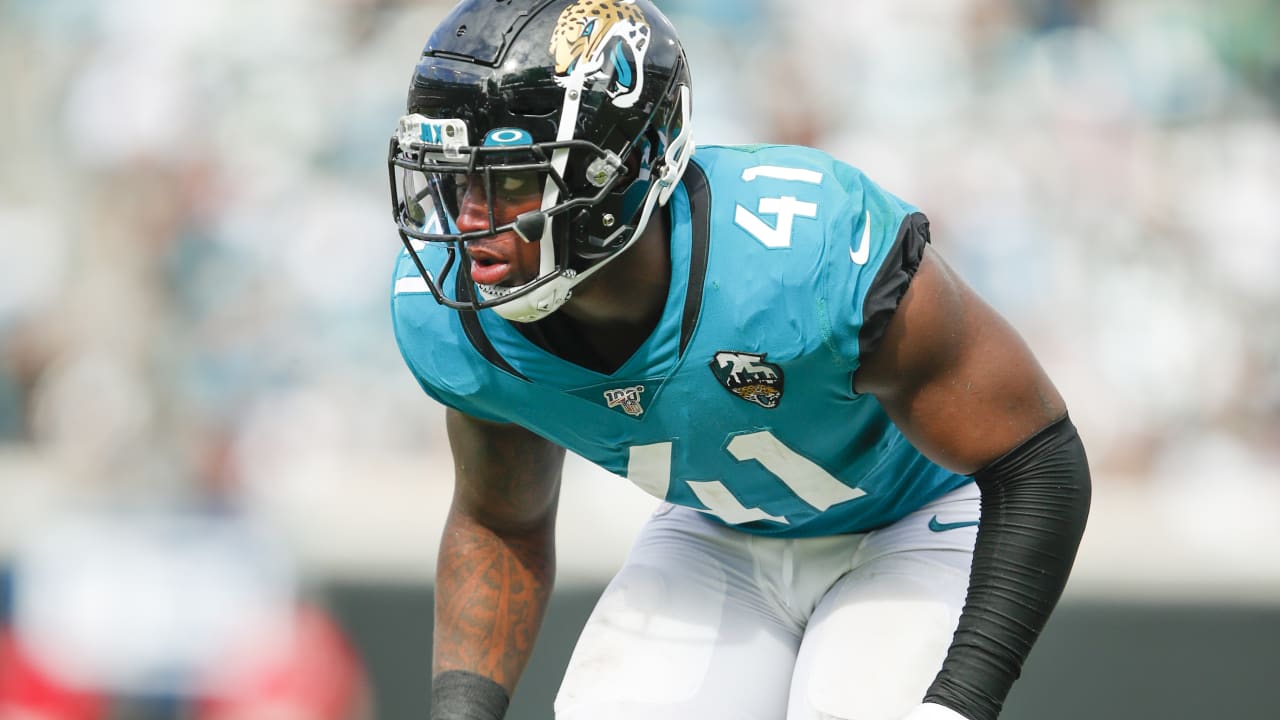 Defensive Line is Key To Modern NFL Success
At the time of writing, the Super Bowl champion hasn't been crowned, so let's look at what went right for both these teams in 2021. The Bengals made a transformative change defensively and it all started with their defensive line. They nearly tripled their team sacks this past season, in 2020 the Bengals had just 17 sacks in 16 games which was the worst in the NFL. The addition of Trey Hendrickson completely changed their defense.
The Rams on the other hand have potentially the best non-quarterback in the NFL with Aaron Donald. It's allowed their bevvy of defensive coordinators to play with a light box and focus on scheming things up in the secondary.
Look at the crop of quarterbacks that have entered the NFL recently, Burrow, Herbert, Mahomes, Allen, Murray, the list goes on. What's the best way to slow these quarterbacks down, when they are so good at making explosive plays? It's being able to get as many people in coverage as possible and blanket coverage. But you still need to be able to get pressure with 4 rushers, so you need to have high level talent in the front-4.
Roster Holes Are Everywhere
This Jacksonville team is not going to be transformed in a single off-season. They have plenty of cap space and draft capital to put themselves in a good place to move this rebuild forward though. If they take a player like Kayvon Thibodeaux with the first overall pick they turn the defensive line into a position group of strength right away. This will help their secondary and the defense as a whole.
An early pick spent on the offensive line to me won't move the needle for this offense. It's a high level receiver or tight end addition that can take that group to the next level. Protecting Trevor Lawrence is of course of high importance, they can still do that this off-season in free agency as well as day 2 and 3 of the NFL Draft.
Defensive end is the highest paid non-quarterback position in the NFL, there is a reason for it. They are the second highest paid because they are the second most valuable with the way the sport is being played right now. Getting a highly productive player at defensive end on a rookie deal is an opportunity you shouldn't pass up on if you're the Jaguars.
OwnersBox has launched the first ever Weekly SuperFlex Salary Cap game! Use the promo code "DREW9" for a FREE $10 entry into our $10,000 SB LVI  Showdown contest.