College Football Week 2 Preview
Week 1 in college football was one of the best I've ever witnessed on an opening weekend. It started with Minnesota and Mohamed Ibrahim going into the half with a 14-10 lead over Ohio State. Tallahassee getting an instant classic on Sunday night was the cherry on top of an electric opening week.
But as the great Bill Bellichick once said, "we're on to Cincinnati", week 2 is here and I think it's safe to say it doesn't have quite the same curb appeal. But in college football you never know what kind of team will show up on Saturday to pull off a big time upset. So let's get into how you should approach watching this week's slate in CFB.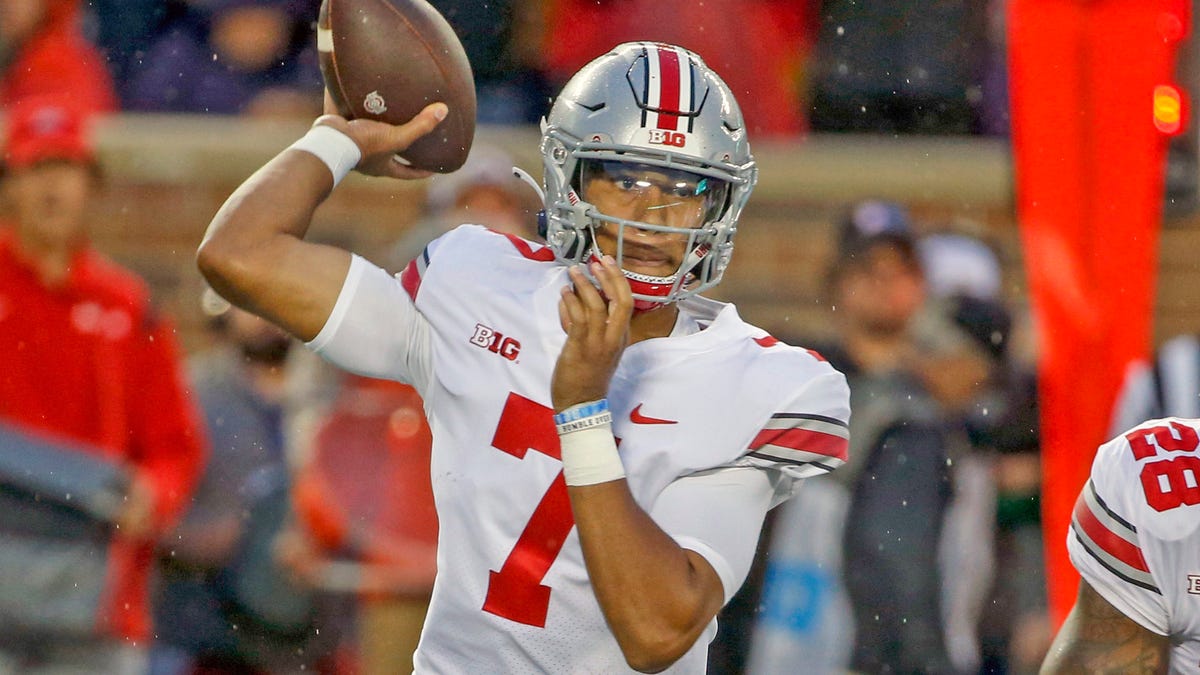 (12) Oregon @ (3) Ohio State – 12PM EST on FOX
The blueprint to hanging with the Buckeyes was printed by the Golden Gophers last week. Minnesota owned the time of possession battle, having possessed the ball for 65% of the game clock. They rode their running game to the tune of 50 carries, 203 yards and 3 touchdowns. The issue was their ability to take care of the football as the Buckeyes forced 3 fumbles, one for a score.
Oregon would be best to look at better executing this game plan on Saturday. Senior running back CJ Verdell will be the X-factor. Verdell didn't have quite the season Duck's fans expected last season, rushing at a tune of 4.4 yards per carry. Things didn't improve last week as he ran for just 74 yards on 18 attempts against a Fresno State defense that ranked 106th in the country last season in opponent yards per rushing attempt.
At quarterback for Oregon is Anthony Brown, the 5th year senior had a solid debut that was capped off by 30-yard touchdown run to seal a victory. His dual threat ability should be helpful to extend plays against an always tough Buckeyes defensive front.
Ohio State will look to keep a hobbled Kayvon Thibodeaux at bay. The future first round pick sprained his ankle in week 1 and is day-day. Head coach Mario Cristobal didn't have much to say for an update on Thursday so likely a game time decision. The Buckeyes have a plethora of options at running back with Mater Teague, Miyan Williams and the electric 5-star freshman TreVeyon Henderson. But the Ducks were up for the challenge last week, albeit against a lesser opponent, the Bulldogs averaged a mere 2.5 YPC. With Cristobal's recruiting job the last few years, this Ducks front 7 is up for the task.
CJ Stroud will be the reason Ohio State either covers this large 14.5 spread or this top-12 matchup goes down to the wire. Jake Haener was very efficient last week against the Ducks secondary, with a 69.8% completion percentage. As well as a 7/15 third down efficiency. With Stroud's plethora of weapons at wide receiver he should have no problem building on his excellent second half last week against Minnesota.
The Ducks have a lot to prove in this one as many pegged them to break the Pac-12's drought in the College Football Playoff. They'll need to avoid a shootout like the Gophers did to hang around as the Buckeyes skill position group is probably the best in the nation. Here's hoping we kick of the day with a game that doesn't result in what the bookmakers are indicating.
Prediction: 41-20 Ohio State
(10) Iowa vs (9) Iowa State – 4:30PM EST on ABC
After a 1 year hiatus the Cy-Hawk game is back! The Hawkeyes own this series, especially as of late, having won the last 5 years in a row. But Matt Campbell has the Iowa State program in a great place. With Brock Purdy in his senior season and Breece Hall bound for the draft in 2022, this is the year Cyclones fans expectations are highest. But these programs come into this game with very different results in week 1. Iowa State escaped FCS Northern Iowa 16-10 while Iowa trounced conference rival Indiana 34-6.
Let's start with the host Cyclones. It's very surprising to see Iowa State as 4-point favourites after sleep-walking through an uninspiring win. But that seems to be Campbell's M.O in week 1. It makes sense considering the finish that Iowa had to 2020. Why give them any tape to review this week? You should expect to see the Cyclones build on last season due in part to returning 88% of their 2020 production. This is a top-25 mark in the nation. The most important part for Brock Purdy and the offense being that every starting offensive lineman is back in 2021.
On the other side of the ball the team returns 14 of it's 19 most used defensive players. The run defense was stout in 2020 as well, ranking 10th in the nation in opponent yards per rushing attempt at 3.3 YPC. There is plenty of reason to expect better from Iowa State in a rivalry game at home.
The Hawkeyes impressed college football fans last week blowing out an Indiana team that played out of it's mind in 2020. 14 of Iowa's 34 points game from it's defense. Quarterback Spencer Petras was less than impressive in the win, completing less than 50% of his passes and averaging 5.4 yards per attempt. The running game was much more successful averaging 5.4 yards per carry. Kirk Ferentz will look to ride the running game and a defense that was #1 in college football in opponent yards per play in 2020.
As I'm writing this I can tell that I have a side that I prefer in this one. The Cyclones have a recipe to pick up their first Cy-Hawk win since 2014.
Prediction: 21-13 Iowa State
Washington @ Michigan – 8PM EST on ABC
One of these programs was ranked last week, no it wasn't Michigan. The Huskies fell to FCS Montana last week 13-7 and the college football world cannot believe it. There's no sugar coating it for Washington, that performance was UGLY. The rushing game was a pedestrian 2.4 yards per carry, the offense converted just 29% of their third downs and Dylan Morris threw 3 interceptions. But the Huskies did outgain a solid Grizzlies team, if it weren't for turnovers in 2 turnovers in opponent territory this would have been a scare instead of a loss.
Now, I'm not saying this is a team that was deserving of a top 20 ranking in the polls but it's clear that this team isn't as bad as it looked in week 1. The question is whether or not they can hang around on the road at the Big House. Morris is a 4-star talent who has been pretty sheltered in his role so far since starting as a freshman. I don't expect this to change on the road, Jimmy Lake likes to rely on his defense and slow down the game.
The issue is going against a stout Michigan front 7, featuring senior Aidan Hutchinson and former 5-star Christopher Hinton. With the rushing game struggling against Montana it's going to take some serious adjustments to find success. As for the Huskies reliable defense, Michigan proved to be quite explosive last week against Western Michigan. But they did lose their best offensive weapon in Ronnie Bell for the season. Last season Washington was top 30 in opponents yards per play, which will be mighty important after Michigan registered scores of 76, 22, 74, 30 and 69 yards.
The Wolverines aren't the explosive offense they looked like last week but this is going to be a difficult matchup for Washington offensively as they look to find an identity. This should be a battle in the trenches as neither of these coaches like to push the ball downfield. You may need some smelling salts or an energy drink to keep you from falling asleep in your Lazyboy at halftime.
Prediction: 20-17 Michigan
OwnersBox has launched the first ever Weekly SuperFlex Salary Cap game! Use the promo code "DREW9" for a FREE $10 entry into our $100,000 Week 1 contest.