QB Rankings
|
RB Rankings
|
TE Rankings
Wide Receiver Rankings
| Rank | Player | Team | vs | Opponent | Salary |
| --- | --- | --- | --- | --- | --- |
| 1 | Cooper Kupp | Rams | vs | Titans | $8,000 |
| 2 | Tyreek Hill | Chiefs | vs | Packers | $7,600 |
| 3 | Deebo Samuel | 49ers | vs | Cardinals | $7,200 |
| 4 | Stefon Diggs | Bills | vs | Jaguars | $6,800 |
| 5 | Justin Jefferson | Vikings | vs | Ravens | $6,600 |
| 6 | AJ Brown | Titans | vs | Rams | $7,100 |
| 7 | Marquise Brown | Ravens | vs | Vikings | $6,200 |
| 8 | Ja'Marr Chase | Bengals | vs | Browns | $6,900 |
| 9 | DeAndre Hopkins | Cardinals | vs | 49ers | $6,700 |
| 10 | Michael Pittman | Colts | vs | Jets | $6,200 |
| 11 | Davante Adams | Packers | vs | Chiefs | $7,700 |
| 12 | Keenan Allen | Chargers | vs | Eagles | $6,300 |
| 13 | Diontae Johnson | Steelers | vs | Bears | $6,200 |
| 14 | Amari Cooper | Cowboys | vs | Broncos | $6,800 |
| 15 | CeeDee Lamb | Cowboys | vs | Broncos | $6,700 |
| 16 | Adam Thielen | Vikings | vs | Ravens | $6,500 |
| 17 | Jaylen Waddle | Dolphins | vs | Texans | $5,300 |
| 18 | Mike Williams | Chargers | vs | Eagles | $6,300 |
| 19 | Cole Beasley | Bills | vs | Jaguars | $5,600 |
| 20 | Courtland Sutton | Broncos | vs | Cowboys | $5,500 |
| 21 | DJ Moore | Panthers | vs | Patriots | $6,500 |
| 22 | Kadarius Toney | Giants | vs | Raiders | $4,800 |
| 23 | Brandin Cooks | Texans | vs | Dolphins | $5,700 |
| 24 | Devonta Smith | Eagles | vs | Chargers | $5,200 |
| 25 | Tee Higgins | Bengals | vs | Browns | $5,300 |
| 26 | Devante Parker | Dolphins | vs | Texans | $5,300 |
| 27 | Rashod Bateman | Ravens | vs | Vikings | $5,200 |
| 28 | Emmanuel Sanders | Bills | vs | Jaguars | $4,800 |
| 29 | Jakobi Meyers | Patriots | vs | Panthers | $4,800 |
| 30 | Jamison Crowder | Jets | vs | Colts | $4,800 |
| 31 | Chase Claypool | Steelers | vs | Bears | $5,500 |
| 32 | Corey Davis | Jets | vs | Colts | $5,400 |
| 33 | Henry Ruggs | Raiders | vs | Giants | $4,300 |
| 34 | Julio Jones | Titans | vs | Rams | $5,800 |
| 35 | Robert Woods | Rams | vs | Titans | $6,300 |
| 36 | Hunter Renfrow | Raiders | vs | Giants | $5,100 |
| 37 | Jerry Jeudy | Broncos | vs | Cowboys | $5,200 |
| 38 | Marvin Jones | Jaguars | vs | Bills | $5,000 |
| 39 | Christian Kirk | Cardinals | vs | 49ers | $5,100 |
| 40 | Jarvis Landry | Browns | vs | Bengals | $5,400 |
Marquise Brown is a great value at just $6,200 this week. He's the WR11 in PPR formats with 6 touchdowns in 7 games. Don't get it twisted that just because he's small Lamar doesn't like targeting him in the red zone. As the deep ball threat in a matchup against the poor Vikings defense, we could be in line for a big game out of Brown. Throw him in to all your salary cap lineups.Use these player salaries as context for building your week 9 OwnersBox lineups. With salaries being set each Monday, they cannot be changed. Injuries and depth chart movement has impacted the value of these players salary significantly.
Another guy who's just too underpriced this week is Jaylen Waddle. With Tua under center, Waddle has been the primary target every week. Over the past 3 weeks Waddle has an incredible 33 targets. That's an elite level territory. Continue to fire him up as a WR2, the points will keep coming. Just look at the splits with and without Tua: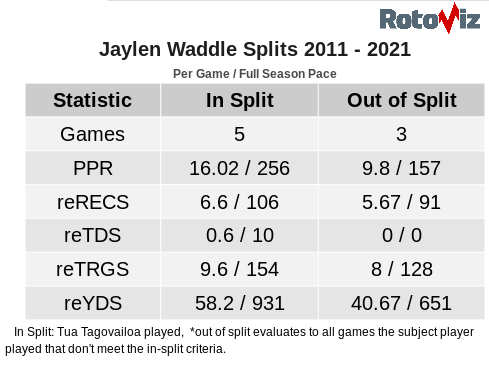 The biggest fraud of the week is easily Robert Woods. If you just look at his fantasy points, it looks like he's been great, but he just hasn't been targeted much so I expect regression to hit him hard. He's only got 11 receptions over the past 3 weeks, but has 46 fantasy points over that same span. For him to be the same price as guys like Keenan Allen, Michael Pittman and Marquise Brown, it makes no sense whatsoever to put him in your salary cap lineups.
Follow me on Twitter: @sexypats
OwnersBox has launched the first ever Weekly SuperFlex Salary Cap game! Use the promo code "DREW9" for a FREE $10 entry into our $25,000 Week 9 contest.