QB Rankings
|
RB Rankings
|
TE Rankings
Week 5 Wide Receiver Rankings
| Rank | Player | Team | vs | Opponent | Salary |
| --- | --- | --- | --- | --- | --- |
| 1 | Tyreek Hill | Chiefs | vs | Bills | $8,000 |
| 2 | Stefon Diggs | Bills | vs | Chiefs | $7,300 |
| 3 | Cooper Kupp | Rams | vs | Seahawks | $7,600 |
| 4 | Tyler Lockett | Seahawks | vs | Rams | $6,300 |
| 5 | Davante Adams | Packers | vs | Bengals | $7,500 |
| 6 | Justin Jefferson | VIkings | vs | Lions | $7,200 |
| 7 | DJ Moore | Panthers | vs | Eagles | $6,800 |
| 8 | Terry McLaurin | Football Team | vs | Saints | $6,800 |
| 9 | Keenan Allen | Chargers | vs | Browns | $6,600 |
| 10 | CeeDee Lamb | Cowboys | vs | Giants | $6,700 |
| 11 | DK Metcalf | Seahawks | vs | Rams | $6,700 |
| 12 | Deebo Samuel | 49ers | vs | Cardinals | $6,200 |
| 13 | DeAndre Hopkins | Cardinals | vs | 49ers | $7,300 |
| 14 | Calvin Ridley | Falcons | vs | Jets | $6,800 |
| 15 | Mike Williams | Chargers | vs | Browns | $6,400 |
| 16 | Chris Godwin | Buccaneers | vs | Dolphins | $6,300 |
| 17 | Amari Cooper | Cowboys | vs | Giants | $6,500 |
| 18 | Mike Evans | Buccaneers | vs | Dolphins | $6,700 |
| 19 | Diontae Johnson | Steelers | vs | Broncos | $6,200 |
| 20 | Adam Thielen | Vikings | vs | Lions | $6,500 |
| 21 | Marquise Brown | Ravens | vs | Colts | $5,800 |
| 22 | Brandin Cooks | Texans | vs | Patriots | $5,800 |
| 23 | Ja'Marr Chase | Bengals | vs | Packers | $6,300 |
| 24 | Jakobi Meyers | Patriots | vs | Texans | $5,400 |
| 25 | Odell Beckham | Browns | vs | Chargers | $5,400 |
| 26 | Robert Woods | Rams | vs | Seahawks | $5,000 |
| 27 | Antonio Brown | Buccaneers | vs | Dolphins | $6,000 |
| 28 | Devonta Smith | Eagles | vs | Panthers | $5,600 |
| 29 | Corey Davis | Jets | vs | Falcons | $5,700 |
| 30 | Tee Higgins | Bengals | vs | Packers | $4,900 |
| 31 | Allen Robinson | Bears | vs | Raiders | $5,600 |
| 32 | Courtland Sutton | Broncos | vs | Steelers | $5,400 |
| 33 | Jaylen Waddle | Dolphins | vs | Buccaneers | $4,900 |
| 34 | Marvin Jones | Jaguars | vs | Titans | $5,100 |
| 35 | Kenny Golladay | Giants | vs | Cowboys | $5,600 |
| 36 | Laviska Shenault Jr. | Jaguars | vs | Titans | $5,100 |
Use these player salaries as context for building your week 5 OwnersBox lineups. With salaries being set each Monday, they cannot be changed. Injuries and depth chart movement has impacted the value of these players salary significantly.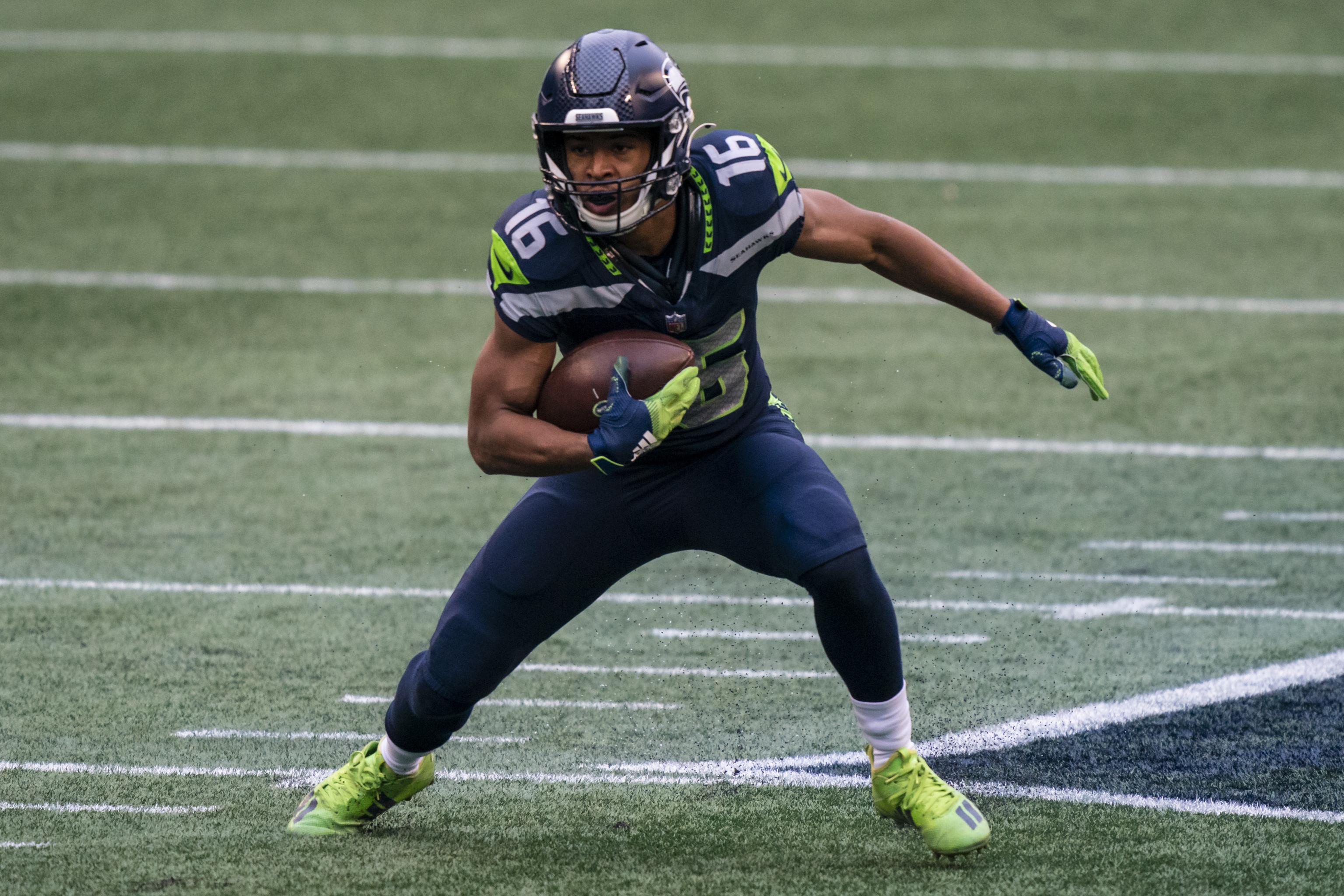 It's a Lockett week. The Rams come to town, and I fully expect to see Jalen Ramsay shadow cover DK Metcalf. That should mean Lockett is absolutely peppered with targets. The fact that his price has fallen all the way down to $6,300 with this matchup is asinine. There's very few players who have a higher week to week upside than Lockett, and that's the kind of player you need in your Ownersbox lineups.
Deebo Samuel is the clear number 1 target for both Jimmy G and Trey Lance. His role in San Francisco has completely changed too, he's gone from the gadget, line of scrimmage type player, to an all around monster. He leads the league in receiving yards, yards per reception, yards after catch and yards per route run. To me he's still an underrated receiving for his price ($6,200) no matter who's under center for the 49ers.
We need to stop thinking of DeAndre Hopkins as a top 5 fantasy WR, simply because the Cardinals just spread the ball around too much. Hopkins has always been an elite fantasy WR due to his incredibly high volume, but because Kyler is getting AJ Green, Christian Kirk and Rondale Moore involved equally as much, his upside has been capped. Through 4 games he only has 17 receptions, compared to the 39 he had through 4 weeks last season.
Follow me on Twitter: @sexypats
OwnersBox has launched the first ever Weekly SuperFlex Salary Cap game! Use the promo code "DREW9" for a FREE $10 entry into our $25,000 Week 5 contest.