2021 MLB Trade Deadline
This year, we have a lot of talent on the market and a bunch of teams ready to pounce. I have made the following BOLD predictions for this years 2021 MLB Trade Deadline. Make sure you comment your predictions!
Trevor Story
Safe Choice: New York Yankees (56-45)
Dark Horse: Seattle Mariners (55-46)
There has been chatter about Trevor Story being moved to Center Field for a contending team. I do not believe this will happen, I don't think the transition from Shortstop to Center Field is seamless or smart in the middle of the season. It would be a different Story (no pun intended) if Story had previously played outfield or learned the position in pre-season. Also, I don't think any team would take on this risk with the amount they will be giving up to get Story. There is still the chance he could struggle mightily in the outfield or even hate the position.
This is why I think contending teams with a strong infield will not make a trade for Trevor Story. This includes; Houston Astros, Milwaukee Brewers, New York Mets, Atlanta Braves, San Diego Padres, Toronto Blue Jays.
Safe Choices: My two safe choices would be the Oakland A's or the New York Yankees. Elvis Andrus has been brutal this year for the A's hitting .232 with only 35 Runs. The only issue for the A's is can they even afford him in the offseason? And are they willing to give up a lot for a rental? These are very important questions surrounding the Story debate. Also, the Astros are currently 5 games ahead of the A's, which means they will most likely be playing in a Wild Card game for the third year in a row and the Mariners currently are only 1 game behind. Are they prepared to give up some top end prospects for Story to potentially play one (1) playoff game?
The other very safe option is the New York Yankees who have been in talks with the Rockies and have the money to resign Story in the offseason. Trevor Story to the Yankees is a perfect fit, since they could use a new shortstop as Gleyber Torres has been horrendous. The Yankees are bound to move on from Torres, unfortunately the highly touted Torres has not been playing up to the Yankees expectations. This trade would reunite good friends DJ LeMahieu and Trevor Story, also would give the Yankees a very strong asset for their playoff push. Currently, the Yankees are 3.5 games behind a Wild Card spot. Trevor Story to the Yankees is my safest choice, the only reason for concern is if the Yankees want to give up valuable assets for someone who they could sign in the offseason without giving up assets.
Dark Horse: The Seattle Mariners have shocked everyone and have found themselves 1 game behind a Wild Card sport. Mitch Haniger and Ty France have had fantastic years. The arrival of Jarred Kelenic has not been what was expected, but he could ramp things up as he gets more comfortable in the MLB. The rotation is not very pretty, Logan Gilbert, Yusei Kikuchi, and Chris Flexen have been leading the staff.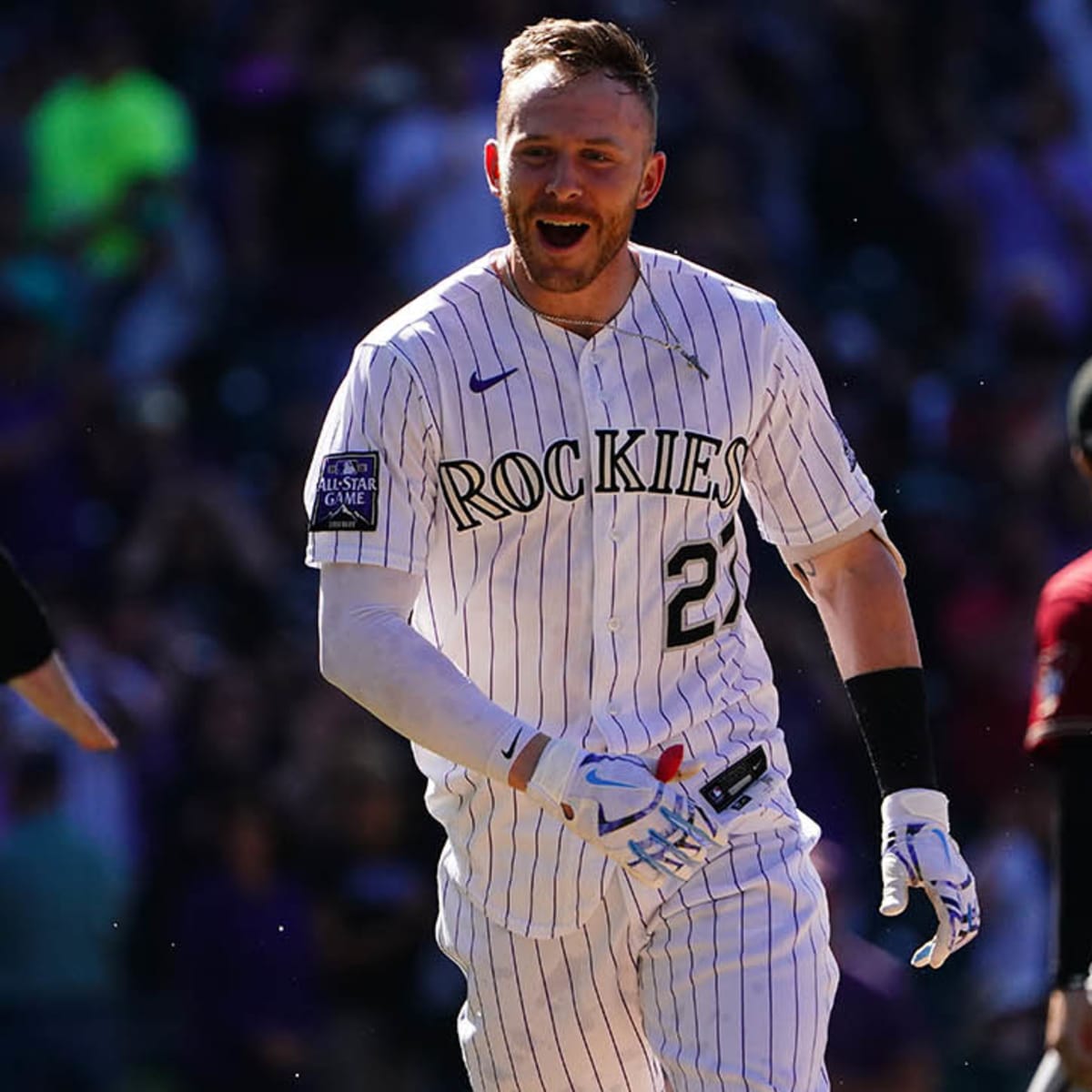 The Mariners have not made the playoffs since 2001!!! Holy Shiiiiit, the Mariners fan base and front office is probably itching to get themselves a taste of playoff baseball.
I think they first look for a starting pitcher, then if things fall through they will look for someone who can provide power to their lineup. The answer??? Trevor Story?? I would absolutely love this trade, the Mariners could potentially actually afford to pay Story in the offseason as they have the 25th lowest payroll in the MLB.
J.P. Crawford has been good for the Mariners, so they would move him to 2B and Story would take over SS. I don't see Crawford as the long-term answer for the Mariners, I think Story would be a fantastic option. Currently, the Mariners highest payed players are Kyler Seager – $18,000,000/Year (UFA 2023) and Yusei Kikuchi – $15,000,000/Year (UFA 2026), the next closest is Marco Gonzales – $5,000,000/Year. This leaves enough room to potentially sign Story! Also, we have seen in the past rentals are sometimes incline to sign with the team who traded for them. The best chance for the Mariners to sign Story is to physically trade for Story because it will be a tough task to compete with the Yankees in the offseason.
Jose Berrios
Safe Choice: Los Angeles Dodgers (61-40)
Dark Horse: Toronto Blue Jays (49-47)
The biggest question here is will the Minnesota Twins actually trade Berrios. He has an arbitration year in 2022, which means whoever trades for Berrios will have him for 2022. Will the Twins want to trade Berrios when they could have him for 2022 and have the possibility to sign him to an extension when he becomes a UFA in 2023. Berrios is only 25 years old and has lots of fuel left in his MLB career.
Safe Choice: The safest of safest picks are the Los Angeles Dodgers, since they 100% need an arm because of the Trevor Bauer situation and Dustin May injury. Also, the Dodgers have the highest payroll in the MLB and have shown they are not afraid to give up assets at the deadline. They currently have two very young catchers in Will Smith and Keibert Ruiz. Could one of them be moved for Berrios??? I think the Dodgers will make an aggressive push for Max Scherzer, then realize the price for him is way too high and fall back to get Berrios.
The Dodgers will for sure get a starting pitcher, they need another arm with how competitive their division is. Currently, the Dodgers are 2 games behind the San Francisco Giants and the San Diego Padres are 3.5 games behind the Dodgers.
Dark Horse: The Toronto Blue Jays are a couple arms away from being World Series Contenders. Now with George Springer healthy, their offensive lineup is explosive and competes with the Astros for the best lineup in the AL. As of right now, the Blue Jays have the 3rd highest run support in the MLB. They need a pitcher more than I need air to breathe.
The Blue Jays have been in conversation for Craig Kimbrel, am I too greedy to ask for both??? Jose Berrios would be a perfect fit for the Jays, since the Jays could actually resign him in 2023 and by that time they should have a powerhouse of a squad. They have enough prospects and talent to actually make this trade happen. The only prospects off limits for the Blue Jays are Alec Manoah and Austin Martin… Yes I have left the door open for Nate Pearson. Realistically, I think the Jays potentially move Gurriel or Groshans for an arm.
Anthony Rizzo
Safe Choice: Boston Red Sox (62-39)
Dark Horse: Milwaukee Brewers (58-42)
The Cubs will most likely be sellers at the deadline, which means we could see Craig Kimbrel, Javier Baez, Kris Bryant, and Anthony Rizzo being dealt at the Deadline. Rizzo is currently 31 years old and offers plenty of playoff experience and has a World Series championship under his belt. Rizzo could definitely help a team in the locker room and on the field for their playoff run. Rizzo is currently making $16,500,000/Year and will be a UFA in 2022.
Safe Choice: For some reason I'm really excited about the thought of Anthony Rizzo playing in the American League. My safest choice is the Boston Red Sox who have a very strong team this year, in which they currently lead their division. At the moment, youngster Bobby Dalbec is playing first base.
Rizzo would be a big upgrade compared to Dalbec who is slashing an ugly .218 for them. The Red Sox could also use a veteran in their clubhouse to help the young players like Rafael Devers and rookie Jarren Duran adjust to playoff baseball. The Red Sox need to make a move after the Tampa Bay Rays traded for slugger Nelson Cruz, the Yankees are expected to pursue talent at the deadline, and don't forget about the Blue Jays potentially sparking some conversations.
Dark Horse: The Milwaukee Brewers are currently leading their division by 7 games ahead of the Cincinnati Reds. This shows me they can aggressively pursue players at the deadline with no worries of potentially missing playoffs. Also, the Brewers have one of the best rotations in baseball, which is led by Brandon Woodruff, Corbin Burnes, and Freddy Peralta. This rotation also includes two of the best relievers in baseball; Josh Hader and Devin Williams.
The Brewers currently have new Brewer Rowdy Tellez and Daniel Volgelbach as options at first base right now. These two options make me sick to my stomach for Brewers fans! Trading for Rizzo makes sense, since they would add a veteran bat to their lineup who is used to hitting National League pitching. Rizzo could be a huge asset to the Brewers lineup, which could make them World Series contenders.
If you like this article, be sure to check out more of our baseball content. Also, we are hosting daily free-roll MLB contests on our platform for the rest of the season. Sign-up to play Weekly Fantasy Baseball here and use promo code "skippers5" for a free entry into any MLB tournament contest!