Cam Newton Released
This was very shocking news to most, as even if Mac Jones won the starting job! I wasn't expecting Cam Newton to be cut before the season even started. There's a lot of fantasy implications to this, and it's not just at the quarterback position. The Patriots style of play will change. The way this offense is run will do a complete 180. Unlike with Newton, we're now going to see a much more pass heavy offense, which is a big boost for every receiving threat in the offense. There will also be a lot more goal line carries available, as Cam was the primary threat to take the ball in before. So great news for running backs too.
 Mac Jones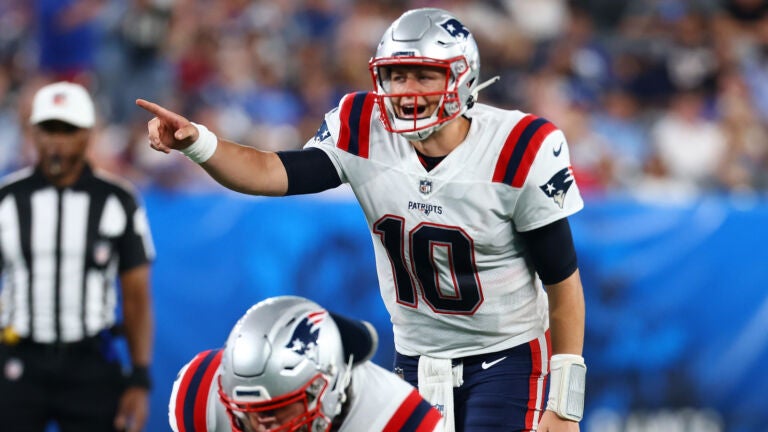 Mac has looked very good this preseason, which was definitely a big factor in Belichick deciding to just straight up release Cam. From a fantasy perspective, obviously this is a big boost for Jones' ADP as the worry before was how long it would take until he got on the field. However this doesn't boost him up too far in my opinion. He still has absolutely zero rushing ability, which has now become a big part of the quarterback production. Plus, as a rookie, we can't expect him to have a monster season throwing the ball.
Even Justin Herbert, who just had the greatest rookie QB season of all time, only would've averaged just over 20 fantasy points per game without his rushing stats. So at best, Mac Jones will be a solid floor QB2 for your fantasy team.
Running Backs
Damien Harris benefits a lot from this. With Cam Newton starting, his ceiling was looking a little bleak, as there would be very little passing work for him and a much smaller pie of the goal line carries. Now the receiving work still isn't there, but at least now he's the primary threat on the goal line. Mac Jones can't run the ball in himself down there like Cam did so often last year, so instead, he's going to hand it off to Harris. I still wouldn't want him as anything more than my RB3, but at a 7th round price tag, he's one guy in the running back dead zone I'm willing to take.
Another big benefactor is James White. The problem passing catching backs have with rushing QBs is that in scramble drills, instead of dumping it off, they'll just run it themselves. That could end up being a difference of 3-4 receptions per game which is a massive swing. We saw with Brady a couple years back, that James White played a big role in this offense, despite it being a little inconsistent. Now that Mac Jones fills the role, we could see him get back to that 70-80 catch range like 2019 and 2018.
After Harris and White, anyone else only has handcuff value. Rhamondre Stevenson and J.J. Taylor both looked great in the preseason, but I wouldn't expect any sort of reliable usage out of them to warrant a pickup in redraft leagues.
Wide Receivers/Tight Ends
Massive boost to everyone involved here. Last season, Cam Newton only threw the ball 368 times for 242 completions in his 15 games which is an extremely low mark. That's just 16 completions per game, which is a low enough number to make every receiving threat unreliable and inconsistent. Luckily, Mac Jones should add a solid chunk to that number opening up a plethora of possibilities.
My favourite receiver on this offense is easily Jakobi Meyers, who is now one of my favourite late round targets in drafts. Him and Agholor have acted as the WR1s throughout preseason with Bourne being the clear 3, and I see Agholor as more of just a deep threat, with Meyers acting as more of a possession guy. I wouldn't be surprised if he finished as a sneaky WR2 come season end.
Two of the biggest free agent acquisitions this offseason came from the tight end position, as the Pats brought in both Jonnu Smith and Hunter Henry on some massive contracts. In an attempt to get back to what they had with Gronk and Hernandez back in the early 2010s, Mac Jones starting definitely helps in that effort. Both guys have dealt with some injuries this offseason, Henry in particular who may not be ready for Week 1.
Jonnu is the guy of the two I'd prefer, partially for that reason, because I think he's just a better tight end, but neither are guys I'm super high on. There's other tight ends in those double digit rounds I'd prefer over either of them, but I wouldn't be mad at taking Jonnu as my TE2.
Follow me on Twitter: @sexypats
OwnersBox has launched the first ever Weekly SuperFlex Salary Cap game! Use the promo code "DREW9" for a FREE $10 entry into our $100,000 week 1 contest.