5 Quarterbacks For Your OwnersBox Lineup
The quarterback position is by far the most important on OwnersBox. With a superflex position there is the opportunity to have 2 quarterbacks in your lineup. This is something you should be doing every time. In this article I'm going to give you 5 options, from some of the cheapest to some of the highest priced. These should help you finish in the payout zone this week.
Zach Wilson ($4900) vs Tennessee Titans
I am a numbers guy, I like to use numbers to predict whether or not a player will succeed on a given week. But I have to admit that this just cannot be done so far when it comes to Zach Wilson. But the good part for us is that his price represents that. Wilson has the same price as Will Fuller this week. When adding a player to your SuperFlex position this is a real consideration.
Wilson has been pressured 57 times, the third most in the NFL. Resulting in the most sacks given up in the NFL. What better solution for Wilson then going up against the Titans pedestrian pass rush. The team ranks 27th in the NFL per PFF with a 64.9 pass rush grade. A home game for the Jets against a below mediocre defense is all the upside I need at this price. Especially after going through the Patriots, Broncos and Panthers defense to start the season.
Teddy Bridgewater ($6200) vs Baltimore Ravens
Speaking of quarterbacks that should be well protected this week. The Ravens are not the defense they once were and their pass rush is non-existent this season. The team has 5 total sacks on the season and the Broncos have a top-5 pass protection unit according to PFF.
As a result Bridgewater has been flourishing through 3 weeks. He's averaging the highest yards per attempt of his career at 8.7, this is a higher rate then Patrick Mahomes. Not to mention his 76.8% completion percentage. That is in part to his pass catchers, Courtland Sutton has looked great in his return from injury and Noah Fant looks like one of the top-8 tight ends in the league. This team has also only been trailing in 33% of offensive snaps, so in a more competitive game script he could surpass his 20 FPTs per game this week.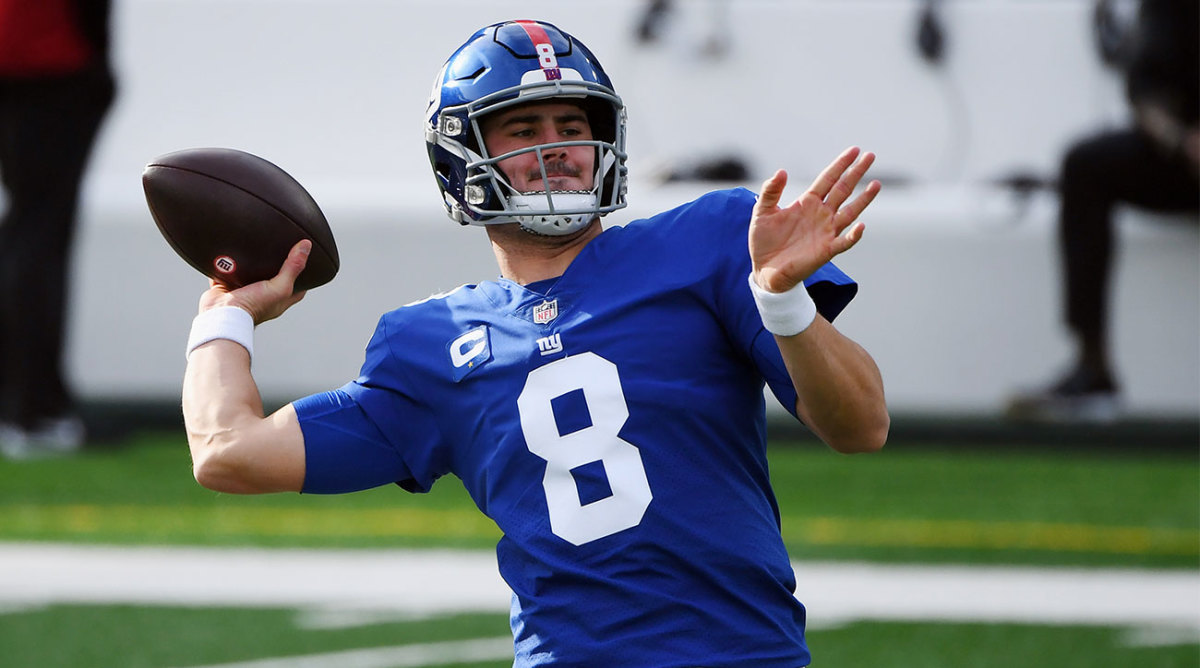 Daniel Jones ($6000) vs New Orleans Saints
There are so many people on OwnersBox that were burned by Jones in week 2 against the Falcons. The Giants quarterback was 30.8% owned last week in the $50,000 salary cap contest. That means 30% of players on OwnersBox probably aren't willing to play him again this week. I would go back to him this week as a high upside option.
Jones is averaging 55 rushing yards per game so far this season and to the surprise of literally everyone on planet earth he has yet to throw an interception. It's not just luck either as his turnover worthy play percentage is 2.2%, ranking 7th among starting QBs. A quarterback that is taking care of the ball and has rushing upside is a recipe for success in any format. Kenny Golladay and Evan Engram should be able to step in for the absent Sterling Shephard and Darius Slayton.
Patrick Mahomes ($8300) vs Philadelphia Eagles
I don't typically like to give a recommendation of one of the highest priced players on the platform. But there are 4 quarterbacks priced between 8,100 and $8300 on OwnersBox this week. I want to be sure that when you're spending at the QB position – which you should absolutely do – you make sure the juice is worth the squeeze. Mahomes needs to be your guy this week.
It's starts with the narrative that the Chiefs are somehow 1-2 to start the season and the motivation factor that will bring to this offense. But plain and simple, Patrick Mahomes is the most consistent player at the position. His lowest output on OwnersBox this season is 27 FPTs while Allen, Murray and Jackson have all had games at or below 18 FPTs this year.
Mahomes most explosive target, Tyreek Hill, has been limited to 14 and 56 yards the last two weeks. Hill can only be contained for so long and with his speed and yards after the catch ability he can turn a 300 yard passing game into a 450 yard passing game for the Chiefs quarterback. If you want Zach Wilson in your QB spot this week go put Patrick Mahomes into your SuperFlex slot.
Matt Ryan ($5800) vs Washington Football Team
What better remedy for Matt Ryan and the Falcons offense this week then the Washington Football Team defense. The Football Team ranks 31st in the NFL against fantasy quarterbacks. I'm not sure if people have caught up to the fact that this isn't a good defense this year. The pass rush may be great but the secondary just isn't skilled enough.
Matt Ryan saw pretty modest ownership on the platform last week at 3.5%. He's fallen out of favour with a lot of fantasy managers for good reason. But with Calvin Ridley and Kyle Pitts out there running routes the veteran signal caller can turn things around and it starts this week against Washington. Ryan's yards per attempt is the lowest of his career, he is overdue for some positive regression.
OwnersBox has launched the first ever Weekly SuperFlex Salary Cap game! Use the promo code "DREW9" for a FREE $10 entry into our $50,000 Week 4 contest.