Rose Bowl Preview
Rose Bowl Game

Utah (10-3) vs Ohio State (10-2) -4.5 | O/U 64

Saturday January 1st @ 5:00pm EST

Rose Bowl Stadium – Pasadena, CA
It's almost time for one of the most exciting games of the bowl season. In a year where we've been losing bowl games left and right we're finally going to see the Rose Bowl played at it's rightful place in Pasadena. Something we couldn't say last season when Alabama and Notre Dame met in Arlington, Texas.
Even though this isn't a College Football Playoff game, there is still plenty to be excited about for this matchup. For Utah, it's their first appearance in program history so we should expect a big effort from the Utes. The Buckeyes fell short of a Playoff birth this season but this young team has plenty to prove here.
I'm going to be in attendance at this game, so I cannot wait to get into the intricacies of this matchup and share my favorite bet for this game.
Player News / Opt Outs
In this era of bowl season it is always best to get as much information as you can on who is in and who is out. This should help you make an informed decision if you are betting on this matchup. Here is the latest player news on the Rose Bowl as of December 29th.
Ohio State Buckeyes: The Buckeyes had a few future NFL draft picks opt out of the game earlier this week. Wide receivers Chris Olave and Garrett Wilson have declared for the NFL Draft and opted to forgo the Rose Bowl. The same goes for junior tackle Nicholas Petit-Frere and junior defensive tackle Haskell Garrett.
Utah Utes: As of writing, there are no announced opt outs for Utah in the Rose Bowl game. That includes stud linebacker Devin Lloyd.
Can Utah Replicate Michigan's Offensive Success?
The Buckeyes got completely run over by the Michigan offensive line in their last game of the season. Utah's offensive line has the chance to do the same thing here as they've looked dominant in the ladder half of the season. The Utes rank 4th in sack rate at just 2.7% and 18th in power success rate. They've been dominant on the ground with Tavion Thomas, averaging 5.6 yards per carry, which ranks 3rd in the nation.
It's not like Ohio State has been terrible against the run this season, they're allowing 3.6 yards per attempt and only 119.7 rush yards a game. But they didn't see a lot of high volume rushing offenses. When they did, they were overwhelmed. Think about those first two weeks of the season. Mohamed Ibrahim and Minnesota ran wild on them, the same goes for CJ Verdell in week 2 when Oregon came to town.
The absence of their leader in the middle of the front 4 is massive too. Haskell Garrett is a big absence for Ohio State. This team is missing that big time edge defender they've had for years (the Bosa's, Chase Young etc.). Their pass rush ranks 72nd and their stuff rate ranks 95th in the country. Will a month of prep time be enough for Ryan Day to find a fix?
Can Anyone Stop This Ohio State Offense?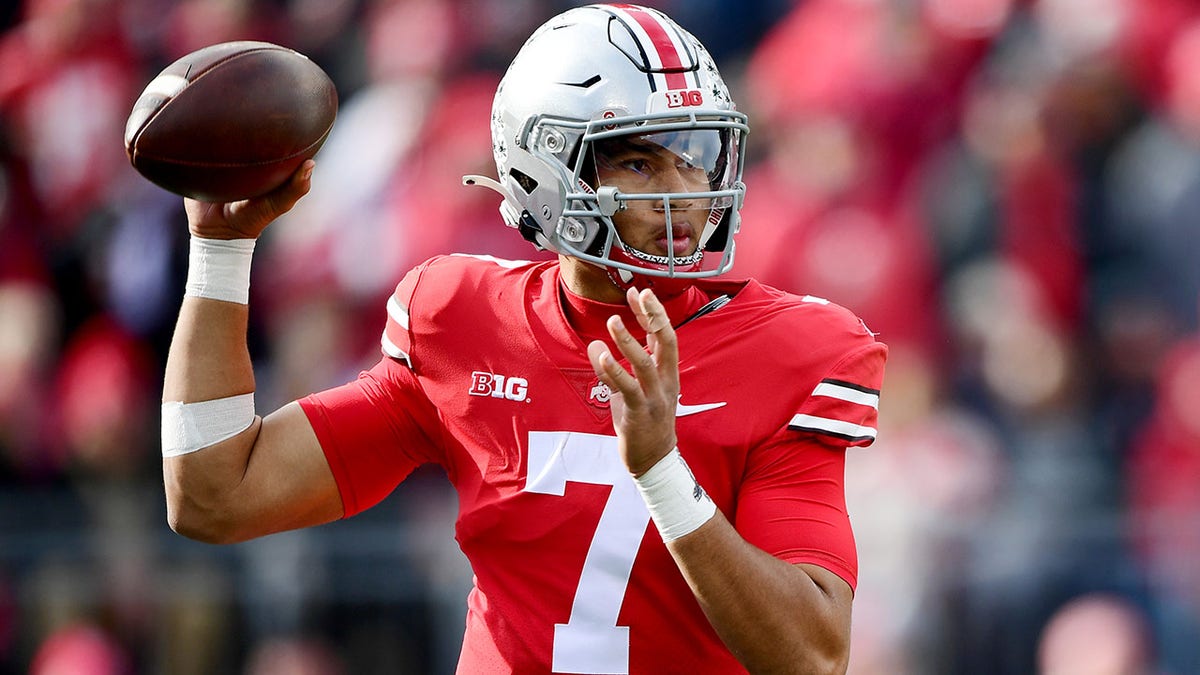 The absences of Chris Olave and Garrett Wilson are certainly an important factor, but you could argue that CJ Stroud will still have his best pass catcher for the Rose Bowl. Jaxon Smith-Njigba led the Buckeyes in receptions (80) and yards (1259) this season. The sophomore is more than capable of being the premiere option. Not to mention, 5-star sophomore Julian Fleming has been eagerly awaiting his opportunity. So I would say a pass catching corps of Smith-Njigba, Fleming and Jeremy Ruckert is still one of the nation's best.
I didn't even mention their FREAK of a running back, freshman TreyVeon Henderson. He's averaging 7 yards a carry and has 15 touchdowns on the season. This offense can hit you in every which way, they are 1st in points per game (45.5) and yards per game (551.3). It's not about whether you can stop the Ohio State offense, it's how can you make drives difficult and slow them down.
The Utah defense hasn't seen a prolific offense anywhere near the Buckeyes all season. But their underlying numbers do remind me of Michigan again here. They do a great job getting after the quarterback, they're 19th in the country in sack rate at 9.0%. They also rank 11th in stuff rate, which is the percentage of carries by running backs that are stopped at or before the line of scrimmage. Future first round pick Devin Lloyd has been a beast in that category, with 22 tackles for loss.
I can see the Utes finding some success in the trenches without Nicholas Petit-Frere there to cover Stroud's blindside. But they haven't seen an offensive attack with this kind of pace and rhythm all season.
Prediction
Ohio State 38 Utah 33
I do expect to see the Utes establish themselves on the ground offensively and find plenty of success. The way they've won in the trenches is no fluke and will translate outside of PAC-12 play. But I'm not so sure their success against the pass, which ranks 11th in opponent yards per pass attempt (6.2), will do the same. The Ohio State offense can really spread teams out and it's very hard to handle.
Defense can be tough to come by in bowl season as a lot of players want to get to the off-season healthy. I don't think points will be at a premium in this game and these teams will light up the scoreboard.
Give me the OVER 64 points!
If you enjoyed the article follow us on Twitter and TikTok at @cornercfb and check out College Corner wherever you get your podcasts!