BIG10 | SEC | BIG12 | ACC | PAC12
Big East Conference Tournament Bracket & Prediction
The Providence Friars were the best story in college basketball this season, as they went 24-4 overall and took the Big East regular season crown. It was just the second time in the last 10 seasons that Villanova didn't have at least a share of the regular season title. Even with the Friars taking the regular season it doesn't mean this isn't an extremely competitive conference.
There are a number of teams in the conference that are either locks for the NCAA Tournament or could get in with a run in the conference tournament that doesn't end in the automatic bid. Those teams would include Villanova, UConn, Providence, Marquette, Creighton and Seton Hall. 4 of those teams (Villanova, UConn, Seton Hall and Providence) are also top-40 in KenPom's adjusted efficiency metric.
We had a surprise winner last season in Georgetown, they don't seem to be that team this year, but the Big East could be the conference that has a winner that comes out of nowhere!
Tournament Odds
| Team | Odds |
| --- | --- |
| Villanova | +165 |
| UConn | +350 |
| Providence | +500 |
| Marquette | +700 |
| Creighton | +1400 |
| Seton Hall | +1600 |
| Xavier | +1900 |
| St John's | +2700 |
| Butler | +3500 |
| DePaul | +6500 |
| Georgetown | +41000 |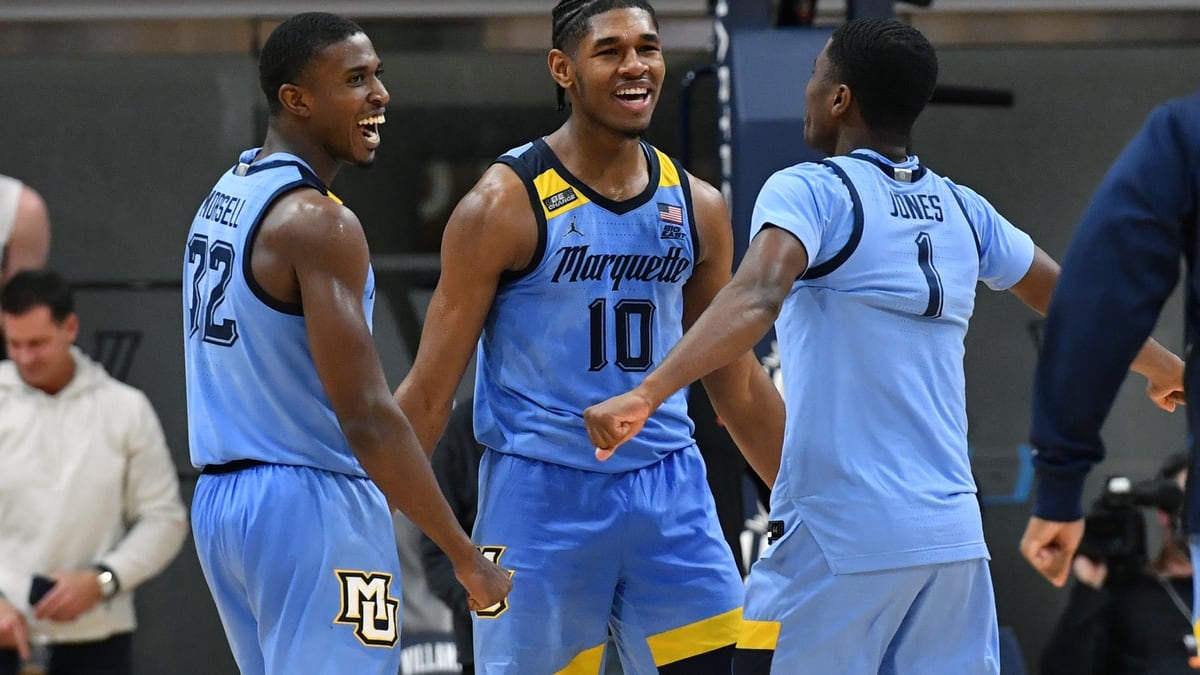 Betting Pick & Prediction
The Marquette Golden Eagles were speaking to me on this odds board. As I dove deeper into their numbers and how they've faired against the elite teams in the Big East it made even more sense. They swept tournament favorite Villanova this season, have a bye to the quarterfinal and draw an overperforming Providence team on their side of the bracket.
The Golden Eagles rank 41st in KenPom's efficiency metric, they are a very complete team as well, ranking 61st on offense and 44th on defense. On the offensive side of the ball they rely on the three ball, guards Greg Elliott and Kam Jones shoot over 40% from behind the arc. Second chance opportunities don't come often though as they don't have the size to work at the glass.
On the defensive side, opponents are scoring at a 46% rate from 2-pt range. They've had two incredibly tight losses to Creighton this season, who they play in the quarterfinal, they'll need this interior defense to play well in that matchup. The Blue Jays get 55.1% of their points on 2-pointers.
In potential semi-final and championship matchups against Villanova and Providence they line up quite well though. Those teams are quite reliant on shooting from deep and the Golden Eagles opponents are shooting 31.5% from 3.
Check out our college page to stay up to date on March Madness and all of college basketball. You can also play weekly fantasy basketball on OwnersBox for free using code "NBA10", head to the lobby and win real cash!