Tampa Bay Buccaneers 2021 Season Preview
General Manager: Jason Licht

Coach: Bruce Arians

2020 Captains: Tom Brady, Mike Evans, Lavonte David, Devin White, Bradley Pinion, Kevin Minter

Regular Season: 11-5 (2nd — NFC South)

Playoff Outcome: Super Bowl Champions
The Tampa Bay Buccaneers are entering the 2021 NFL season with full expectations of repeating as Super Bow Champions. The team looks fantastic with all 22 of their starters returning for the 2021 NFL season. At the fine age of 43 years old, Tom Brady (The GOAT) with 7 super bowls will be looking to bring the Buccaneers back to the Super Bowl to repeat as champions.
The Buccaneers offense had the second most touchdowns (42) and the fourth most passing yards (4776). The Buccaneers defense were first in the NFL for least rushing yards allowed per game (80.6) and tied for fourth most sacks (48.0). 
They have the following schedule;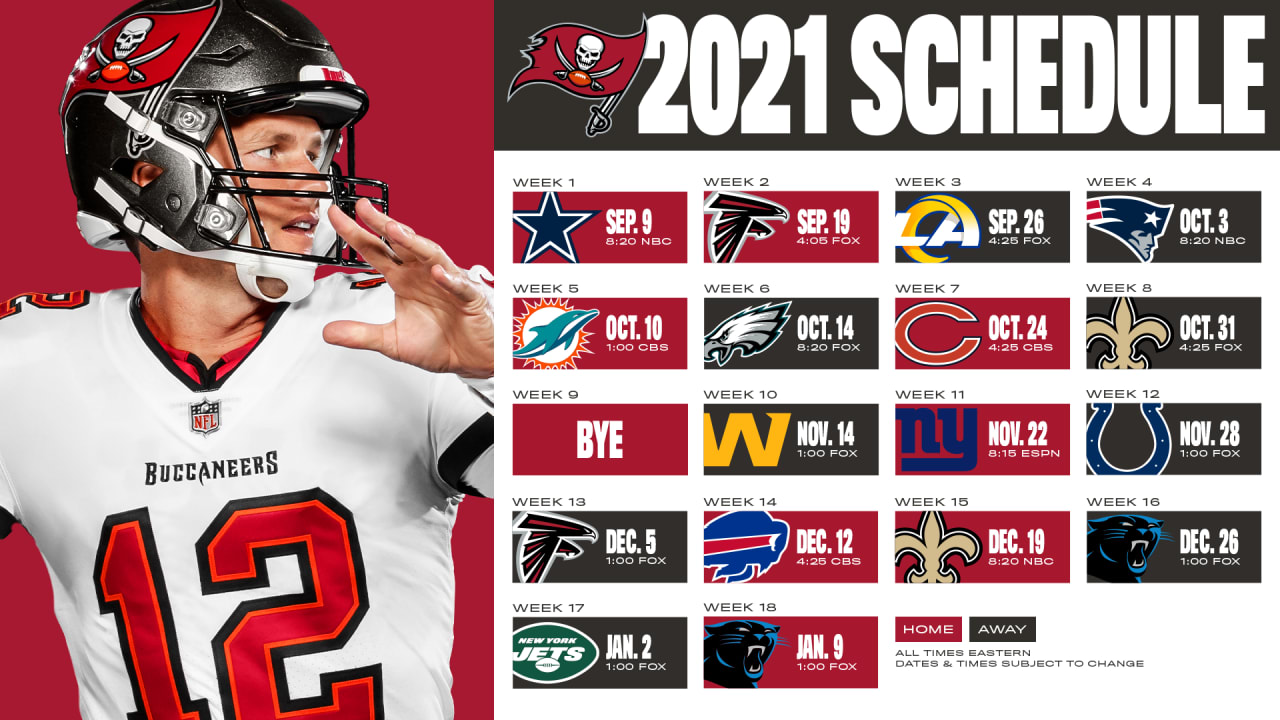 The Tampa Bay Buccaneers have the 4th easiest strength of schedule based on opponents 2020 win percentage (Find it here)
Hardest Games: The Bucs have a decent amount of tough games on their schedule. Personally, I think the Sept 26th game at Los Angeles against the Rams will be their toughest matchup. The Rams have upgraded their quarterback situation from Jared Goff to Matt Stafford, obviously, the Cam Akers injury is devastating, but Darrell Henderson is a solid option. We all know the Rams have a powerhouse of a defense led by Aaron Donald, their defense was ranked #1 in 2020 (Lineups.com). Home/Away split was 6-2 at home versus 4-4 on the road.
My next hardest game would have to be on Dec 12th when the Buccaneers will host the Buffalo Bills. The Bills had a strong 2020 season winning the AFC East. The team was led by Josh Allen who had a breakout season with 37 touchdowns and gathered interest in the MVP conversation. The new acquisition of Stefon Diggs turned into a massive success, he has carved his spot as a top 7 WR in the NFL. The Bills and Buccaneers did not play each other in 2020 and the last time they played was in 2017. The positive aspect of this matchup is the Buccaneers will not have to travel to cold Buffalo in December, instead, they will play the Bills in nice warm Tampa Bay weather.
Easiest Games: The In-Division games against the Falcons should be no-brainer wins for the Bucs, since the Falcons have lost their star-studded receiver, Julio Jones. Instead of picking the Falcons, my easiest matchup is Jan 2nd away against the New York Jets. The Jets will have 2nd overall pick Zach Wilson playing in his rookie season. I think this game will have a major impact on the Bucs regarding playoff purposes, while the Jets will already have shifted their focus on 2022. The Jets also drafted Michael Carter, running back from North Carolina in the 4th round. The Jets will have a young inexperienced offense. I am projecting the Jets to miss playoffs by a large margin, which makes this game less valuable in terms of importance.
My second easiest matchup would be Nov 22th at home against the New York Giants. The Giants did make a large free-agent signing in Kenny Golladay and will have the return of Saquon Barkley in 2021, but they did not fix their QB situation. Daniel Jones is arguably or one of the worst quarterbacks in the NFL. Jones ranked as the #29 quarterback in passing touchdowns with only 11 in 2020. The Giants actually played a competitive game at Met Life Stadium in 2020 and only lost 25-23. This year, the Giants will have a tough matchup trying to beat the Bucs in Tampa Bay.
Most Exciting Game: We have an insane opening day matchup between the Buccaneers and Dallas Cowboys on September 9th for Thursday Night Football. The first game of the NFL is always exciting because everyone is anxious to finally watch some football plus this matchup is all-time. Dak Prescott will be returning from his injury and will be dealing with a jam-packed star-studded offense. Zeke is bound to have a bounce-back year with Dak returning and the Cowboys have three strong receivers (Amari Cooper, Ceedee Lamb, and Michael Gallup). I'm expecting a high-scoring game since the Cowboys averaged 36.2 amount of points last season when Dak was playing.
Record Prediction
Game by game schedule Win/Loss prediction: (14-3)
Week 1: vs Cowboys
Week 2: vs Falcons
Week 3: at Rams
Week 4: at Patriots
Week 5: vs Dolphins
Week 6: at Eagles
Week 7: vs Bears
Week 8: at Saints
Week 9: BYE
Week 10: at Washington
Week 11: vs Giants
Week 12: at Colts
Week 13: at Falcons
Week 14: vs Bills
Week 15: vs Saints
Week 16: at Panthers
Week 17: at Jets
Week 18: vs Panthers
 NFC SOUTH 
Looking at betting odds, sportsbooks have the Buccaneers as heavy favorites to win the NFC South. The Saints will be discovering new territory with the official retirement of Drew Brees. The quarterback situation in New Orleans is still split between choosing Jameis Winston or Taysom Hill. Either way, the Saints should be the toughest team the Bucs will compete against for the division.
The Carolina Panthers will also be going through a quarterback change with Teddy Bridgewater moving on to the Denver Broncos. The Panthers will have ex-Jets quarterback Sam Darnold leading the charge. The Panthers are the biggest wild card team in this division, they have a strong receiving core and will have a healthy Christian McCaffrey in 2021.
Lastly, the Atlanta Falcons seem to be heading into rebuild mode in 2021 with the official departure of Julio Jones to the Tennessee Titans. I fully expect the Falcons to finish last in this division. They will have some optimism with rookie TE Kyle Pitts playing in his first NFL season.
Positional Chart
Quarterbacks
QB1: Tom Brady

QB2: Blaine Gabbert
Tom Brady has had a wild offseason celebrating his super bowl victory. At the Super Bowl parade, we all got the pleasure of witnessing a visible blackout Brady. We also got to witness Brady play another Golf Open this summer, except this golf round included Aaron Rodgers and Bryson DeChambeau. I feel like Tom Brady has become one of the more likable athletes in sports, as he is active on social media and has no filter in sending the odd savage tweets to other athletes.
From a Football standpoint, Brady was outstanding and did not see any regression from his previous season with the Patriots. Here are some of the categories he ended finishing top 3 in the NFL;
#3 – Passing Yards, #2 – Completed Air Yards, #2 – Passing Touchdowns
Should we expect the same in 2021?
I do expect Brady to have the same touchdown numbers and passing yards since he will be playing with the same offense and will have 1 year under his belt with the team. I do not think his rank will go higher, it will be a tough task to defeat the other young QBs Josh Allen, Patrick Mahomes, and Justin Herbert in both passing yards and passing touchdowns. It also turns out Brady played the entire 2020 season with an MCL tear, which is complete bonkers. It is expected he will be fully healed for the 2021 season.
I don't see much changing in 2021 —- The only reason for concern is Tom Brady's age (43 years old) and if we will see some sort of regression. I'm not buying into the regression, I think Brady will have another phenomenal season in 2021.
If you don't think Tom Brady is going to dominate again … make sure you watch this completely real video of him.
Training camp starts this week. I'm looking forward to having some actual receivers again… pic.twitter.com/PDl1puHr46

— Tom Brady (@TomBrady) July 25, 2021
Running Backs
RB1: Leonard Fournette

RB2: Ronald Jones II

RB3: Giovani Bernard
As of right now, football analysis have Fournette leading the charge for the Buccaneers ahead of Ronald Jones. Bruce Arians has spoken publicly on his RB situation and seems like he loves all of his options for 2021. Fournette took over the Buccaneers back-field at the end of last season and for playoffs, which is the reason why he's the favorite to start the year as RB1. The 2020 snap share between the two was very similar, I expect the Buccaneers to continue to split time between the two backs. I can't see one or the other taking sole possession as the workhorse running back.
Ronald Jones (2020): 978 Rushing Yards, 8 Touchdowns
Leonard Fournette (2020): 367 Rushing Yards, 6 Touchdowns
The Buccaneers backfield will also be joined by newly signed, Giovani Bernard, who could take some snaps away from both Jones and Fournette. Bernard is an elite running-back pass catcher and pass blocker. The Buccaneers will get a nice boost in the back-field, as Bernard will have the ability to help boost protection and receptions from the back-field.
Wide Receivers
WR1: Mike Evans

WR2: Chris Godwin

WR3: Antonio Brown
The Buccaneers had one of the best receiving trio in the NFL in 2020 and it will remain the same in 2021. The three starters; Mike Evans, Chris Godwin, and Antonio Brown had the following stats;
Mike Evans (2020): 989 Receiving Yards, 13 Touchdowns
Chris Godwin (2020): 840 Receiving Yards, 7 Touchdowns
Antonio Brown (2020): 483 Receiving Yards, 4 Touchdowns
What should we expect from Antonio Brown? 
Antonio Brown has become a popular sleeper pick in Fantasy Football drafts because of his potential upside. In 2020, Brown had the highest target share% (19.9) out of all Buccaneers receivers. He also had more receptions/game compared to both Godwin and Evans. Tom Brady obviously enjoyed targeting Brown last season and I don't see anything changing in 2021.
Godwin and Evans should/will see all team's top corners, which allows Brown to be defended by most teams' #3 CB. Expect AB to have a nice season and potentially compete with Evans and Godwin in the receiving yards category.
Tight Ends
TE1: Rob Gronkowski

TE2: OJ Howard

TE3: Cameron Brate
OJ Howard will be returning to the roster after suffering a torn Achilles in week 5. This gave the opportunity for Rob Gronkowski to become the clear tight end 1 for the Buccaneers. He had himself a pretty good year, with the following stats;
Rob Gronkowski (2020): 623 Receiving Yards, 7 Touchdowns, 77.4 Snap Share
The Buccaneers will most likely put their trust in Gronkowski as the tight end 1. To keep Gronkowski fresh, Brate and Howard should see a healthy amount of playing time throughout the 2021 season. A good problem to have for the Buccaneers with the possibility of 3 solid options.
The Buccaneers Defense
This defense is just getting started. pic.twitter.com/lmlro6LMZN

— Tampa Bay Buccaneers (@Buccaneers) May 28, 2021
These numbers produced are pretty insane, which shows why we should not have been surprised by their postseason success. The defense is a good combination of veterans and young promising studs. Devin White and LaVonte David had very strong seasons at the Linebacker position. White is only 23 years old and played college football for the LSU Tigers. Another young promising defensive stud is safety Antoine Winfield Jr. who is only 22 years old who was a second-round pick out of Minnesota.
This defense could even be better in 2021, as they will get the opportunity to have a full offseason together, which could ultimately lead to better team chemistry.
If you enjoyed this article check out our full season preview guide. Also, we are launching our new Weekly Tournament game for NFL this season so be sure to look out for that. We will be doing free-rolls and large prize pools all season! Download the OwnersBox Fantasy Sports app today!