San Francisco 49ers 2021 Season Preview
Head Coach: Kyle Shanahan
General Manager: John Lynch
2020 Regular Season Record: 6-10
2020 Result: Missed Playoffs
Super bowls: 5
Kyle Shanahan and the San Francisco 49ers made a statement this off-season giving up 1st-round picks for the next 2 years in order to acquire their quarterback of the future, Trey Lance. This team is all in on its current window. The peices are in place, now it's up to the pieces to stay together and stay healthy.
The Offense
The "quarterback competition" many are calling for in San Francisco truly doesn't seem to be the case. Shanahan is doing his best to talk up the veteran Jimmy Garoppolo while respecting the work of the incumbent Lance. As good as the FCS star has looked in camp, he's yet to see any work with the 1st team offense at the time of writing.
Shanahan was asked if Lance could beat out Garoppolo for week 1, his response:
"I think that would be pretty tough to do, so I'm not trying to put that pressure on Trey… Jimmy has played too good… He is too good of a player and Trey's trying to learn everything right now and soak it all in. So that's why I'd be very surprised if he was able to do that."
For all intents and purposes Jimmy Garoppolo is the starting quarterback of the San Francisco 49ers in 2021. Quite frankly, it's difficult to envision him losing this job considering the weapons he will have at his disposal. Brandon Aiyuk proved to be reliable for whatever quarterback was at the helm last season. Turning 60 receptions into 748 yards and adding 7 total touchdowns. His burst was evident, he saw some rushing attempts and screen passes that broke for big plays. He really reminded me of, well, Deebo Samuel. In the games the trio of Aiyuk, Samuel and Garoppolo were on the field last season the offense was much more efficient, averaging 28 points per game.
The other major weapon for Garoppolo is tight end George Kittle who was a force to be reckoned with when on the field in 2020. He was on a 1200+ yard pace in a 16 game season. If these receiving weapons are healthy not only will it take pressure off Garoppolo but also the rushing attack. Raheem Mostert missed OTA's nursing a knee injury but he's back at training camp with the first team. His efficiency when he's on the field cannot be ignored, his career average yards per carry is 5.6. The team drafted Trey Sermon as his running mate, which makes a lot of sense considering Mostert is 29 years old and hasn't seen more than 151 touches in a season. Sermon profiles as the sure fire goal line back who thrived in college in a zone rushing scheme at Oklahoma and Ohio State.
This offense is primed to have a big season regardless of the quarterback under center. Especially with two anchors on the offensive line, thanks to the resigning of Trent Williams and the steady Mike McGlinchey.
The Defense
The 49ers defense is under new leadership in 2021, with the departure of Robert Saleh to New York. They have promoted linebackers coach DeMeco Ryans to defensive coordinator. With an internal promotion being made, there shouldn't be too many schematic changes implemented. Ryans has said that Saleh's imprint will still be felt in 2021.
One important note he made following that question regarding how he would implement his own wrinkle into the defense this season really sticks out:
"I want to be known as an attacking defensive line. Our D-Line is going to attack. Our linebackers and secondary, they're going to play with base fundamentals. We're going to play off our defensive line."
Nick Bosa. Javon Kinlaw. Dee Ford. Arik Armstead. This defensive line will be able to get after the quarterback at one of the highest rates in the league. Ryans making this a point of emphasis is a no brainer, this is the strength of the defense. The 49ers played 67% of snaps out of the nickel package, this was the 8th most in the NFL. I'd expect this to continue and even grow in 2021, with the skill from the players up front they'll look to get pressure with 4 and have their secondary sit in coverage. Look for plenty of 2 high safety sets as well.
This defense ranked fifth in the NFL in total defense without Nick Bosa and Dee Ford for much of the season. Injuries ravished not only this defense but the entire team last season and they still found success. The team was able to bring back cornerback K'Waun Williams and safety Jaquiski Tartt on team friendly 1 year deals. They've also added some depth through the draft at corner with Ambry Thomas in the 3rd round and Deommodore Lenoir in the 5th. Jason Verrett had a brilliant comeback season in 2020, but his injury history makes it difficult to rely on him for a full schedule.
If the defensive line stays healthy then the lack of star power in the secondary won't be an issue. I like what new DC DeMeco Ryans has been preaching in the off-season and this defense is capable of picking up right where they left off in 2020.
Season Prediction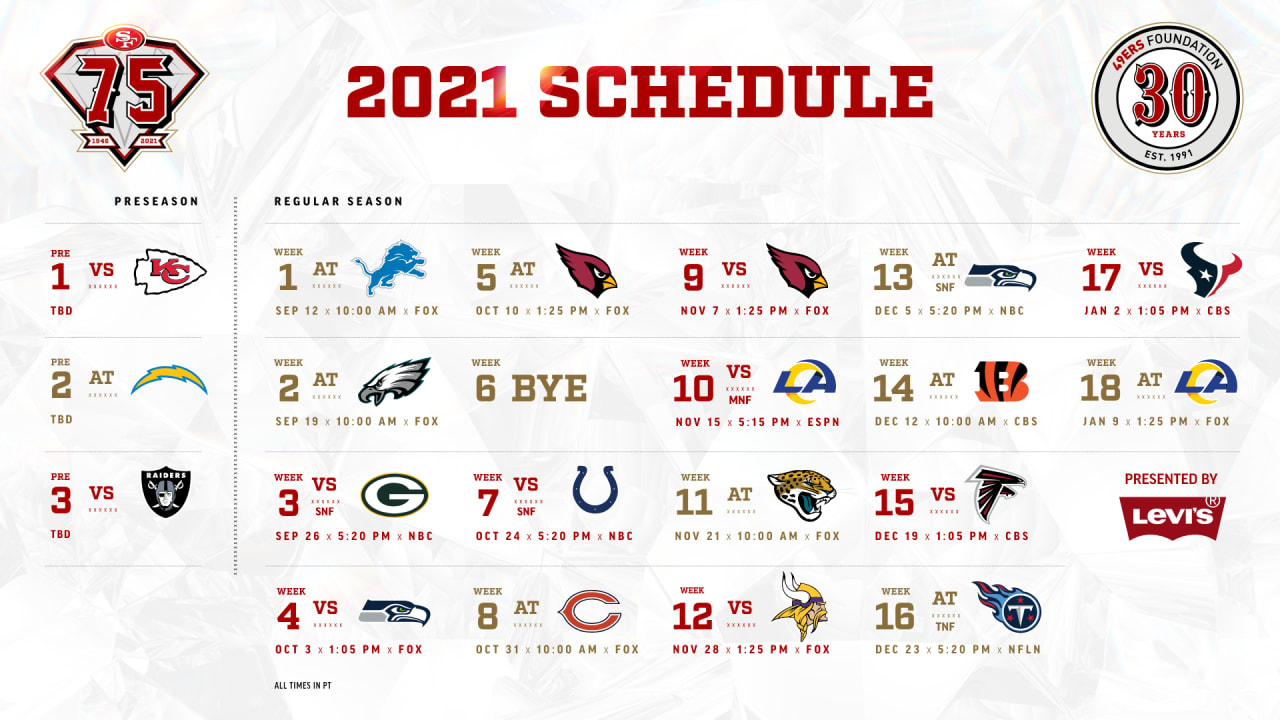 SAN FRANCISCO 49ERS 2021 RECORD: 11-6
This group is primed for a bounce back season. Even more so if the injury bug bounces their way. The 49ers led the NFL in man games lost by a significant margin in 2020. The out of division schedule is pretty advantageous as the AFC South is probably the NFL's weakest. At the same time the NFC West is the toughest division in football and cannibalized itself in 2020. The quarterback play, whether it's Garoppolo or Lance, will keep this team from finishing with a conference winning schedule. But under Kyle Shanahan this is a playoff team.
If you enjoyed this article check out our full season preview guide. Also, we are launching our new Weekly Tournament game for NFL this season so be sure to look out for that. We will be doing free-rolls and large prize pools all season! Download the OwnersBox Fantasy Sports app today!