Head Coach: Frank Reich
General Manager: Chris Ballard
2020 Regular Season Record: 11-5
2020 Result: Lost AFC Wildcard Game
Super bowls: 2
New Additions and Losses – Offensive Outlook
Training camp has not been kind to the Colts this year. As both their recent acquisition at QB, Carson Wentz, and their star left guard, Quenton Nelson, got hit with the same injury. They both needed to get surgery on their foot and were given 5-12 week timetables to return. Luckily, both have progressed well and there's a chance both are ready for week 1. If they aren't ready though, it significantly dampens their early season outlook, as they're arguably the two most important pieces of this offense. As of Monday, August 23rd, Wentz is back out on the field practicing, so I'd bet on him being ready.
Well, well, well. Carson Wentz is back on the practice field.

(🎥 @Colts) pic.twitter.com/prGxAT4AaV

— Ari Meirov (@MySportsUpdate) August 23, 2021
Wentz had a very disappointing season in 2020, and hasn't really returned to his MVP form he had in 2017. Now that he's finally back with his old OC, Frank Reich, there is optimism he can return to the glory days and be the answer the Colts have been looking for at QB. If that is the case, this offense could be quite scary in 2021.
T.Y. Hilton is getting up there in age, but both Michael Pittman and Parris Campbell could very easily have big breakouts this year. This wide receiver corps is far from one of the leagues best, but there's definitely potential. Wentz didn't have much outside of Zach Ertz back in 2017 and made it work, so I'm not too worried about that.
The strongest part of this offense comes through the run game. Indianapolis drafted Johnathan Taylor in the 2nd round in 2020, and by the end of the season, he completely took over the backfield. I expect a big reliance in the run game, with Taylor being the biggest benefactor and Hines subbing in occasionally for passing downs. We'll also see the return of Marlon Mack, who tore his Achilles in week 1 last year. RB explosiveness has historically been significantly worse coming off this injury, so I wouldn't expect too much out of Mack.
The offensive line has developed into one of the leagues best, especially since drafting Quenton Nelson a few years ago. However, a big loss came this offseason with Anthony Castonzo retiring. Filling that hole at left tackle will be a tough task but the Colts are going through their options. One of which is moving Nelson out to tackle from his left guard spot. It's a risky decision considering how good he's been on the inside, if he can't adjust correctly it could be detrimental to the whole line.
Best Player – Quenton Nelson
Breakout Candidate – Michael Pittman
Biggest Concern – Carson Wentz bouncing back
New Additions and Losses – Defensive Outlook
The Colts have slowly turned their defense into a solid group after being one of the leagues worst a few years ago. The defensive line got a massive upgrade last season when acquiring DeForest Buckner from the 49ers via trade. As one of the best all around defensive tackles in the league, he was a massive addition up front for this defense. Their big addition this offseason was 1st round pick Kwity Paye to play on the edge. If he can convert his game into the NFL, his outside pass rush paired with Buckner's inside could be lethal.
The heart of this defense comes from their star linebacker, Darius Leonard. He's been absolutely dominant in all 3 of his NFL seasons so far, good enough to have gotten a massive, 5 year, 99.25 million dollar extension. A much deserved pay day considering how valuable he is in every aspect of the game. In his 42 career NFL games, Leonard has 416 tackles, 26 TFLs, 15 sacks, 7 interceptions, 9 forced fumbles and 22 passes defended. Absolutely absurd numbers.
One loss at linebacker this offseason was Anthony Walker, who has been the number 2 to Leonard for a few years now. With the expectation of Bobby Okereke to take a step up and fill that middle linebacker role, they didn't have much of a use for Walker so he signed with Cleveland this offseason. Linebacker is definitely the biggest strength of this defense so expectations are high for Okereke.
The secondary looks nearly identical to last season, which I wouldn't necessarily say is a good or bad thing, as they were sort of average last season. Xavier Rhodes had a big bounce back season in his first year with the Colts after stinking it up in Minnesota, enough to earn another contract. Kenny Moore and Rock Ya-Sin are nothing special, but they get the job done. Julian Blackmon and Khari Willis man the back end and are both still very young, so there's some potential there, but overall this is a secondary I wouldn't be scared of, but also wouldn't say it's easy to beat.
Best Player – Darius Leonard
Breakout Candidate – Bobby Okereke
Biggest Concern – potential lack of an outside pass rush
Season Schedule, Predictions and Colts Season Preview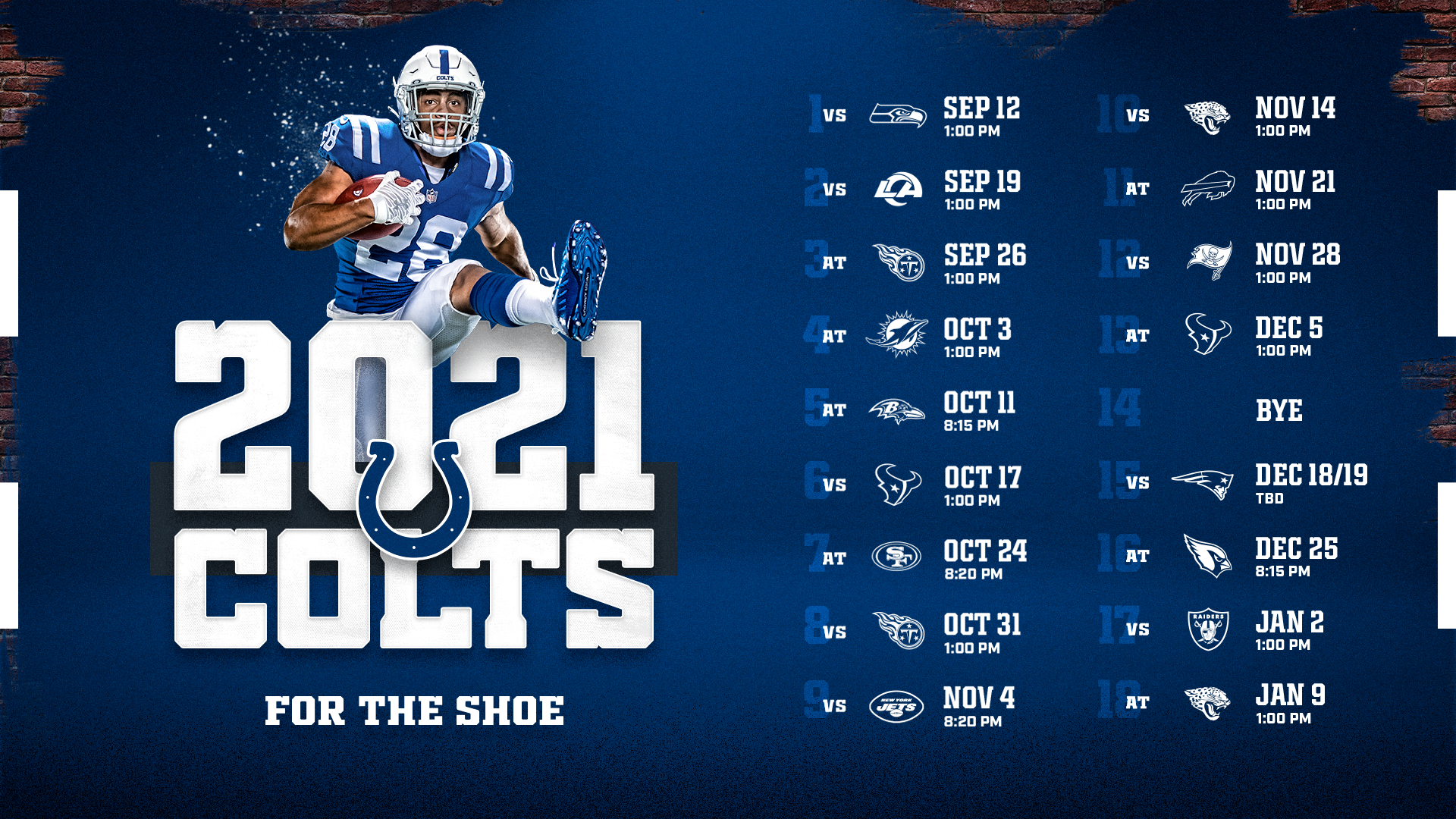 Week 1: vs Seahawks – L
Week 2: vs Rams – L
Week 3: @ Titans – L
Week 4: @ Dolphins – W
Week 5: @ Ravens – L
Week 6: vs Texans – W
Week 7: @ 49ers – L
Week 8: vs Titans – W
Week 9: vs Jets – W
Week 10: vs Jaguars – W
Week 11: @ Bills – L
Week 12: vs Buccaneers – L
Week 13: @ Texans – W
Week 14: BYE
Week 15: vs Patriots – W
Week 16: @ Cardinals – L
Week 17: vs Raiders – W
Week 18: @ Jaguars – W
Season Total: 9-8
Despite having a relatively easy division, the Colts have a tough schedule. Their cross conference matchup comes against the powerhouse NFC West, none of which will be easy matchups. Then their in conference matchup comes against the AFC East, a division that has turned into a pretty solid one, and to cap it all off, their 17th game (newly added this season) is against the reigning super bowl champs, Tampa Bay Buccaneers.
With both Wentz and Nelson dealing with injuries, I could see a slow start for this offense and the schedule makers didn't help them at all with that giving them 4 2020 playoff teams and the 10-6 Dolphins in the first 5 weeks. I expect them to turn it around in the 2nd half of the year, but I don't think it'll be enough to make the playoffs. That's unfortunate as I believe this is a playoff roster that just got screwed with one of the leagues hardest schedules.
Follow me on Twitter: @sexypats
OwnersBox has launched the first ever Weekly SuperFlex Salary Cap game! Use the promo code "DREW9" for a FREE $10 entry into our $100,000 week 1 contest.