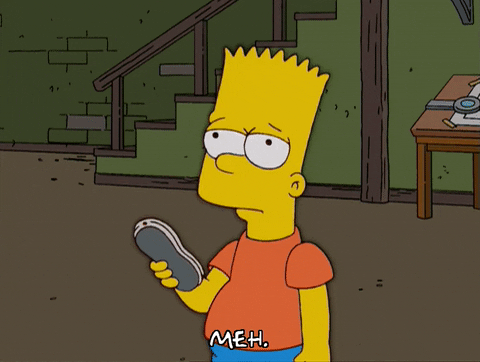 There's really no better way to describe Week 7 of the NFL season than with a good 'ol "meh." It started out with a brutal Thursday night game with the Browns vs the Broncos and ended with an even more brutal Monday night game between Geno Smith and Jameis Winston. The only game that had any real entertainment value was the Dolphins vs the Falcons, but obviously no one cares about either of those teams this year outside of their own respective fanbases. The matchups were terrible. Very few games were close. There are few things I love more than football but sometimes you have to call a spade a spade and that's what I'm doing by saying that this was a terrible week of football.
My picks may have been even more of a "meh." I went 3-4 and lost 1.27 units, which is obviously not a good week but also not a terrible week by any means. But it was how I went 3-4 that really had me as bored as I've ever been watching the NFL. Two of my wins were on underdogs who won the game but I only bet on them to cover so they felt like losses in a weird way. And then the closest of my 4 losses was the the Bears missing the +12.5 spread against the Bucs by 22.5 points. Just a weird, anti-climactic week in the NFL but after being on a mini hot streak, this may be what was needed to get back on track.
Here's how I stand after Week 7 of the NFL Season:
Week 7 Record: 3-4, -1.27 units
Season Record: 27-23-2, +5.85 units
Green Bay Packers +6.5 (-110) vs Arizona Cardinals (1 unit)
Unless you've been living under a rock, you're well aware that COVID has infiltrated the Green Bay locker room. The Packers will be without Defensive Coordinator Joe Barry and their two top receivers, including the best in the NFL, Davante Adams. When I originally checked out the lines on Sunday night, it was Packers +3.5 and I was going to hammer it because I couldn't pass up Aaron Rodgers as an underdog. Now with the COVID news, the line is up to +6.5 and I simply can't resist. As long as #12 is on the field, the Packers are a threat and giving the reigning MVP 6.5 points is too much to pass up. I'm taking them to cover but wouldn't be surprised if they give the Cardinals their first loss of the season despite COVID.
Detroit Lions +3.5 (-110) vs Philadelphia Eagles (1 unit)
How can you not feel bad for Dan Campbell and the Detroit Lions. The last winless team in the NFL gave it all they had against the Rams this past Sunday by using a surprise onside kick and not one, BUT TWO, fake punts only to still come up short yet again. I believe in Dan Campbell way too much to think he's going to go winless in his first year despite this joke of a roster he has. This week is one of the games where I believe they have a real shot. The Eagles are an absolute dumpster fire and seem to be looking into who they will be drafting with a top 5 pick this year. I think the Lions keep this one close with the potential to get that elusive W.
Chicago Bears +3.5 (-120) vs San Francisco 49ers (1 unit)
Neither of these teams looked good on Sunday and I must admit that I feel disgusting betting on this game. Jimmy G is clearly not the guy in San Francisco and it doesn't seem like Trey Lance is ready to lead this team that entered the season with playoff and even Super Bowl aspirations given the rest of their roster. I am a fan of Justin Fields and think he will be a solid QB of the future for the Bears. The defending champs are going to be a hard matchup for anyone so I'm not going to judge him from last week. I think this is a disgusting defensive battle that ends with a score of around 14-13. Take the Bears to cover.
Jacksonville Jaguars +3.5 (-120) vs Seattle Seahawks (1 unit)
Imagine betting on Geno Smith after that shit show on Monday night. The Seahawks have proven to be nothing with Russell Wilson and I won't be touching them until he comes back. The Jaguars have only gotten better since Urban Meyer decided to have some finger action at the Columbus bar and Trevor Lawrence is slowly starting to look like who we all thought he would be when he was taken #1 overall. I love the Jags to cover in what is my 4th consecutive underdog pick of the week.
New England Patriots vs Los Angeles Chargers OVER 49 (1 unit)
The Patriots offense is coming off of a 54 point performance against the Jets last week and even though it's the Jets, 54 points is a lot of points. I feel like Mac Jones is starting to figure it out and is due for another strong performance. The Chargers are coming off a bye week following being embarrassed by the Ravens in the week prior. I think they were due for a bad game and following a bye are going to come out firing. I think these teams combine for over 60 points on Sunday so I'm taking the over.
Tampa Bay Buccaneers -5.5 (-110) vs New Orleans Saints (1 unit)
Just like how I'm not going to bet on Geno Smith, I'm also not going to bet on Jameis Winston for the foreseeable future after Monday night. Who knows where the Saints would be without Alvin Kamara. The Bucs are unarguably a top 3 team in the NFL and I think they take care of business against their division rival and win by a couple scores.
6-Point TEASER (-110) Los Angeles Rams -8.5/Cincinnati Bengals -3 (2 units)
It's been a few weeks since I've bet a teaser but I couldn't help myself this week. The Rams and Bengals are playing the Texans and Jets respectively in battles of two of the league's best vs two of the league's worst. The Rams survived a mini scare against the Lions last week, which I think will wake them up and not take the Texans lightly en route to a convincing win. The only fear is a letdown game from the Bengals after the beatdown of the Ravens but given how bad the Jets are, and without even Zach Wilson under center, they will cover 3 even if there is a letdown game. I'm throwing a couple units on this one for my biggest bet of the week.
BOL if you tail. FU if you fade. Let's get rich.
Use Promo Code "DREW9" for a FREE $10 entry into our $25k Week 8 contest. (one-time use on promo code)