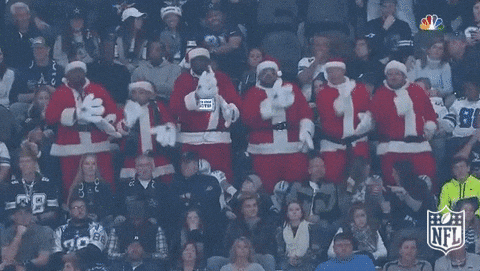 Merry Christmas to all! This year we are truly blessed with 2 great games on Christmas Day and a full slate the following day and I couldn't be happier to know I'll have some football to enjoy with the family.
Last week was a weird week with multiple games being postponed, which led to 2 of my Week 15 bets being canceled. Those 2 bets would've gone 1-1 so they wouldn't have saved what ended up being a rough week anyways. Thankfully, the Chiefs covering my unit 2 play in overtime, helped out in what could've been the week that guaranteed me finishing the season in the red.
Week 15 Record: 2-5-2, -2.42 units
Season Record: 46-54-4, -6.89 units
Without further ado, let's get into my Week 16 bets:
Green Bay Packers -7.5 (-110) vs Cleveland Browns (1 unit)
Insanity from Aaron Rodgers pic.twitter.com/sOpdSTz3Fe

— Lily Zhao (@LilySZhao) December 19, 2021
I mean just look at this throw!! This is just one example of the insanity that is Aaron Rodgers who is making a strong push to win his 2nd consecutive MVP award. The Packers are tied with the Cowboys for the best record ATS this year at 11-3 and I believe they're going to blow out the Browns on Christmas Day. It would make a ton of sense to buy the half point to get this spread to 7 but I'm taking it as is against a banged up Browns team. Go Pack Go!
Indianapolis Colts ML (+110) vs Arizona Cardinals (1 unit)
I bet against the Colts last weekend and regretted it right when the game kicked off. The Colts got off to a slow start but have rebounded and become one of the most dangerous teams in the NFL. The Cardinals are the exact opposite in that they had the best record in the NFL for most of the season until they lost their last 2, including last week's embarrassing loss to the previously 1 win Lions. I'm taking the Colts to stay hot while the panic in Arizona only intensifies after a 3rd straight loss.
CHRISTMAS PARLAY!! Packers ML/Colts ML (+171) (1 unit)
The Thanksgiving Parlay was one win away from a lovely +200 payout but unfortunately close only counts in horseshoes and hand grenades. Santa, all I'm asking for Christmas is for The Christmas Parlay to hit and I got a good feeling it will.
Los Angeles Rams -3.5 (-105) vs Minnesota Vikings (1 unit)
All I've been hearing this week is people talking about how many fantasy points Cooper Kupp is going to put up against an abysmal Vikings' secondary, who have only got worse since releasing Breshaud Breeland. As someone who owns the NFL's leading receiver in 2 fantasy leagues in the semifinals this week, I'm hoping that that is all true. I think a big Cooper Kupp game also means a Rams win and cover. For that reason I'm throwing a unit on the Rams at -3.5.
Las Vegas Raiders PK (-110) vs Denver Broncos (1 unit)
i have to admit that I've put the least amount of thought into this bet of any this entire year. The Raiders have nothing to do with this bet. It all has to do with the fact that the Broncos will be starting Drew Lock on road. Drew Lock is terrible and I'm looking forward to him turning the ball over 3 times en route to a loss.
Las Vegas Raiders vs Denver Broncos UNDER 41 (1 unit)
I've taken the under in the Broncos game the past 2 weeks once I realized how successful that bet has been this season. It currently sits at 11-3 and I was planning on taking it regardless of what the number was. Don't overthink this one. Take the under.
OwnersBox has launched the first ever Weekly SuperFlex Salary Cap game! Use the promo code "DREW9" for a FREE $10 entry into our $15,000 Week 16 contest.