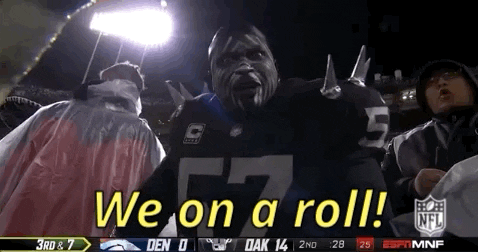 And just like that, we are on a damn roll! After an abysmal, multi-week stretch, Gambling With Gange is 8-3 in the last 2 weeks after a 4-2 performance in Week 14 highlighted by the Seahawks easily covering 7.5 points against the abysmal Houston Texans in my 2 unit play of the week. The 3 other wins were all as big of sweats as I've been a part of this year with the Vikings securing the cover on the last play of the game, the Ravens completing a huge comeback to cover +2.5, and the Rams/Cardinals over hitting with under 2 minutes to play. Wins like that will most definitely get your confidence up going forward and I'm planning on riding the wave into another great week.
This may be one of the harder weeks to bet given there's over 100 players on the COVID list but that's not going to stop us from taking some shots. It's called gambling for a reason!
Here's how we stand going into Week 15 of the NFL season:
Week 14 Record: 4-2, +2.47 units
Season Record: 44-49-2, -4.47 units
Now let's get to the picks!
Kansas City Chiefs -3 (-120) vs Los Angeles Chargers (2 units)
Throwing 2 units on this game because it's tonight and there's much more certainly around who is playing vs who isn't like in the weekend games. The Chiefs got off to an incredibly slow start to the season given their high standards but in the past few weeks they have started to look like the team that's represented the AFC in the last 2 Super Bowls. The Chargers have looked like both the best team in the AFC and one of the worst at various points this year. A win tonight will once again establish them as a team to fear in the AFC. This line has been teetering between 3.5 and 3 all week and the second I saw it move to -3 today, I took it. Throw in the fact that star rookie Left Tackle Rashawn Slater is out for this game and that only gives me greater reason to believe the Chiefs will handle business. The Chargers are a good team but the Chiefs are playing like a Super Bowl team again. Chiefs by 7 in a great game.
Las Vegas Raiders vs Cleveland Browns OVER 38.5 (1 unit)
I don't have much rationale here other than the fact that I saw this number and said to myself, "damn that's low." Not exactly hard hitting analysis from me but that's where my mind went and I'm trusting the gut. I actually feel more confident in the Browns offense with Case Keenum vs an injured Baker Mayfield who looks to be out with COVID. The Raiders are in shambles but I do believe they have an offense that can put points on the board. Their defense looked awful against the Chiefs last week and even though the Browns offense isn't nearly the Chiefs, I'm hoping they can put up a number in the 20s to do their part in this over.
New England Patriots +2.5 (-110) vs Indianapolis Colts (1 unit)
You're really telling me that Bill Belichick is an underdog? For the 2nd straight game? Coming off a bye? Cmon now… The man is 15-6 outright coming off a bye as the Patriots' head coach and I'm not going to overthink this one for a second. After the Ravens covered +2.5 last week for me by losing by 2, I'm going to give myself the extra cushion but I wouldn't be against anyone taking them ML on this Saturday night game.
Tennessee Titans PK (-110) vs Pittsburgh Steelers (1 unit)
If you've been following along with these blogs all year then you know that I'm a big fan of "get right games." At one point this year, the Titans were atop the AFC standings looking like the best team in the AFC. Some injuries and bad losses have changed that narrative but I think the 20-0 easy win against the lowly Jaguars last week was just what this team needed to get their confidence back. The Steelers have looked both good and bad at various times this year, including in last week's game alone. Big Ben is an old man but he can still sling it at times. I'm betting on us seeing the bad Big Ben this week while Tannehill and the boys pull out a win in what should be a close one.
Arizona Cardinals -12.5 (-110) vs Detroit Lions (1 unit)
Speaking of get right games, this is a great opportunity for the Cardinals to get back on track after a heartbreaking loss to the Rams on Monday night. Now that the Lions got a win under their belt, I don't see them as being as hungry as they once were and losing 38-10 to the Broncos last week surely showed that. Even with the news that DeAndre Hopkins will be out the remainder of the regular season, I still have confidence that Kyler Murray and the rest of the team blows out the Lions. 12.5 may seem like a lot of points but it's pretty easy to see the Cardinals winning by a score of 31-10, which would cover easily.
Jacksonville Jaguars -5 (-110) vs Houston Texans (1 unit)
THE JAGS ARE FREE!!! After a year that felt more like a soap opera than a football season, Jags' owner Shad Khan finally pulled the trigger and fired Urban Meyer into the sun. It was a decision that was going to have to be made at some point and after the latest bad report came out of him literally kicking their kicker, it was the end of the road for the college football legend. As a gambler, I see this game as a perfect opportunity to capitalize on the moment. It's been made clear that virtually everyone in the Jaguars' organization despised Urban Meyer so you have to think that they're ready to rally together out of spite towards him and finish the season strong. And they get to start it off against the only team as bad as than them in the AFC, the Houston Texans. This could go horribly but I couldn't pass up the opportunity to bet on the Jags given the circumstances of the week.
Cincinnati Bengals vs Denver Broncos UNDER 44 (1 unit)
Last week I took the Broncos under because I was alerted to the fact that the under was 10-2 in their games this year. Naturally, that bet lost meaning the under is now just 10-3 in their games. I shared this fact with a lot of my betting friends and, as a result, lost a lot of people money in the process. I promised them all that I would take the under again the following week and that's exactly what I'm doing. Last week was a fluke and I'm so ready for a 13-9 final.
Las Angeles Rams -5 (-110) vs Seattle Seahawks (1 unit)
I'm excited to announce that I'll be making my SoFi Stadium debut this weekend and how could you not bet a game you're going to? The Rams are my team and even though this spread scares me, I have to take it. Bet this one at your own risk but I'm feeling good after last Monday's big win against the Cardinals.
Minnesota Vikings vs Chicago Bears OVER 44 (1 unit)
Everything about this game just screams over to me. Justin Fields looked really good to me against the Packers last week and I think he can repeat that performance against a Vikings defense that isn't as good as the Packers. Justin Jefferson is making his case for the best WR in the league and I think he continues his strong connection with Kirk Cousins in this one. Overs are always a fun bet in a primetime game and the over hit for me last Monday night so I'm running it back in this one.
Let's have a week.
OwnersBox has launched the first ever Weekly SuperFlex Salary Cap game! Use the promo code "DREW9" for a FREE $10 entry into our $15,000 Week 15 contest.