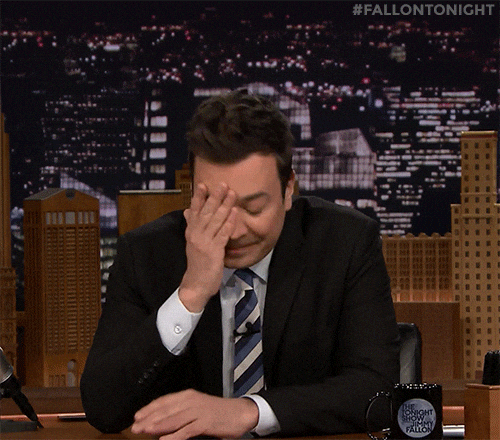 Another week, another disappointing GIF to start off the blog. It's no secret that I've been ice cold for over a month now and last week was no different going 2-4, highlighted by my Sunday Night under bet losing by 31 points. The only loss that I feel like I should've won was the Packers, who have DBs with bricks for hands, but outside of that, it was just another bad week.
I'm due to get hot one of these weeks and I'm optimistic that that week is week 12.
Here's how I stand after 11 weeks of the NFL season:
Week 11 Record: 2-4, -2.18 units
Season Record: 35-40-2, -3.49 units
THANKSGIVING MONEYLINE PARLAY (+200) Bears/Cowboys/Bills (1 unit)
Week 5 was the only time this year that I bet a moneyline parlay because parlays are for suckers. Having said that, I felt like I needed to get some action on Thanksgiving but didn't have a strong opinion on any of the lines in these 3 games so taking a shot here. It seems like a lot of people are picking this as the week the Lions get that coveted 1st win but with Tim Boyle looking to be starting again, I just can't see that happening regardless of how bad the Bears are. The Cowboys and Bills have Super Bowl aspirations and I think they both bounce back from rough performances last week to complete this +200 parlay.
Philadelphia Eagles -3.5 (-110) vs New York Giants (2 units)
The Eagles have quietly become one of the hottest teams in the NFL while the Giants have never looked worse leading to the firing of Jason Garrett. To be honest, I'd be more confident in this pick if Garrett was still around but Freddie Kitchens doesn't exactly scare me as the new play caller. Jalen Hurts is starting to look like the Eagles QB of the future as Nick Sirianni has learned how to call plays to his strengths. This is my most confident play of the week so I'm putting 2 units on it.
Carolina Panthers -2 (-110) vs Miami Dolphins (1 unit)
Sam Darnold was the USC QB when I was a student there and gave me a Rose Bowl and PAC 12 Championship so I will always have a soft spot for him, especially with how bad things have gotten since he's left. Having said that, the Panthers are a significantly better team with Cam Newton under center than my guy Sammy D. The Dolphins have looked better as of late but I'm a Tua hater through and through and I think the Panthers defense shuts him down. Panthers by 10.
Pittsburgh Steelers +4.5 (-110) vs Cincinnati Bengals (1 unit)
The Steelers fell just short in a thriller on Sunday night against the Chargers while the Bengals came back to life in a dominant win against the Raiders. This is a heated divisional rivalry where they consistently play each other close. 4.5 points just seems like too much in the AFC North in a game that I think is decided by a late field goal.
Minnesota Vikings +3 (EVEN) vs San Francisco 49ers (1 unit)
It's safe to say that the Vikings and 49ers both fall into the category of "teams you don't want to play" and for good reason. They're both entering this game on 2 game winning streaks to get to 5-5 and this game may very well determine who makes the playoffs versus who is golfing in January. I might be the biggest Kirk Cousins fan on the planet, especially after he outdueled Aaron Rodgers last week. This will be one of the more entertaining games of the day but I'm riding the Vikings with 3 points. SKOL!
Los Angeles Rams vs Green Bay Packers OVER 48 (-110) (1 unit)
I'm feeling some points being scored in the battle of 2 of the top teams in the NFC. The Rams offense has looked terrible in their last 2 games but I'm counting on Sean McVay taking advantage of the bye week to fix things and design more plays for newly signed OBJ. The Packers offense has been great all season with the exception of the game Jordan Love was under center. I could see either team winning this one but I feel very confident that we will see some points in a rematch from last year's NFC Divisional Round playoff matchup.
Seattle Seahawks PK vs Washington Football Team (1 unit)
This definitely isn't the sexiest Monday Night matchup of the season but it's one of the most evenly matched. The Seahawks haven't been the same since Russell Wilson broke his finger even since he's return. The Football Team has also been up and down this season and as a result are one of the harder teams to predict. The rumors that this will be Pete Carroll's last year in charge of the Seahawks are heating up but I think he's got a few wins left in him. I'm predicting a big night from Russell Wilson and a Seahawks win on primetime.
BOL if you tail, FU if you fade. Let's get rich.
OwnersBox has launched the first ever Weekly SuperFlex Salary Cap game! Use the promo code "DREW9" for a FREE $10 entry into our $25,000 Week 12 contest.