College Football Playoff Rankings Reaction
The first edition of the College Football Playoff rankings were released on Tuesday and they came to the surprise of many. As many expected, the 8-0 Georgia Bulldogs are the #1 ranked team. This followed with one loss Alabama in the number 2 spot, Michigan State is in the 3 spot after a win at home against Michigan and #4 ranked Oregon rounds out the CFP.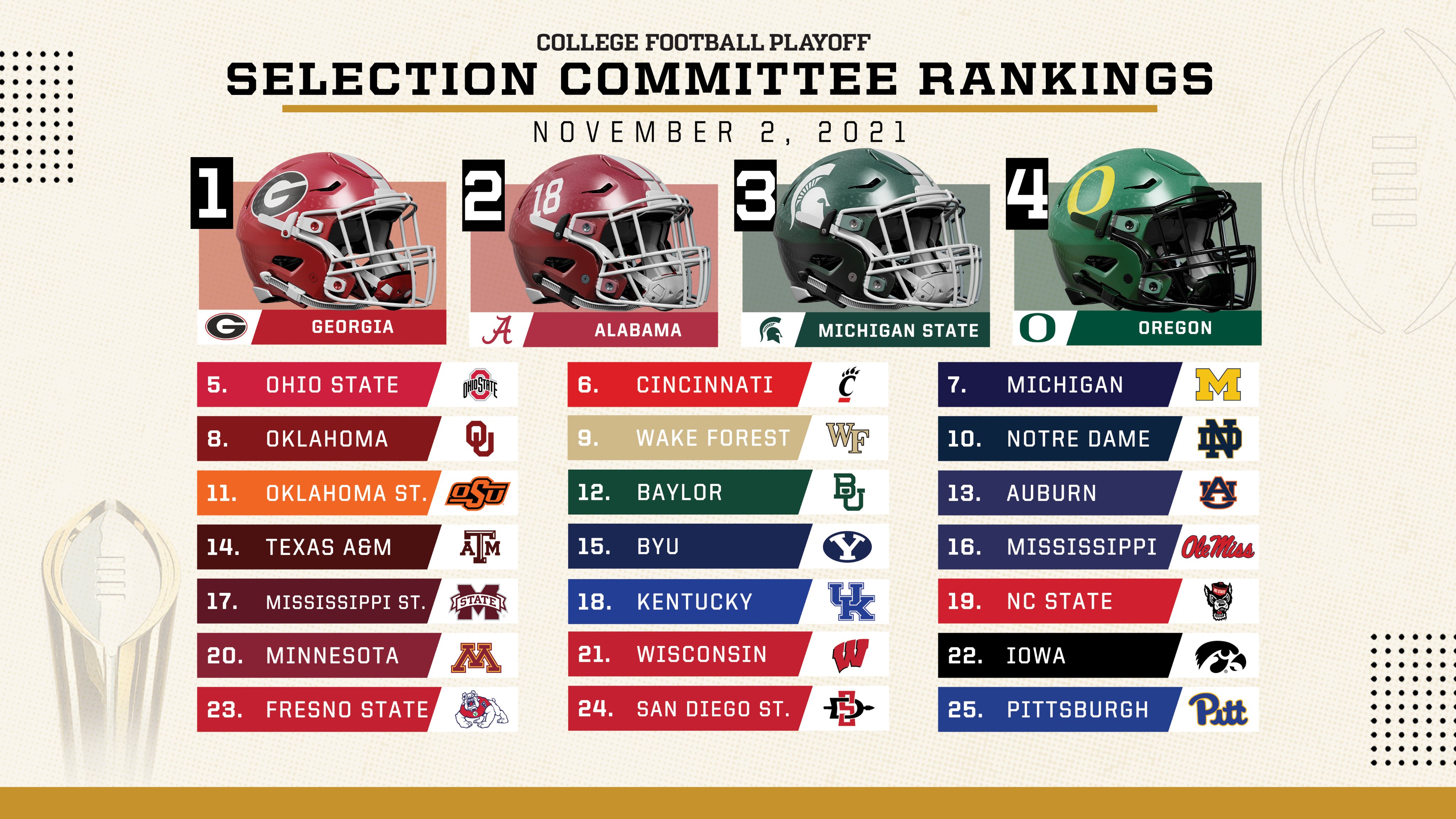 That is correct, 9-0 undefeated Oklahoma is on the outside looking in at the moment. Not just on the outside, but there are 3 teams in front of them as they come in at #8. How does this happen? It's quite simple how to explain this. The first being that Oklahoma doesn't have a ranked win so far this year and hasn't looked particularly good in 6 of those 9 wins (the three being Western Carolina, TCU and Texas Tech).The second being that apparently the BIG10 is a POWERHOUSE conference.
Count them up, there are SIX (6) BIG10 teams ranked inside of the top-25. 3 loss Wisconsin comes in at #22! Their wins? Iowa, Pudue, Army, illinois and Eastern Michigan. Not particularly impressive right? But apparently what's more important to the committee is the losses to Penn State, Notre Dame and Michigan. But if that's the case, then why isn't it 5-3 Penn State that's in? Considering they have a win over #13 Auburn you'd think they'd be more deserving? I still don't see how any of WIsconsin, Penn State or Iowa would be ranked. Their offenses are horrendous.
I want to quickly follow up the BIG10 discussion by touching on Oregon's feature in the top-4 because it goes back to the BIG10. That early season win over Ohio State is what puts them in this spot. It goes back to Ohio State being considered the class of the BIG10 (yes I know Michigan State is #3). I think Oregon is also getting the benefit of the doubt in their loss over Stanford. They were missing OC Joe Moorhead.
The PAC12 does tend to cannibalize itself and I don't see this season being different as Oregon isn't a special team offensively. They've got Utah in a few weeks and could see them again in the conference championship game. We've all seen this story before (see 2019 for reference)!
Let's move to the SEC and the Crimson Tide being all the way up at #2. For those of you that aren't familiar with how this stuff tends to work the explanation is pretty simple. We all know Alabama is the second best team in the country, I don't think there should be much dispute over that. The committee knows that as well and wants to protect the Tide from that inevitable meeting with Georgia in the SEC championship game. By putting them at #2 instead of 4th or 5th they can lose that game and still have wiggle room to make the big dance. It looks crazy to see right now but honestly the rankings in the first week of November are just semantics. It's really comedic at this point and so telling as how they want this to finish in December.
Of course many people are surprised by Mississippi State showing up in the top-25, but I do think it makes sense. Sure the close losses to LSU and Memphis look bad and they got beat like a drum by Alabama. But they have 3 ranked wins over NC State, Texas A&M and Kentucky. When it comes to the SEC teams that are ranked in this edition, it will all work itself out. These teams match up in one way or another plenty over the next 4 weeks.
Now let's chat about the Bearcats. Cincinnati comes in at number 6, with the Buckeyes being in at number 5. This one was shocking to many as they are currently #2 in the AP Poll. The lesson here is simple. No Group of 5 team will ever be in the top-4 this early in the season for as long as this edition of the CFP exists.
If Cincinnati starts inside the top-4 then it is very difficult for the committee to take them out. They of course want to leave an opening for an undefeated, BIG12 champion Oklahoma and the potential of 1 loss Ohio State running the table and winning the BIG10. Even with a win over #10 Notre Dame and the potential of wins over SMU and an AAC championship game win over Houston the Bearcats will need a lot of help.
The question for College Football fans is this… do you want to see some new faces in the big dance (ie. Cincinnati, Wake Forest) or do you want the 4 best teams in the country (ie. Alabama, Ohio State)? I'm sure we'd like to see little brother be rewarded for their hard work but don't we want to see the game that gives the perennial powers the best test?
If you enjoy this content or want to talk College Football. Follow me on Twitter @TylerMacKillop!