The OwnersBox SuperFlex Salary Cap game is here! The SuperFlex format eliminates the randomness and unpredictability of the defense and kicker positions while maximizing what fantasy players love most, offense! For beginners, it's a much more appealing game option with a more offensive outlook, and for experts, it takes away the luck and randomness, making it more skilled and highly competitive. Let's take a look at the best wide receiver anchor for your lineup!
If you'd like to test out the platform for yourself, you can use the Promo Code "Drew9" for a $10 free entry into the OwnersBox Week 1 Contest. Including a guaranteed prize pool of $100,000!
The Best Wide Receiver Anchor for your OwnersBox Lineup
Brandon Aiyuk (San Francisco 49ers) vs Detroit Lions – Salary: $5,500
Aiyuk is easily the most underpriced wide receiver considering his Week 1 potential out there. I fully expect Aiyuk to have the number 1 role on the offense over Deebo Samuel when the 49ers take on the Detroit Lions in Week 1. With the 31st ranked defense on OwnersBox, the 49ers will absolutely tear up the Lions. Shanahan also likes getting Aiyuk involved in many ways, setting up screen passes, getting him carries, any way to get the ball in his hands.
After having an incredible rookie season, finishing as the WR17 in half PPR fantasy points per game, he's bound to take another step up. Some people are worried about a low target share with both tight end George Kittle and Deebo involved, but I'm honestly not worried. Kittle will certainly have his share, but the kind of targets he gets are quite different from the targets Aiyuk will get. Deebo on the other hand, does get some similar targets to Aiyuk, but he just isn't as talented if we're being honest. Shanahan knows that, and even last year he didn't change Aiyuks participation with both of them in the lineup. Just look at the splits: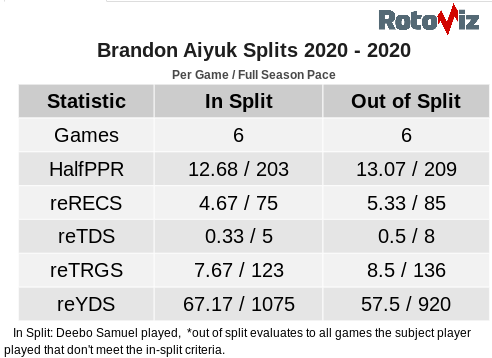 Targets only took a very small dip when Aiyuk and Deebo were both on the field. Now entering his 2nd year, Aiyuk seeing at least 8 targets a game is a safe bet for him. Now combine his weekly involvement in the offense with the terrible Detroit defense and he has a very high potential to have a great Week 1. At a price of $5500, you can get him for less than Cooper Kupp, Robby Anderson and Diontae Johnson which is absolutely criminal.
Take Brandon Aiyuk with confidence in all your lineups, you won't be disappointed!
Follow me on Twitter: @sexypats
Have a free $10 entry into your first OwnersBox SUPERFLEX NFL Salary Cap Contest on us! Download the OwnersBox Weekly Fantasy Sports App and use the promo code "DREW9".