Week 6 Waiver Wire Targets
Happy thanksgiving to all my fellow Canadians out there! We've just wrapped up week 5 of the NFL and the crew at OwnersBox has the day off for the Canadian holiday. As a result, we won't be recording a waiver wire video on the OwnersBox YouTube channel. Instead, I'm going to get this out to you all in written form. We just hit 4,000 subscribers on our channel today, so if you're into fantasy sports or sports betting content be sure to subscribe!
Let's get into some waiver wire targets for this week. There were some pertinent injuries and depth chart developments last week that you need to keep an eye on. I will also include a rough idea of what percentage of FAAB budget you should spend on these guys.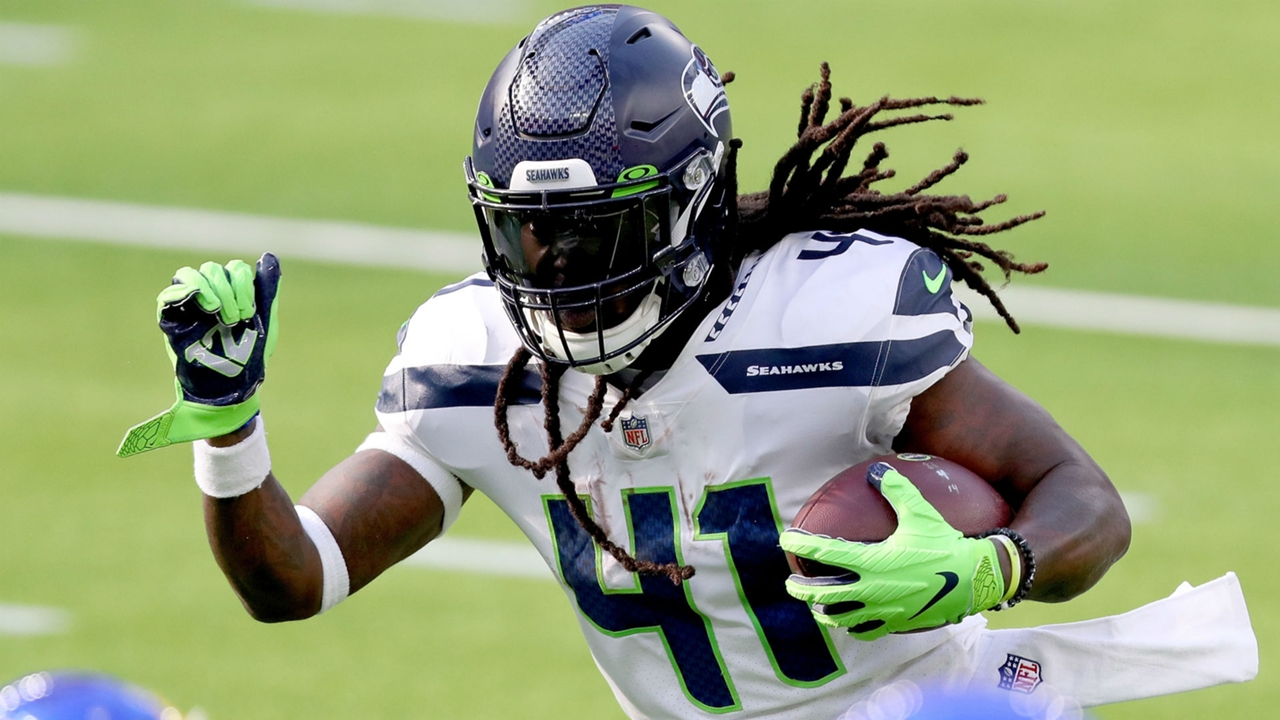 Alex Collins (RB) – Seattle Seahawks
I mentioned Collins as a pickup on last weeks show. He's now up to 37% rostered in your fantasy leagues so he's still worth bringing up here. Chris Carson has what's being described as a chronic neck injury. Pete Carroll didn't provide a lot of optimism for Seattle's number 1 running back either. Making Collins a must roster in all formats.
With Russell Wilson out for an extended period, Pete Carroll will be establishing the run like the run has never been established before. Collins is the clear lead back without Carson. He out snapped DeeJay Dallas 46 to 14 on Thursday night against Los Angeles. Collins also ran 22 routes, chipping in 25 receiving yards on 2 receptions.
Collins has value even if Carson is back on the field in week 6. He's a sure fire handcuff in a run heavy offense who's starting RB has an injury that likely won't go away this season. I'd be willing to spend 25-30% of my FAAB on him.
Devontae Booker (RB) – New York Giants
Continuing on the injury front. Saquon Barkley rolled his ankle pretty severely on Sunday against Dallas and looks to be out at least a few weeks. Making Devontae Booker an immediate pick up. Do I think Devontae Booker is a good running back? No. But in fantasy football volume is all you need to be an add of the waiver wire. Booker is just 7% rostered so he will be widely available this week.
As I look at the schedule, I see Barkley likely returning after their bye, which is in week 10. Meaning Booker will see the Rams, Panthers, Chiefs and Raiders as the starter. All of these teams rank 25th or worse in opponent yards per rushing attempt. This could be a case of the unstoppable force against the immovable object though as the Giants offensive line is horrendous and Booker has averaged less than 4 yards per carry in his career.
This Giants offense is incredibly banged up so Booker doesn't feel like a really enticing option as I'm not sure how many scoring opportunities he'll have. That being said, we're looking at a good amount of runway with him being guaranteed at least 3 starts. I'd spend 35-45% of my FAAB on him.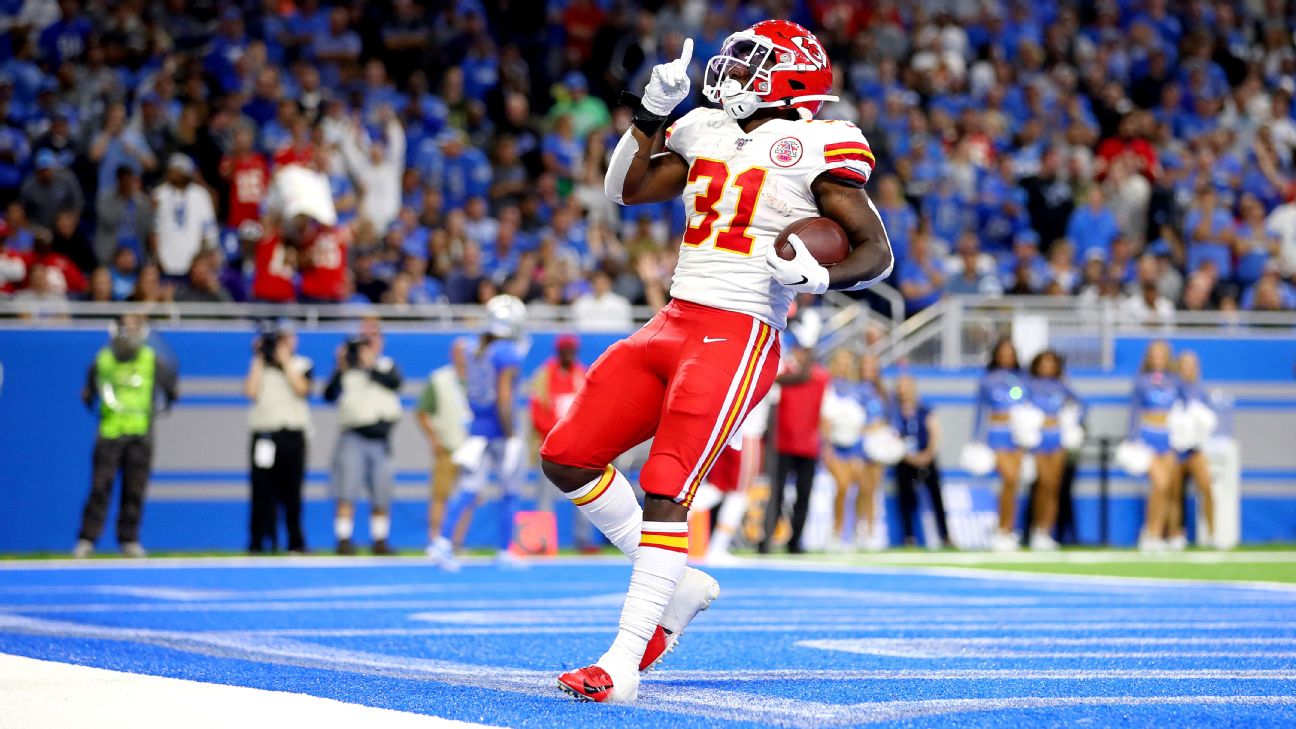 Darrel Williams (RB) – Kansas City Chiefs
Are you starting to see the trend here? The running back position saw a significant amount of injuries this week so I want to be sure I cover as many of these guys as I can. The knee injury Clyde Edwards-Helaire sustained last night looked quite bad. Ian Rapaport is telling us that this injury isn't as severe as it looked, as he sustained an MCL sprain and should miss 2-3 weeks.
With that being said, Williams is a priority add this week, he is 16% rostered in fantasy leagues. Prior to the Edwards-Helaire injury, Williams had been splitting time in the receiving game. But what really stuck out was that Williams had all the running back carries inside of the 5.
I expect Jerick McKinnon's role to expand, especially in the receiving game. But Williams should get the redzone work and would still be the featured back. Prior to week 5, Edwards-Helaire had a 63% snap share to Williams 30%. I'd expect Williams to be up close to 70% as long as he is out. I'm willing to spend 45-55% of my FAAB on him.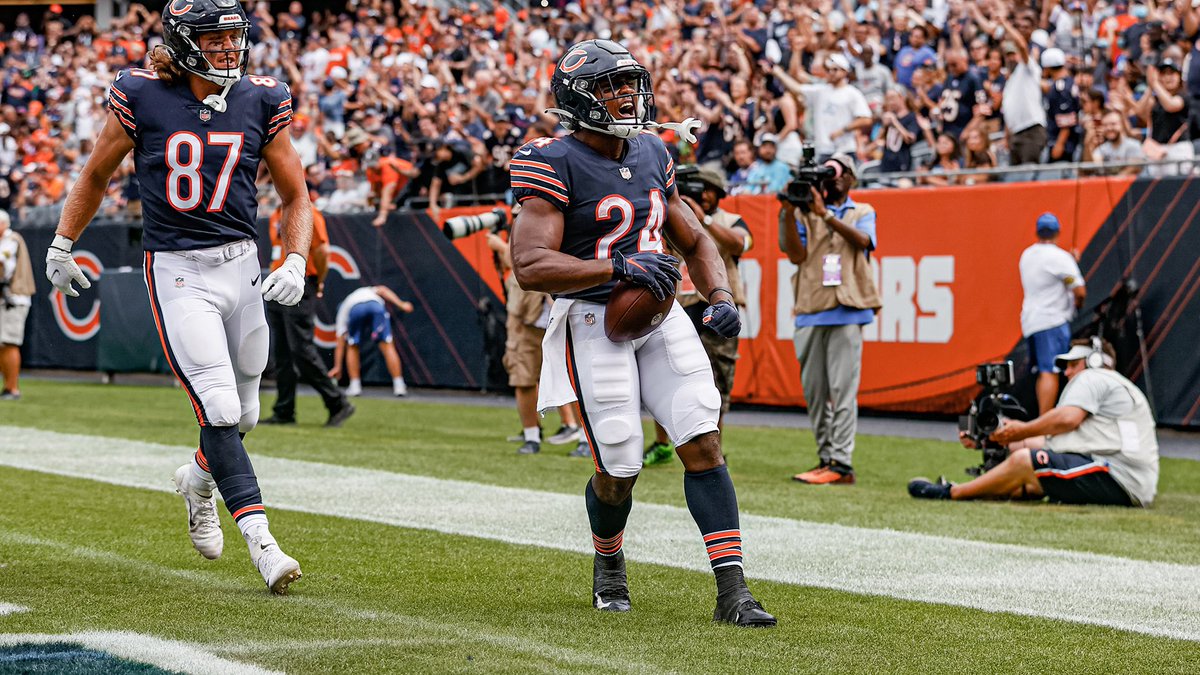 Khalil Herbert (RB) – Chicago Bears
The Bears saw time of possession as an important factor in taking down the Raiders on the road this week. As a result, they rode their running game to the tune of 37 total carries. It was Damien Williams who ended up in the end zone and had a good finish for fantasy managers. But I was more impressed with the play of rookie Khalil Herbert.
Herbert was a beast in the zone running game for the Virginia Tech Hokies last season, recording nearly 1200 yards in just 11 games. Averaging 7.6 yards per carry. In week 5 he earned just about every yard he ran for, with 48 yards after contact in 75 yards of rushing.
I like Herbert's talent, but at the end of the day he'll still be splitting carries with the veteran Williams until the return of David Montgomery. Some of your league mates may not be paying attention to him though. I'd spend about 3-5% as the Buccaneers loom in week 7.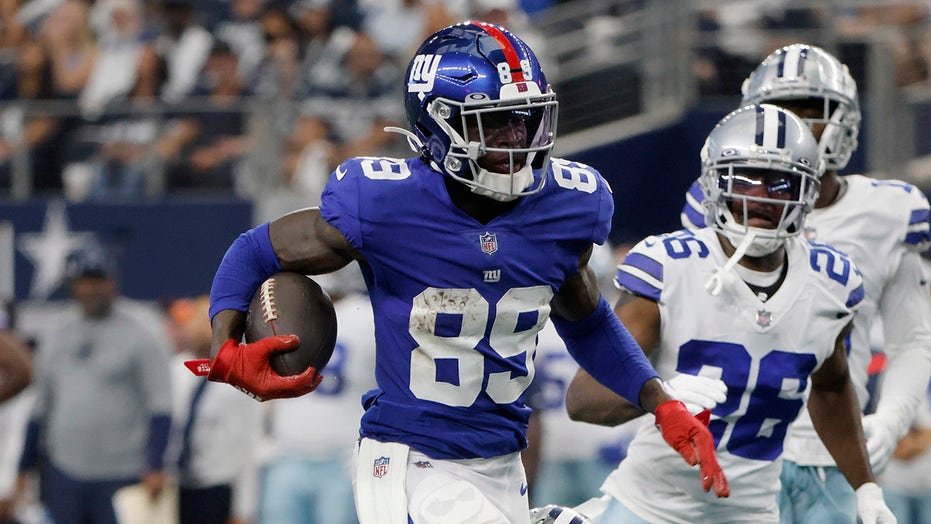 Kadarius Toney (WR) – New York Giants
Well the entire Giants offense is injured after week 5. Daniel Jones, Sterling Shepard, Darius Slayton, Saquon Barkley and Kenny Golladay. Toney took advantage of his opportunity, showing glimpses the last two weeks. But in week 5 he put his elite speed and tackle breaking ability on display. Recording 89 yards after the catch on his 10 receptions.
The former Gator is rostered in 17% of leagues and is the clear number one priority add among wide receivers this week. With the injury to Saquon Barkley I expect the Giants to get very creative with their usage of Toney. If by some miracle the Giants get healthy at the wide receiver position, I think Toney has earned his place in this offense.
Even with a matchup against Jalen Ramsay and the Rams this week, I'd be willing to spend on Toney. He's comparable to Rondale Moore but with much more opportunity. In terms of FAAB budget I would be looking at around 20-25%.
OwnersBox has launched the first ever Weekly SuperFlex Salary Cap game! Use the promo code "DREW9" for a FREE $10 entry into our $25,000 Week 6 contest.