QB Rankings
|
WR Rankings
|
TE Rankings
Running Back Rankings
| Rank | Player | Team | vs | Opponent | Salary |
| --- | --- | --- | --- | --- | --- |
| 1 | Derrick Henry | Titans | vs | Colts | $8,200 |
| 2 | Dalvin Cook | Vikings | vs | Cowboys | $7,700 |
| 3 | Ezekiel Elliott | Cowboys | vs | Vikings | $7,300 |
| 4 | D'Andre Swift | Lions | vs | Eagles | $6,800 |
| 5 | Aaron Jones | Packers | vs | Cardinals | $6,600 |
| 6 | Austin Ekeler | Chargers | vs | Patriots | $7,400 |
| 7 | James Robinson | Jaguars | vs | Seahawks | $6,600 |
| 8 | Najee Harris | Steelers | vs | Browns | $7,300 |
| 9 | Jonathan Taylor | Colts | vs | Titans | $7,100 |
| 10 | Alvin Kamara | Saints | vs | Buccaneers | $7,400 |
| 11 | Darrell Henderson | Rams | vs | Texans | $6,400 |
| 12 | Nick Chubb | Browns | vs | Steelers | $6,600 |
| 13 | Joe Mixon | Bengals | vs | Jets | $6,200 |
| 14 | Chuba Hubbard | Panthers | vs | Falcons | $5,600 |
| 15 | Damien Harris | Patriots | vs | Chargers | $6,100 |
| 16 | Khalil Herbert | Bears | vs | 49ers | $5,800 |
| 17 | Antonio Gibson | WFT | vs | Broncos | $6,300 |
| 18 | Cordarelle Patterson | Falcons | vs | Panthers | $6,500 |
| 19 | Leonard Fournette | Buccaneers | vs | Saints | $6,300 |
| 20 | Chase Edmonds | Cardinals | vs | Packers | $5,300 |
| 21 | Elijah Mitchell | 49ers | vs | Bears | $5,800 |
| 22 | Kenneth Gainwell | Eagles | vs | Lions | $4,800 |
| 23 | Darrel Williams | Chiefs | vs | Giants | $5,800 |
| 24 | Devontae Booker | Giants | vs | Chiefs | unknown |
| 25 | Alex Collins | Seahawks | vs | Jaguars | $5,200 |
| 26 | Michael Carter | Jets | vs | Bengals | $4,800 |
| 27 | Javonte Williams | Broncos | vs | Football Team | $5,200 |
| 28 | JD McKissic | WFT | vs | Broncos | $4,600 |
| 29 | Melvin Gordon | Broncos | vs | Football Team | $4,900 |
| 30 | D'Ernest Johnson | Browns | vs | Steelers | $5,600 |
| 31 | Myles Gaskin | Dolphins | vs | Bills | $5,400 |
| 32 | AJ Dillon | Packers | vs | Cardinals | $4,500 |
| 33 | James Conner | Cardinals | vs | Packers | $5,000 |
| 34 | Zack Moss | Bills | vs | Dolphins | $5,200 |
| 35 | Mark Ingram | Texans | vs | Rams | $4,400 |
| 36 | Boston Scott | Eagles | vs | Lions | $4,400 |
Use these player salaries as context for building your week 8 OwnersBox lineups. With salaries being set each Monday, they cannot be changed. Injuries and depth chart movement has impacted the value of these players salary significantly.
The Packers will be without Davante Adams this week as he was placed on the Covid list, which means Aaron Jones should be the focal point of this offense. This game should be a high scoring affair and we could very well see multiple touchdowns out of Jones. He's been dominant with Adams out of the lineup, just look at the numbers in the 6 games over the past couple years without him: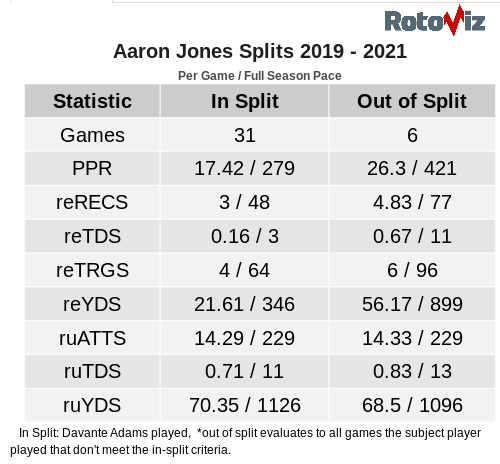 Avoid Alvin Kamara this week, we just saw him carve up the Seahawks defense on Monday night, but now he's got a tough matchup against the Bucs. In the 2nd half of Monday's game, the Seahawks figured out how to stop Kamara and that completely dismantled this Saints offense. I'd expect the Bucs to employ a similar strategy and force the Saints to look elsewhere.
Khalil Herbert has looked incredible with David Montgomery out these past few weeks and I don't expect that to change this week against the 49ers. Justin Fields has looked horrible these past few weeks and has been unable to get anything going on the ground. So the Bears will lean heavily on the run game and Herbert who has now passed Damien Williams on the depth chart.
Follow me on Twitter: @sexypats
OwnersBox has launched the first ever Weekly SuperFlex Salary Cap game! Use the promo code "DREW9" for a FREE $10 entry into our $25,000 Week 8 contest.