5 Stacks For Week 2 on OwnersBox
The best part about playing weekly contests on OwnersBox is chasing quarterback and pass catcher stacks to maximize your performance. Last week's winning lineup stacked 3 of the best players in the NFL. Patrick Mahomes, Travis Kelce AND Tyreek Hill! It's no joke that building a lineup with stacks gives you the best chance to finish inside the money. In this article we'll get into 5 quarterback/wide receiver tandems you could go with in your OwnersBox lineup.
Justin Herbert ($7400) & Jalen Guyton ($3500) vs Dallas Cowboys
Let's start with a big time quarterback with a cheap high upside receiver. The Chargers offense looked much different in week 1 then it did last season. The offensive line looks like it could be the best in the league. Herbert was only pressured on 12.2% of dropbacks, the best mark of any team in week 1. They threw the ball early and often in the first half as well, throwing a pass on 60% of their first downs in the opening half. Last season they did this on a mere 47%. Offensive coordinator Joe Lombardi is putting this offense in Herbert's hands.
This leads into what is a fantastic passing matchup for the Chargers. Justin Herbert needs to be in your lineup but I would look to Guyton as the man to pair with him. Guyton is the clear third option, having run 35 routes last week. Only 5 behind Allen and 6 behind Williams. Guyton is a big play waiting to happen as he runs the majority of his routes from out wide as well. The two had a great connection last season with Guyton catching 3 TDs. He should be the least of the Cowboys worries with Keenan Allen and Mike Williams on the field. I'd expect him to see Anthony Brown in coverage who gave up 134 yards and a TD when targeted against last week against Tampa Bay. Smash this stack in your OwnersBox lineups.
Joe Burrow ($6400) & Tee Higgins ($5400) vs Chicago Bears
This is an excellent matchup for the Bengals passing attack but a not so good matchup for Joe Mixon and the Cincinnati run game. The Bengals ran the ball 36 times in week 1 against the Vikings. Now, we do need to keep in mind that this was a game that went to overtime. But their 53% run rate was the third highest on the week. Look for that game script to flip in week 2 and Tee Higgins to be the main benefactor.
Jaylon Johnson was suppose to be the Bears leader of the secondary this season and he struggled against the Rams, grading out at 50.1 per PFF. I see Higgins and Chase trading productive weeks and with an expected focus on the pass game this week there should be plenty of volume for Higgins to produce.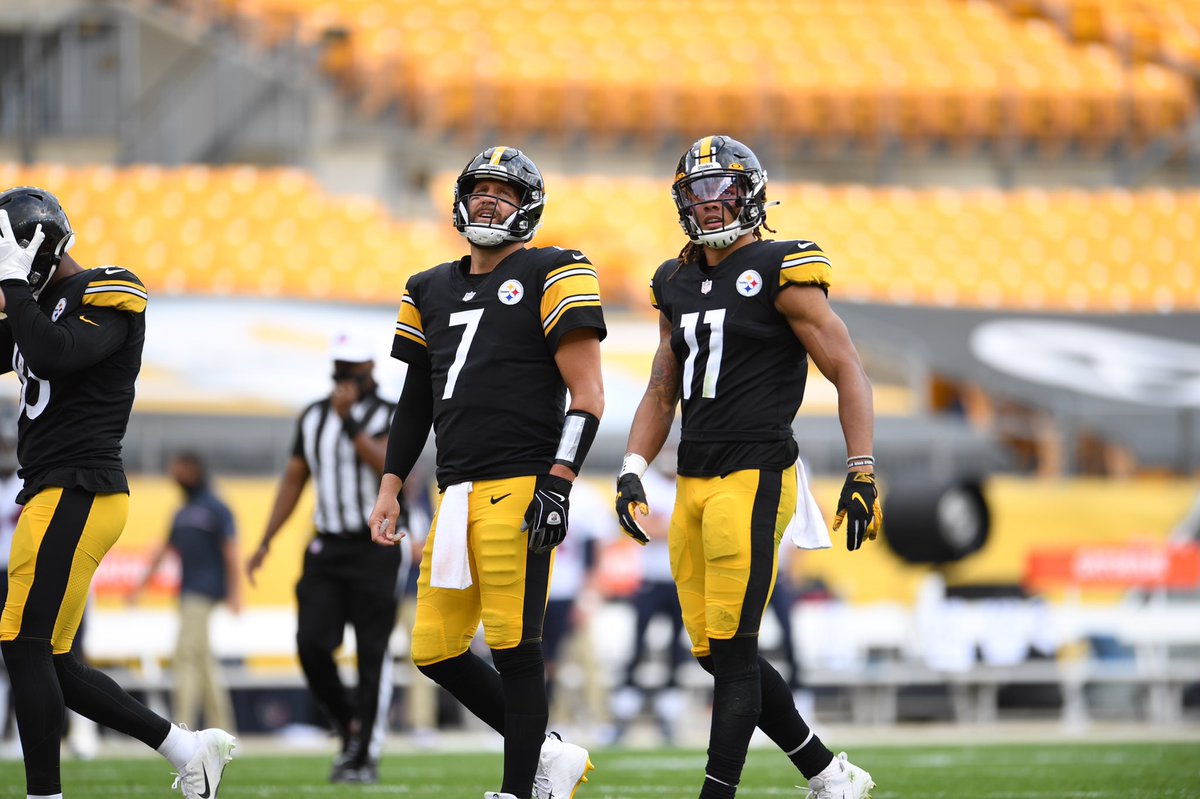 Ben Roethlisberger ($5700) & Chase Claypool ($5400) vs Las Vegas Raiders
After plenty of optimism for the running game in 2021 it was more of the same in week 1. 1st round rookie Najee Harris had 16 rushing attempts to the tune of 2.8 yards per carry. This team could quickly be reverting back to last season when they led the NFL in passing attempts per game. In a matchup with the Raiders this type of gameplan would be most beneficial. With a washed up Casey Hayward and Trayvon Mullen having the 40th ranked burn rate in 2020 Chase Claypool is bound to hit a big time score.
Claypool has a 92nd percentile burst score to go along with his 99th percentile speed score. Neither of Hayward or Mullen have the ability to keep up with him off the line of scrimmage. Claypool will be a problem this week and I have him as the 16th ranked wide receiver on the week. At only $11,100 this is a great price for an explosive duo.
Mac Jones ($5600) & James White ($4400) vs New York Jets
The Patriots head on the road to New York with rookie quarterback Mac Jones impressing in his first NFL start. James White seems to be his most reliable option in the passing game. White had 7 targets in the game on only 16 routes run. When James White is running a route Jones is looking his way. I'm not saying White is remotely the same as Christian McCaffrey but the Jets gave up 9 receptions and 89 yards last week to the Panthers running back.
Another important note for Jones' and White's outlook this week is the fumbling issues from Damien Harris and Rhamondre Stevenson. Both backs had a fumble and Harris' fumble cost them the win against Miami. I'd expect to see White more involved in the running game and Bellichick should be willing to throw the ball more with Jones. I'd throw Jones in your SuperFlex spot and White in the flex this week on OwnersBox.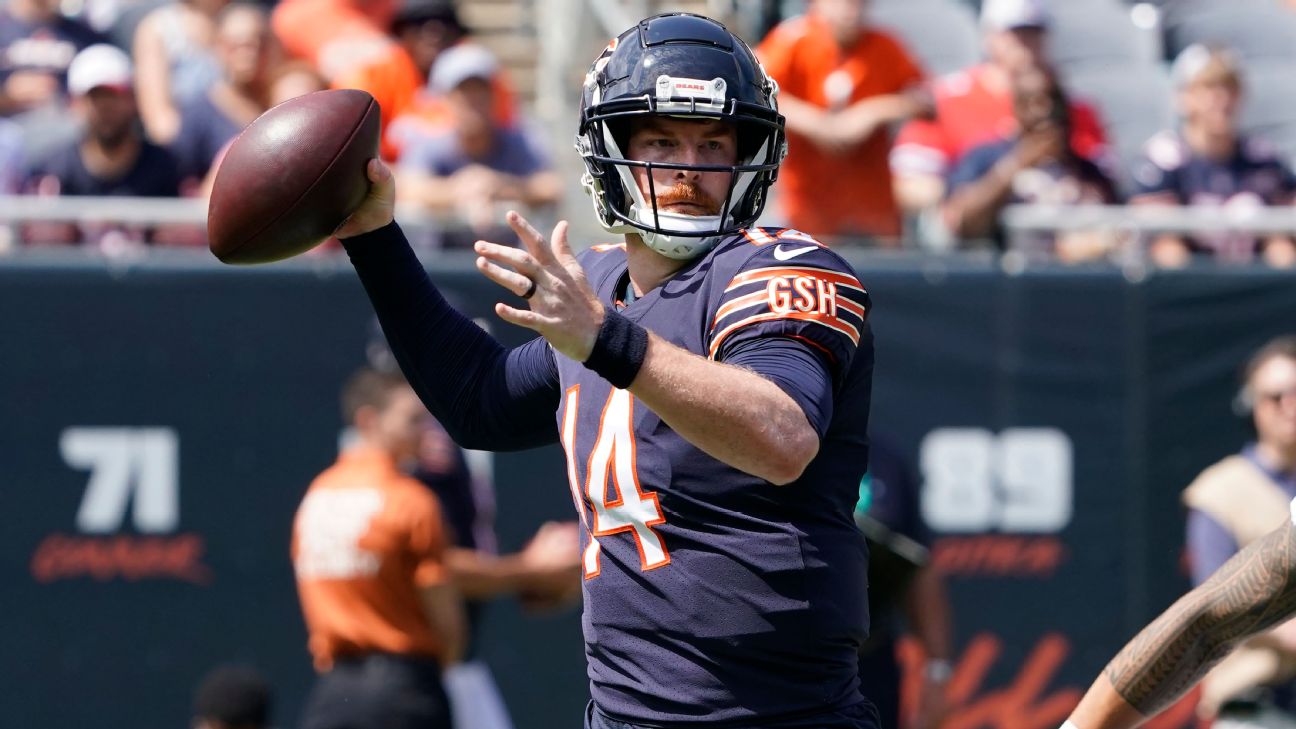 Andy Dalton ($5000) & Darnell Mooney ($4200) vs Cincinnati Bengals
Last week Tyrod Taylor was the cheapest quarterback on OwnersBox. He ended up finishing with the 10th most points at the position. He and Brandin Cooks finished with 47 fantasy points on the platform. The cheapest quarterback this week is Andy Dalton and I'm not going to shy away. Cincinnati gave up 362 passing yards and a 73.5% completion percentage to Kirk Cousins in week 1. Even though Dalton won't push the ball downfield look for him to hyper target the middle of the field just like Cousins.
Vikings wide receiver KJ Osborn had 7 receptions and 76 yards last week against the Bengals, his performance came out of nowhere. He was running his routes out of the slot, where Darnell Mooney ran 16 routes last week. Suprisingly enough Mooney ran the most routes on the team last week. Yes, even more than Allen Robinson. Mooney's sub 4.40 speed make him a major threat for a big play after the catch. This is a very enticing stack if you find yourself in a pinch with remaining salary.
OwnersBox has launched the first ever Weekly SuperFlex Salary Cap game! Use the promo code "DREW9" for a FREE $10 entry into our $50,000 Week 2 contest.