This article will walk through my three favourite Quarterback stacks for Ownerbox SuperFlex NFL Salary Cap Game.  With OwnersBox SuperFlex format you now have 2 chances to take a Quarterback within your fantasy lineup. Below is a list of my favourite Quarterback stacks for Week 1.
The OwnersBox SuperFlex Salary Cap game is here! The SuperFlex format eliminates the randomness and unpredictability of the defense and kicker positions while maximizing what fantasy players love most, offense! For beginners, it's a much more appealing game option with a more offensive outlook, and for experts, it takes away the luck and randomness, making it more skilled and highly competitive.
If you'd like to test out the platform for yourself, you can use the Promo Code "Drew9" for a $10 free entry into the OwnersBox Week 1 Contest. Including a guaranteed prize pool of $100,000!
Stack #1 – Baker Mayfield ($6,200) + Odell Beckham ($5,400)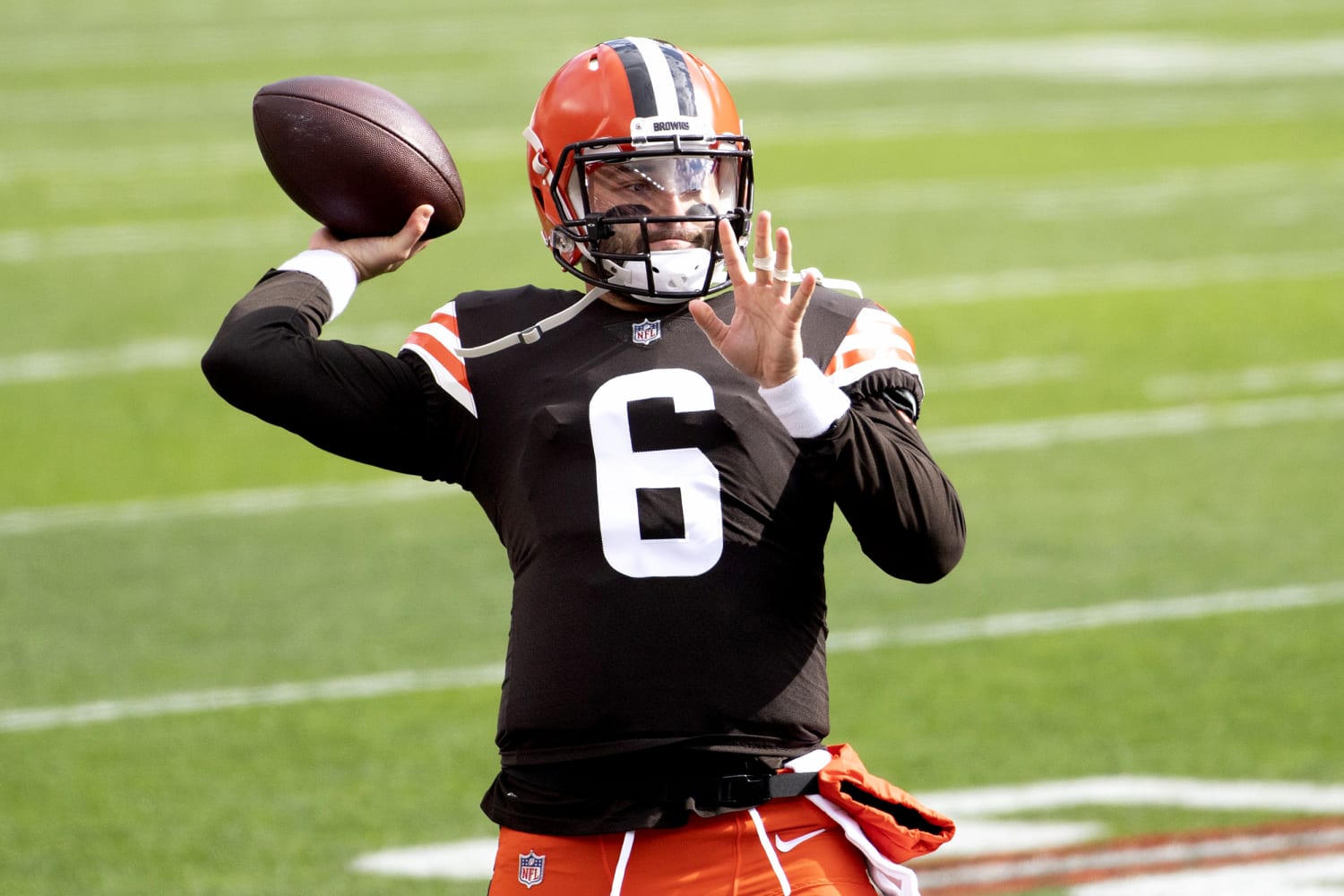 The Cleveland Browns and Kansas City Chiefs opened up on the betting markets with the highest implied total (O/U 53) for all Week 1 matchups.  With the high powered Chiefs offence, and question marks still remaining for the team on the defensive side of the ball, this game has the potential to end up being a shootout.  Odell is coming in with question marks, but looking at last years splits in Week 1, Odell was targeted ten times by Baker.  I could see a scenario play out where the Browns are behind early and have to move away from the run game and get the passing game going.  If you're looking for savings, this is a reasonably priced stack to consider rostering Week 1 on OwnersBox.
Stack #2 – Russell Wilson ($7,400) + D.K. Metcalf ($6,800)
You're paying a bit of a premium here in terms of salary, but if last year was any indication we often see big games come in bunches for Russ and his WR1.  In PPR formats last season, in four of the five games where Russell Wilson had over 28 fantasy points, D.K. Metcalf had over 18.  The matchup against the Colts is not necessarily the greatest in the world, but if you're looking to win the OwnersBox Week 1 $100k contest, you're going to need to beat over 11,000 entrants.  To do so, you will need to pick players with high upside, Russell Wilson and D.K. Metcalf certainly give you that high upside potential.
Stack #3 Jameis Winston ($5600) + Marquez Callaway ($4,500) + Tre'Quan Smith ($4,300)
To state the obvious, If Jameis Winston is not named the Week 1 starter for the New Orleans Saints against the Green Bay Packers this is probably not the best stack.  However, If Winston wins out over Taysom Hill and you are looking for savings in your lineup that provide high upside, look no further than the New Orleans Saints.  The last time we saw Jameis suit up as a starter in 2019, Winston finished the season as a top 5 fantasy QB.  Yes, Jameis Winston had higher end WR options with Chris Godwin and Mike Evans, but I could still see a scenario where Winston has a great Week 1 and largely outperforms his $5600 salary.  With Michael Thomas out, someone will have to pick up the volume.  While this volume is likely picked up by committee, Marquez Callaway at $4,500 and Tre'Quan Smith at $4,300 both can easily outperform their salary if Winston has himself a solid outing.  If the stars align and we see Jameis Winston under center Week 1, this quarterback stack is definitely worth considering.
Have a free $10 entry into your first OwnersBox SUPERFLEX NFL Salary Cap Contest on us! Download the OwnersBox Weekly Fantasy Sports App and use the promo code "DREW9".