https://eps.ibarts.in/3 SuperFlex Options on OwnersBox in Week 14
As always, the ability to use a second quarterback in a SuperFlex lineup at OwnersBox changes how we view the completion of our builds. Even if we don't actually roll out two quarterbacks at the same time, it's important to recognize that the opportunity exists.
It also helps to plan out how I will spend the remainder of my budget as I get close to finishing my lineup. If I sense that I have overspent, then I know I can't lean on one of the top quarterback plays. If I can help it, I will conserve some salary to be able to own anyone I want. In the case that happens to be a second quarterback, then I don't need to think twice about it.
Josh Allen ($7,900) vs Tampa Bay Buccaneers
Whenever I'm looking for a foundational piece for my lineup, I ignore salary at first. It comes into play eventually — after all, we are limited in what we can do — but I want to target someone who could win the week for my lineup, regardless of the resources I would have to devote to said player.
Enter Josh Allen.
Allen is, indeed, the most expensive player on the slate — not just quarterback — but it makes sense. He has a tremendously high ceiling in a perfect matchup of both timing and head-to-head strengths and weaknesses.
Allen will face off with a Tampa Bay Buccaneers defense that is impenetrable via the run game, but allows plenty of success to opposing quarterbacks through the air. Allen and the Bills hardly bother running the ball if the aerial attack is working, where the only exception is the quarterback, himself, taking off and accumulating yards on his own accord. Obviously, both of those routes lead to fantasy points for Allen.
The other oddity in Allen's favor is the aforementioned "timing." The Bills just played one of the strangest games of the season, in which they were physically unable to throw the ball well because of strong wins in Buffalo on Monday Night Football. They now shift to Tampa Bay and, after a tough loss, should be able to lean on the attack that has led to an impressive record to date — Buffalo is 6-2 when Allen throws for at least 245 yards.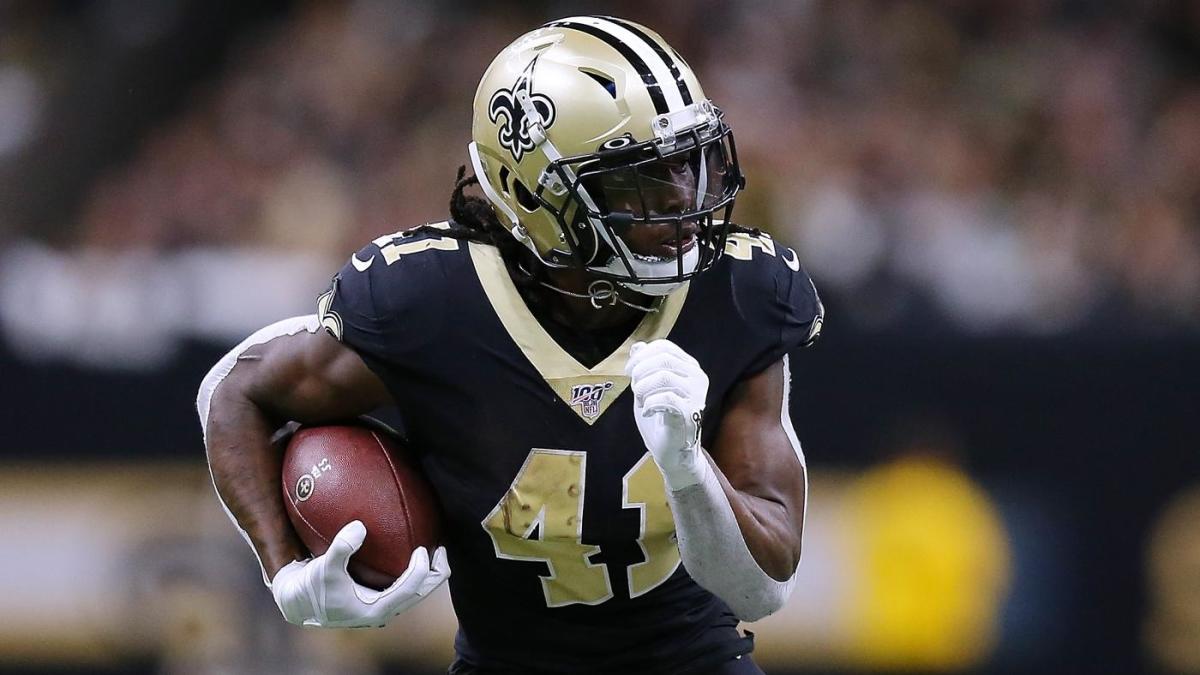 Alvin Kamara ($7,300) vs New York Jets
The potential return of Alvin Kamara to the football field will be a hot topic in the coming days, and he is likely to explode in popularity if it is announced that he will play against the New York Jets. So be it. Some players are worth the price or hype, and Kamara is both.
The New Orleans Saints are a different team without Kamara — directly, they are 5-3 when he has played this year and 0-4 in his absence. The easy expectation is that the Saints could conceivably win a road game against the 3-9 Jets even if Kamara is inactive again, but nothing can be taken for granted in the National Football League. New Orleans needs Kamara back, and we should see a push in this direction between now and kickoff.
If he plays, he carries the same upside as always, where his pass-catching abilities add a tremendous boost in OwnersBox's scoring system. I'll even go as far as slotting Mark Ingram in as a replacement for Kamara in case the starter can't go, but, Ingram's presence on this list is conditional, where Kamara gets the nod for both his own talent level and the matchup with a defense that has allowed the most rushing touchdowns in the league.
Ryan Tannehill ($6,600) vs Jacksonville Jaguars
In my prior article — in which I listed three running backs to target for Week 14 — I wrote about the Tennessee Titans and their likelihood to lean on a running game that has dismantled the Jacksonville Jaguars in the past. I stand by that. The Titans will run the ball and I expect to see them have success with that approach.
They will also throw with relative ease.
The Jaguars' defense ranks third-worst in the league in net-yards-per-pass-attempt, and Tennessee's offense badly needs a positive correction after scoring a total of 26 points over their last two games — and after decreasing its output from 34 to 28 to 23 before that. As a team, the Titans still average 25.3 points-per-game on the year.
The reality is that Tennessee is returning from its bye week and simply cannot afford to have a dud against the Jaguars. It already suffered an inexcusable division loss at the hands of the Texans and followed it up with a more acceptable, but statistically worse loss to the Patriots. The Titans will be taking an "All Hands on Deck" approach to Sunday's game, and that funnels through quarterback Ryan Tannehill. Let's also not forget that he threw six touchdowns in two games against the Jaguars last year.
OwnersBox has launched the first ever Weekly SuperFlex Salary Cap game! Use the promo code "DREW9" for a FREE $10 entry into our $15,000 Week 14 contest.