3 Running Backs For Week 14 on OwnersBox
The running back landscape has been quite bleak recently, but that may change for Week 14.  There are some high-end running backs on the verge of returning from injuries.
This actually doesn't matter for the targets in this column. If anything, the more players that are eligible to take the field on Sunday, the better the ownership percentages can be dispersed. And, if they remain inactive, the names to consider aren't likely to dominate attention.
The other trend worth noting is that none of the three running backs listed below are particularly cheap. There might be some bargains that unveil themselves as we get closer to official start of games for the weekend, but we have to pay a bit of a premium until then.
Cordarrelle Patterson ($6500) vs Carolina Panthers
There's simply no denying how important Cordarelle Patterson is to the Atlanta Falcons' offense. He was absent a few weeks ago when the Falcons took on the Patriots, and Atlanta managed a whopping zero points.
It feels like a joke. It isn't. Atlanta truly cannot function without Patterson.
As WFS players looking for a target, we should love that. We crave volume for our players, and Patterson is basically a guarantee to continue getting touches.
The real value in Patterson is that he operates as a wide receiver, just lined up in the backfield. He is second on the team in targets and has had at least five in all-but-three games in which he has played.
Patterson's usage is so high that it's not even worth considering how it might be tweaked against specific defenses. Indeed, the Carolina Panthers are allowing the second-fewest yards-per-game to opponents, but the Falcons didn't shy away from leaning on Patterson against the Patriots — which ranks third in yards-per-game. Patterson also scored 18 fantasy points on OwnersBox against Carolina when these two teams met earlier in the season.
Leonard Fournette ($6400) vs Buffalo
I just wrote about the Falcons committing to Cordarrelle Patterson and, while the Tampa Bay Buccaneers are not inept without Leonard Fournette, he has emerged as an integral piece of the league's second-best offense — in yards-per-game.
Fournette's production is a bit odd. He has received double-digit carries in each of the last four weeks, but he averaged only 12.8 attempts-per-game in that span. He also reached the 100-yard mark just once, and it was the only time he hit triple digits in rushing yards all season.
Why, then, is Fournette a running back "you need in Week 14"?
Because we aren't only using his production as the key metric. We need to recognize his incredible target share.
Fournette has had a ridiculous 28 receptions on 31 targets over the last four games, and this has turned him into a game-flow-proof asset for the Buccaneers. If they're leading in the game, he'll get the carries. If they're trailing, he'll get the targets.
Fournette is locked in for Tampa Bay, and we should do the same in our lineups on Sunday.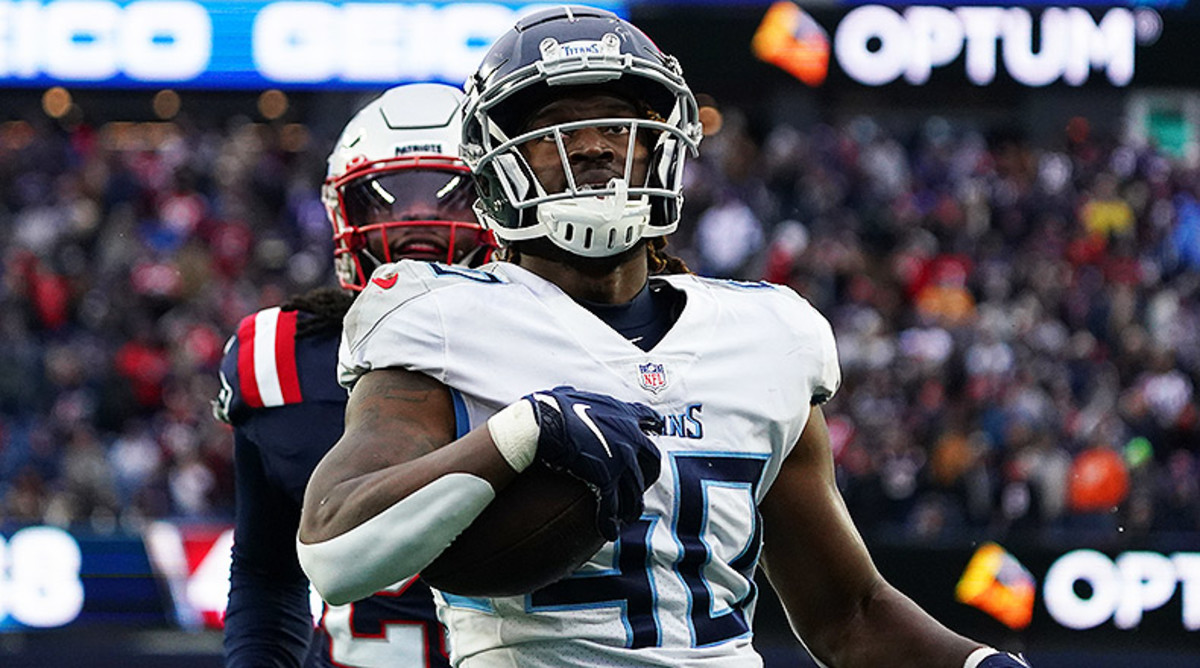 Dontrell Hilliard ($5400) vs Jacksonville Jaguars
This one may be a bit too easy, and "too easy" is never good.
Think about the last few times that the Tennessee Titans have faced the lowly Jacksonville Jaguars. Can't remember? That's fine. I'll lay it out for you:
Week 5, 2021 – 184 rushing yards
Week 14, 2020 – 249 rushing yards
Week 2, 2020 – 123 rushing yards
Week 12, 2019 – 219 rushing yards
See the trend? Obviously, the one constant in the games in which Tennessee marched all over Jacksonville was running back Derrick Henry, who won't be available for the Titans on Sunday. Regardless, Tennessee will still probably lean on the running game as it tries to find its identity following back-to-back losses in which it scored exactly 13 points in each.
But that's not the whole story.
The Titans had been playing without Henry and, at first, surviving in his absence. It eventually caught up to them, and the two losses were the outcome of the offense being exposed without its best player. Thankfully for Tennessee, the bye week hit at the perfect time, and it was able to regroup before heading into this week's divisional matchup against a two-win team.
The only downside with replacing Henry with Dontrell Hilliard — and at a far lower price than Henry would have carried — is that it's not only Hilliard in the backfield. D'Onta Foreman is still in-line to get carries, as he ran for 109 yards on 19 attempts. Hilliard carries the higher price tag with equally higher expectations, and I'd rather lean on Hilliard with the ability to pivot to Foreman later if news forces our hand to make such a move.
OwnersBox has launched the first ever Weekly SuperFlex Salary Cap game! Use the promo code "DREW9" for a FREE $10 entry into our $15,000 Week 14 contest.