3 Players to Sell Before the 2022 NFL Draft
The NFL Draft is just a week away, by the time next weekend passes by all of your dynasty fantasy football league mates will be fantasizing over rookie drafts and where the next Amon-Ra St. Brown will be. So now is the time to look at your roster and see where you might be able to capitalize on player values before any incoming rookies impact their usage.
There are a number of reasons that a player can lose value after the draft, the easy one would be a highly-skilled rookie is drafted in the early rounds with the makeup to instantly assume volume. The other could be the addition of a rookie quarterback that could start in year 1.
I don't know about you but whatever team drafts Malik Willis is going to get some in-depth evaluation from me. We've seen what Lamar Jackson has done to limit the upside of his starting running back. That could in store for whoever teams up with Willis.
Let's not waste anymore time, these are three players I'm concerned about and would actively be shopping before April 28th.
Austin Ekeler (RB – Los Angeles Chargers)
Yes, I'm talking about the same Austin Ekeler that finished as the RB2 in PPR formats last season. There is a fair bit to unpack here, so stay with me on this one, I promise it'll at least give you something to think about.
The talk of the off-season in Los Angeles, beyond improving their terrible defense, was how important it was to find an RB2 to take some of the workload from Ekeler. The 26 year-old nearly doubled the amount of carries he had from 2020 in 2021 and totaled 300 touches. He managed to play 16 games when he hadn't surpassed 10 previously in his career. All great things.
But not only was head coach Brandon Staley emphasizing this need for another running back but during last season Ekeler himself even raised concerns about his workload. He was concerned that his body wouldn't be able to keep up with the toll of the season.
The Chargers ultimately haven't made any type of addition to the running back room, I would say they actually lost more depth this off-season. Justin Jackson was clearly the teams next best back and he is now a free agent. That leaves Joshua Kelley and Larry Rountree, who have both had their chances to emerge as the second option, but have 3.0 yards per carry on 180 combined touches to show for it.
This leaves the team with a few options on the free agent market like Melvin Gordon, Philip Lindsay, or Sony Michel. But the most likely outcome is some draft capital spent on the position. It won't be some developmental piece either, likely someone with a proven pedigree at the college level like Jerome Ford or Kyren Williams.
In the grand scheme of things, I don't see 300 touches per year sustainable for any running back, but for a guy like Austin Ekeler I see it as increasingly less likely. Then there is the near doubling of his career touchdown total in 2021. I see the draft ultimately having a negative effect on his value and if you wanted to sell at an extreme high I would encourage it.
Zach Wilson (QB – New York Jets)
There has been plenty of buzz growing around the New York Jets this off-season. A lot of that buzz though has come from swing and misses from GM Joe Douglas. It seems like the Jets have reportedly been in on every big name wide receiver that became available. But as of right now it's still Elijah Moore, Corey Davis and Braxton Berrios at the top of the depth chart.
With two picks in the top-10 of the NFL Draft, many see it as a forgone conclusion that the Jets will find their next wide receiver with one of those selections. But quite frankly, I don't see a rookie wide receiver making the impact needed to turn Zach Wilson's outlook around. Even if it is one as talented as Ja'Marr Chase.
The Jets have largely the same offensive line, with the only addition being Laken Tomlinson. They had the 21st ranked pass blocking grade according to PFF and ranked 22nd in adjusted line yards per Football Outsiders.
Now you might be thinking, "Tyler look at what Joe Burrow was able to do with a great rookie wide receiver talent and poor protection!". Well let me assure you, Zach Wilson is not on the same stratosphere when it comes to working under pressure. Burrow had the highest completion percentage and yards per attempt under pressure in 2021, while Wilson ranked last and second last in those categories.
Perhaps the Jets see what I think is obvious here and make a draft investment similar to what the Chargers did in 2021 with Rayshawn Slater. Then maybe I could buy in on Wilson. But this is the time to sell him if you can, especially in SuperFlex/2QB leagues, while the optimism for him and the franchise is so high.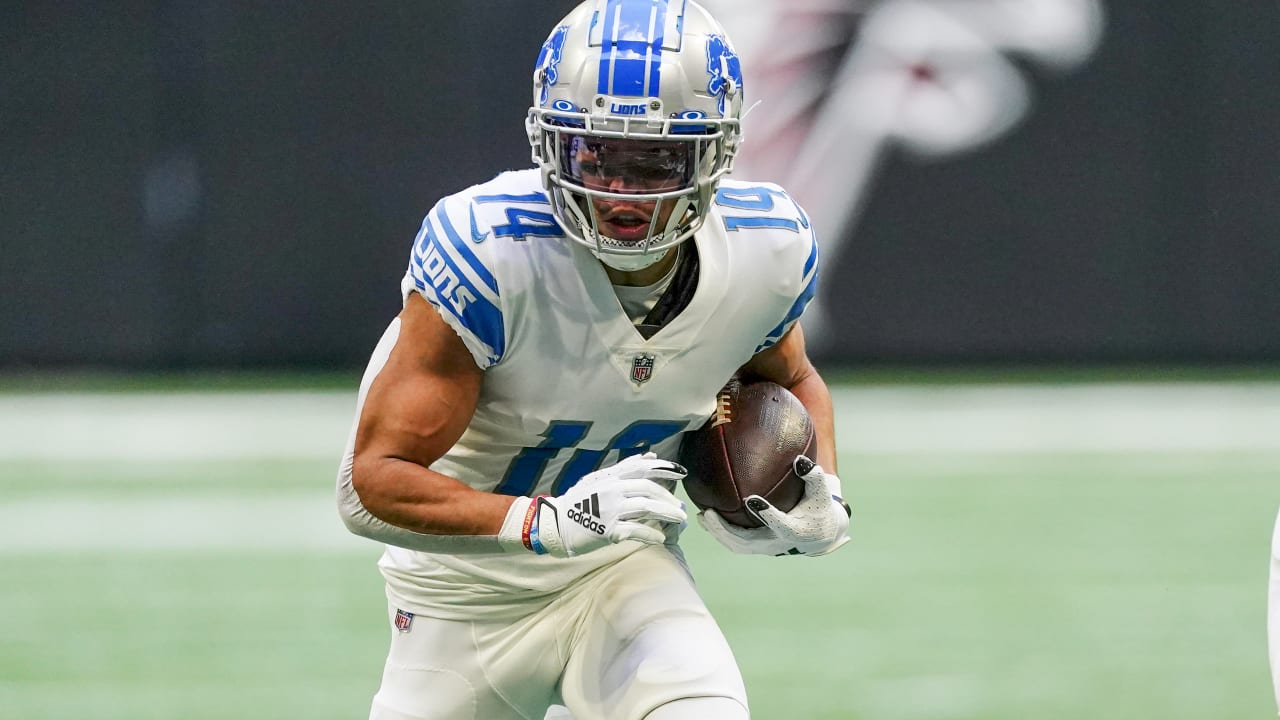 Amon-Ra St. Brown (WR – Detroit Lions)
What a finish to Amon-Ra's rookie season, for all of you that didn't see it coming, just know that I called it. If you want to see it for yourself, just check out this video. Now, as the confirmed Amon-Ra St. Brown truther it is time to take a step back and evaluate how this all came together.
There was a lot to like about the way Dan Campbell got the former USC standout the ball. But is that a product of an elite skillset or the fact that this team was missing target competition? I would say it's more the ladder then the former. This was of course early in Amon-Ra's first season but when TJ Hockenson was healthy St. Brown averaged 9.55 PPR fantasy points per game. Compared to 25.26 when he was out.
The Lions have plenty of draft capital to work with as well, the possibility of another pass catching weapon only makes matters worse for St. Brown moving forward. This wide receiver class is quite deep and the Lions have 4 selections between picks 32 and 97. I'm not sold on his skillset being able to hold off other talent that enters the wide receiver room.
Is St. Brown going to turn into a fantasy irrelevant player next season? No. But could it happen in 2023 or 2024? I think it's certainly possible. With where is capital is right now amongst dynasty fantasy football players I would sell him now before any additional pass catchers are added in the draft.
Check out our Dynasty positional rankings on our NFL page and be sure to subscribe to our YouTube channel for more fantasy football content!