Rookie Lebron vs Rookie Mobley
The NBA season is nearly over, and with less than two weeks remaining, we'll soon crown the Rookie of the Year. This is a tremendous class, and no matter who wins, it's sure to be a close vote. As it stands now, the consensus favorite is Evan Mobley, the Cavaliers' third pick in last year's draft. Mobley missed the Cavs' last game, and he's set to miss at least the next two due to an ankle sprain, but he should be back to finish out his first season.
If he wins, he'll be the third Cavaliers rookie to do so, joining LeBron James and Kyrie Irving. James had an excellent inaugural campaign, and he's gone on to become the greatest player of all time (sorry to MJ, who's number two in that discussion) in 19 seasons.
The Cavaliers are on the verge of making the playoffs without LeBron James for the first time since 1998, so it got me thinking: How does Mobley's rookie season stack up to King James' and what can we expect from the USC product in the years to come?
In no way is this article meant to prove that Mobley has had a better rookie season or that he'll go on to be one of the best players the game has ever seen. This is simply an exercise. I'll use it to showcase a pick that the Cavs hit on because they've had so many busts. I'll use it to highlight the bright future of the Cavaliers franchise, and I'll use the comparison as a benchmark for Mobley's potential. 
Raw Numbers
| Player | MPG | PTS | REB | AST | STL | BLK | FG% | FT% | 3PT% | TOV |
| --- | --- | --- | --- | --- | --- | --- | --- | --- | --- | --- |
| James | 39.5 | 20.9 | 5.5 | 5.9 | 1.6 | 0.7 | 41.7 | 75.4 | 29.0 | 3.5 |
| Mobley | 34.3 | 15.0 | 8.3 | 2.6 | 0.8 | 1.7 | 50.4 | 66.9 | 25.3 | 2.0 |
A quick look at the raw numbers shows that LeBron has the upper hand over Mobley in seven of the 10 categories measured, and realistically, James is expected to have more turnovers because of his higher usage, so we'll scratch that one. 
James became the first rookie since Michael Jordan to average 20/5/5, and he remains one of only five players in NBA history to do so (Tyreke Evans, Luka Doncic, Oscar Robertson). Mobley's 15-point, eight-rebound, 1.7-block thresholds have been equaled by many centers in NBA history, so the historical edge goes to LeBron yet again. Based on position alone, LeBron unsurprisingly had a usage rating of 28.2% in his first season compared to Mobley's 20.3%, so raw numbers don't tell the whole story.
Advanced Numbers
| Player | OFFRTG | DEFRTG | VORP | BPM | OWS | DWS | WS | PER | TS% |
| --- | --- | --- | --- | --- | --- | --- | --- | --- | --- |
| James | 99 | 104 | 2.9 | 1.7 | 2.4 | 2.6 | 5.1 | 18.1 | 48.8 |
| Mobley | 108 | 106 | 1.4 | 0.5 | 1.4 | 3.7 | 5.1 | 15.8 | 54.7 |
Before I pulled the data, I would have bet my next paycheck on LeBron leading in offensive rating and Mobley leading in defensive rating. Good thing I didn't make that bet, because just the opposite is true. While the defensive ratings are close, LeBron has the edge. Given his lack of effort on the defensive end of the floor in recent years, it's easy to forget that he was named to six All-Defensive teams in his career.
LeBron leads comfortably in Value Over Replacement Player and Box Plus Minus, but he and Mobley have the same number of win shares thanks to Mobley's huge 3.7 defensive win shares. Mobley is above average (15) in Player Efficiency Rating, but LeBron has a big edge here. Mobley's True Shooting percentage is much higher, but as a big man, he naturally takes more shots closer to the basket.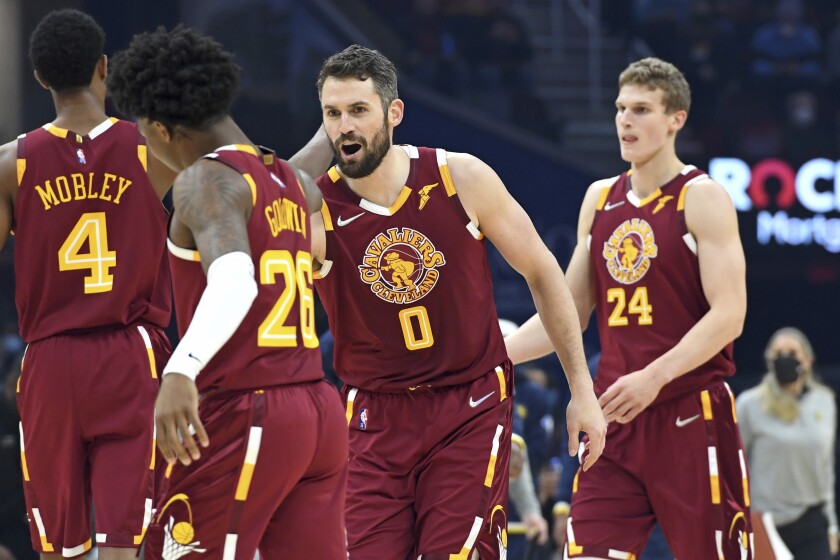 Team Performance
| Player | Record | All-Stars | OFFRTG | DEFRTG | NETRTG | Pts/Gm | Opp Pts |
| --- | --- | --- | --- | --- | --- | --- | --- |
| James | 35-47 | 4 | 22nd | 19th | 22nd | 14th | 17th |
| Mobley | 42-34 | 11 | 20th | 5th | 10th | 24th | 3rd |

The contrast here is apparent, as this year's Cavs team is playoff-bound with seven games remaining. The 03-04 squad improved its record 17 games from the season prior, while this year's team has improved by 20 games and counting. Mobley's Cavs are better on offense and much better on defense than LeBron's Cavs, but Mobley's supporting cast is much stronger.
Darius Garland and Jarrett Allen were both named All-Stars this season, but none of LeBron's teammates were. This year's Cavaliers' roster has a combined 11 All-Star selections compared to four on LeBron's team. The disparity grows when you consider that the four All-Star selections from LeBron's teammates (two from Carlos Boozer and two from Zydrunas Ilgauskas) hadn't happened yet. Four of the All-Star selections from this year's squad come from Rajon Rondo, who's barely played for Cleveland, but you get the idea. 
LeBron's best teammates were Boozer and Ilgauskas, but Mobley gets the edge with Allen, Most Improved Player candidate Darius Garland and Sixth Man of the Year candidate Kevin Love.
LeBron played 79 games as a rookie, and Cleveland went 2-1 without him. Mobley has missed nine games this season, and the Cavs are 3-6.
Fantasy Spin
I wasn't able to pull ADP from back in 2003-04, but thanks to the awesome historic data at Basketball Monster, I was able to find that LeBron ranked 47th per game using 9-cat settings (according to Basketball Monster). Given the hype surrounding The Chosen One coming out of high school, I'd have to imagine James was a mid-round pick at worst in fantasy drafts that season and the first rookie off the board.
Mobley ranks 83rd per game this season and was drafted on average around pick 100 or just a little bit later. His stock shot up after a dominant preseason, but he was still drafted on average after Cade Cunningham and Jalen Green and around the same time as Jalen Suggs. Both James and Mobley returned fantasy value as rookies, but obviously, James was three rounds more valuable.
Competition
The 03-04 draft class is widely regarded as one of the best of all time, and it's not just because of James. This draft class features superstars like Dwyane Wade, Carmelo Anthony and Chris Bosh, along with longtime role players like David West, Kendrick Perkins, Josh Howard and Chirs Kaman. 
The ROY race in 03-04 came down to LeBron and Melo, and you can see how the votes break down below: 
The results of the race are still hotly debated, as Melo had the edge in points, rebounds, shooting percentages and win shares. This year's race is not going to be a runaway either. 
Mobley faces stiff competition from the guy taken just after him, Scottie Barnes. Barnes has had some huge games down the stretch, and he's shown his versatility by playing forward, shooting guard and point guard while Toronto dealt with its litany of injuries. Cade Cunningham started slow but has built a strong case for Rookie of the Year himself. All three should receive some first-place votes, but ultimately, I think Mobley edges out Cade and Barnes for the award.
Verdict and Future Outlook
No doubt about it, Mobley has made a huge impact for the Cavaliers this season, and his work on both ends of the floor has been key in the team's success. But did he have a better rookie season than LeBron? No.
Mobley has been a key piece of Cleveland's improved offense and defense, but he hasn't been the best player on his team, unlike LeBron in his rookie season. I don't think Mobley could lead his team to victory as the No. 1 option yet, but LeBron was ready to do so from Day 1. LeBron did more with less and was expected to shoulder a heavy load and be the face of the franchise from the jump. Mobley has played his part excellently, but it's apples and oranges trying to compare the expectations set for each of these players. 
Whether he wins ROY or not, Mobley's first season is one of the best the Cavs have ever had, and it's worth highlighting just how impactful he's been. Just how good can he be? Mobley's rookie numbers stack up very closely with the aforementioned Ilgauskas, but Mobley can handle the ball and has a much wider range. He's also a solid passer with nearly three assists per game.
Mobley has the skillset on both ends of the court to be a multi-time All-Star, and he could be a 20/10 guy as soon as Year 2. The sky is the limit if he develops a consistent three-point game. His immediate impact on defense in his first season is surely just a taste of what he can bring to the NBA for years to come.
Follow our NBA page for all the latest news and advice for fantasy basketball and betting!