Everything You Need to Know For Michigan vs Georgia
College Football Playoff – Seminfinal #2

Michigan (12-1) vs Georgia (12-1) -8 | O/U 44.5

Friday December 31st @ 7:30pm EST

Hard Rock Stadium – Miami, FL
The College Football Playoff Semifinal between the Michigan Wolverines and Georgia Bulldogs is one that will buck the trend of high flying air raid offenses. These two coaches, Jim Harbaugh and Kirby Smart, like to play old school smash mouth football, where games are won in the trenches. It's something we haven't seen since 2017-18 National Champion Alabama only threw the ball on only 36.7% of plays.
Do these two teams trust what they've done so well all season? Especially when they're going against two defenses who's best trait is stopping the run. Or do they build a gameplan that veers away from their identity? There will be plenty of time for both these coaches to overthink their approach. I'll be covering all of their tendencies and what to expect in this game, including a final score prediction.
When the Michigan Offense is on The Field
The Michigan offense has been cruising on the ground this season, averaging 5.3 yards per carry. They're able to run the ball so frequently (59.8% of plays) because of an offensive line that is consistently winning at the line of scrimmage. Just 10.9% of the teams rushing attempts are stopped at or behind the line of scrimmage, ranking 3rd best in the country. Whether it's Hassan Haskins or Blake Corum there is room to run between the tackles.
Everybody is talking about defensive tackle Jordan Davis and the Bulldogs ability to create havoc in the front 4. Teams cannot run the ball on Georgia, they're giving up just 2.7 yards per carry and only 83.3 rushing yards a game. There are some important rushing categories that the Bulldogs aren't elite in defensively though. They rank outside the top-40 in stuff rate and power success rate, these are some important factors against a team that likes to run the ball on at least 2 of their 3 downs.
Stuff Rate is defined as the percentage of carries by running backs that are stopped at or before the line of scrimmage.

Power Success Rate is defined as the percentage of runs on third or fourth down, two yards or less to go, that achieved a first down or touchdown.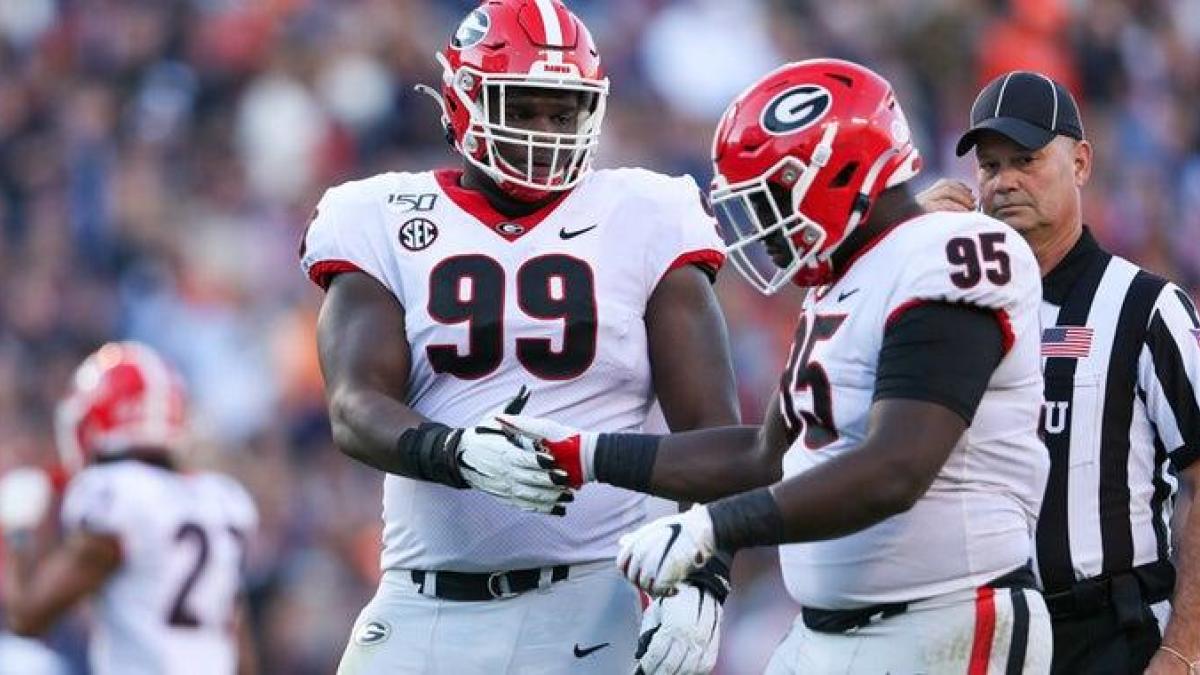 Perhaps Harbaugh sticks to their heavy rushing attack as a result of some of those metrics I mentioned. But here's the issue I see, the Wolverines tend to find themselves in a rut offensively at some point of the game. In three of their most recent four games against Penn State, Ohio State and Iowa they had a stretch of at least 3 possessions where the drive ended in either a turnover or punt. They rank outside the top-50 in busted drive rate, this is the percentage of drives that gain zero or negative yards.
The Georgia defense ranks 1st defensively in busted drive rate as well as 1st in first down rate. Meaning that 52.3% of opponent drives earn at least one first down. This Michigan offense cannot get comfortable in the middle part of this game as the Georgia offense averages 21.4 of their 38 points per game in quarters 2 and 3.
If the Wolverines do opt for putting the ball in the air a little more often, like Bryce Young and Alabama, they've proven to be successful. The protection has been fantastic, allowing a sack rate of just 2.7% (2nd in NCAA). Cade McNamara has done a great job taking care of the ball as a result. Alabama had great protection in the SEC Championship game and it allowed Young to pick apart the weakest part of the Georgia defense, the secondary. Although the Georgia defense hasn't seen a lot of the pass (just 52.3% of opponent plays are pass plays, which is 120th nationally), they've still been good against it, giving up just 5.8 yards per pass attempt.
I think it's more likely we see the regular season version of this Georgia pass defense than the one in the SEC Championship. McNamara has played his role in the offense very well and at times he's made some very high level throws, but he isn't Bryce Young. Not to mention, the Wolverines are really missing that elite wide receiver option with Ronnie Bell being lost early in the year.
When the Georgia Offense is on The Field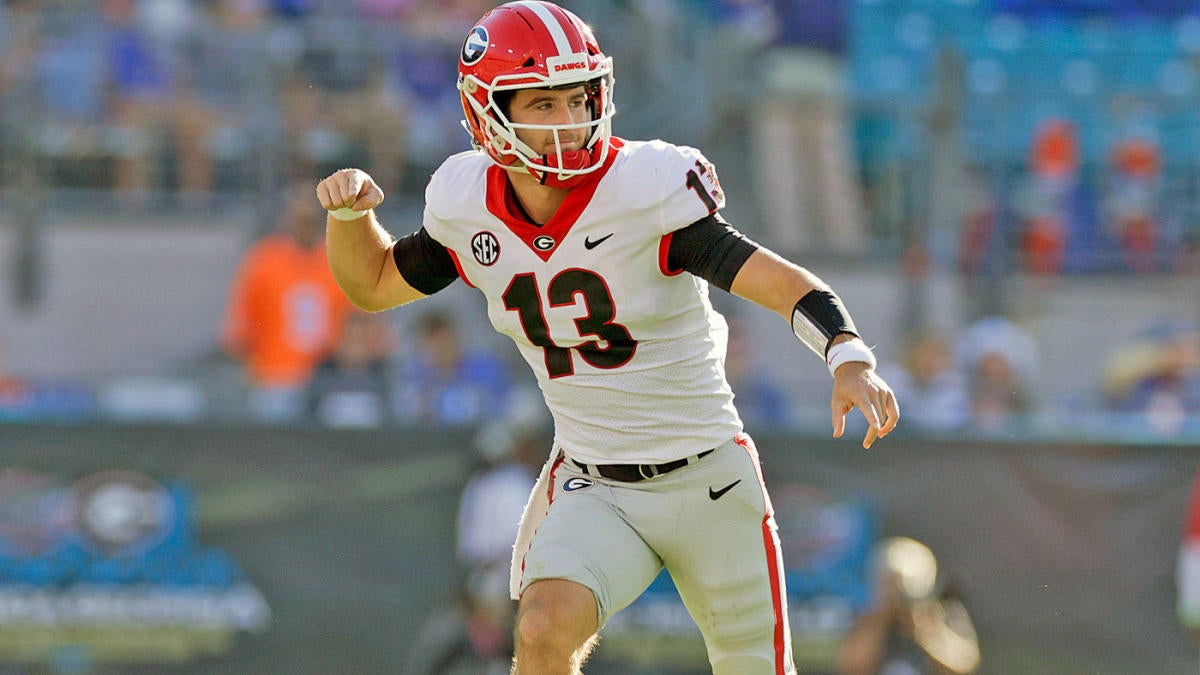 The Georgia offense has been rolling like a bowling ball all season long. The Bulldogs are averaging 6.9 yards per play and 38.0 points per game. 44% of Georgia's offensive drives have resulted in a touchdown this season. Much like Michigan, they have an excellent offensive line to play behind. When they need to throw the they've thrived in pass protection, on passing downs opponents sack rate plummets to just 1.4%. This success will be crucial going up against Aidan Hutchinson and David Ojabo on the edge for Michigan.
Walk-on quarterback Stetson Bennett has earned every bit of his starting role at Georgia. He'll need to make some progress after the SEC Championship loss, but I wouldn't put that game on him. One of his interceptions went through the hands of his wide receiver, another was tipped at the line of scrimmage, while the last was a clear mistake.
He'll be able to rely on his teams rushing attack more against Michigan than they did against Alabama. Michigan is 109th in the country in stuff rate this season. While Georgia's offensive line ranks 6th in stuff rate. Zamir White and James Cook will need to pick up yards on the second level, which they couldn't do against the Tide. If these two can break some chunk plays it will take a lot of pressure off of Bennett and he won't be pushing the ball into those tight windows he did in the SEC Championship.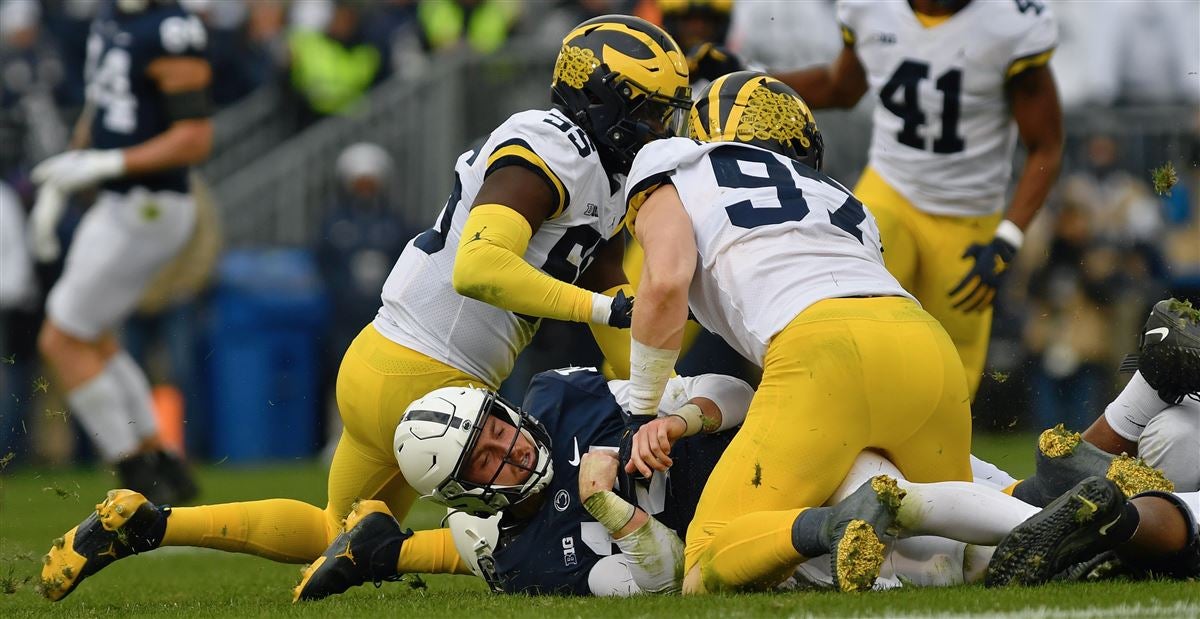 Georgia tight end Brock Bowers has been one of the best TE's in the nation this season, scoring 11 touchdowns on 47 receptions. But Stetson Bennett needs more from other options. With 3+ weeks to prepare for this game, George Pickens has the chance to reclaim his pre-ACL injury form. Which would really take this offense to the next level.
They've still been throwing the ball well this season, averaging 9.5 yards per pass attempt. The problem here is that the run game has been crucial to the effectiveness of the pass attack. If they don't have the threat of moving the ball on the ground then Hutchinson and Ojabo will be laser focused on playing along the edge.
Prediction
Georgia 24 Michigan 13
Michigan has not seen a defense anywhere near the level of Georgia's this season. What brings me the most pause is those parts of the game where the Michigan offense starts to stall. As much as Georgia got beat up in the secondary by Alabama, Michigan just doesn't have the ability to throw the ball at the same level. On the defensive side, as good as Hutchinson and Ojabo are Michigan still ranks outside the top-40 in sack rate and haven't forced a lot of turnovers this season. I see too much recency bias from fans and media and we're forgetting how good this Georgia team has been all season.
If you enjoyed the article follow us on Twitter and TikTok at @cornercfb and check out College Corner wherever you get your podcasts!