Everything You Need to Know For Alabama vs Cincinnati
College Football Playoff – Semifinal #1

Alabama (12-1) -13.5 vs Cincinnati (13-0) | O/U 58

Friday December 31st @ 3:30pm EST

AT&T Stadium – Arlington, TX
A Group of 5 team has finally broken the barrier and made the College Football Playoff. Their reward? The national juggernaut that is Nick Saban and the Alabama Crimson Tide. Alabama vs Cincinnati will be previewed like a David vs Goliath type of matchup for the next 3 weeks. But there is NFL talent on both of these sidelines.
We'll cover all the individual matchups, schemes and tendencies from either side with a prediction on the final score and who will cover this sizeable spread. Let's get into what should be a fascinating game.
When the Cincinnati Offense is on The Field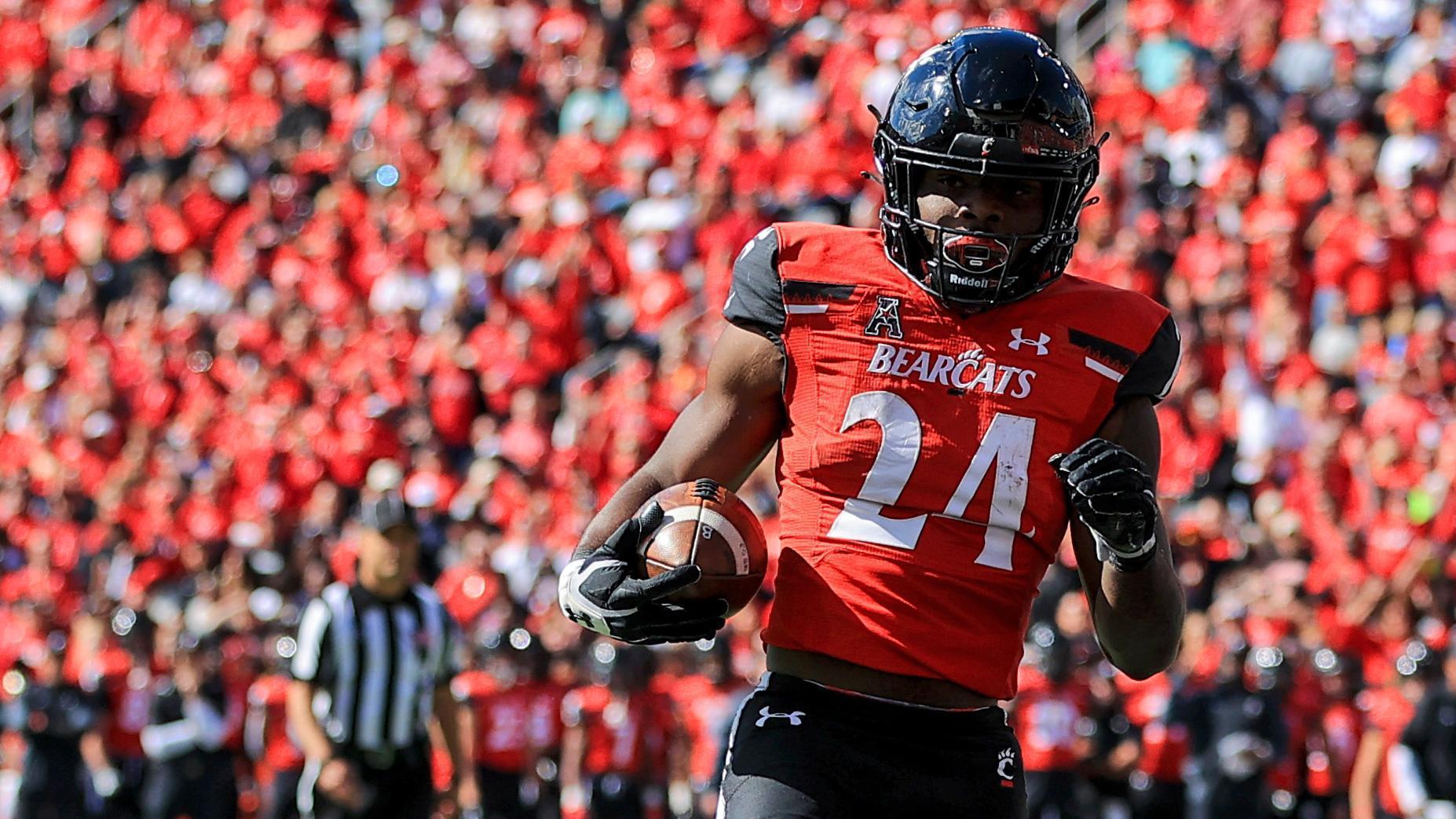 The Bearcats ran through a pretty underwhelming schedule, but that two score win over #5 Notre Dame was the difference. Some of these numbers though, need to be taken with a grain of salt as they just haven't had a lot of teams test them offensively. But regardless, the duo of quarterback Desmond Ridder and running back Jerome Ford are going to be tough to handle.
The Bearcats have been one of the most efficient teams on the ground this season, averaging 5.5 yards per carry. Their rushing attack has been very good in short yardage situations too, as they rank 7th in power success rate. This means that 83.3% of their runs on third or fourth down, two yards or less to go, achieved a first down or touchdown.
Alabama has been elite in power success rate defensively though, as opponents have just a 50% power success rate. As well, 22% of opponent rushing attempts are stopped at or behind the line of scrimmage against Alabama (10th in CFB). Linebacker Will Anderson is the man behind it, with 32.5 tackles for loss in 13 games, the best mark in the country.
With the matchup I just mentioned, a traditional rushing attack may not find success. The run-pass-option game between Ridder and Ford will be extremely important to keep Cincinnati ahead of schedule.  On passing downs the Tide's sack rate jumps to 13.1%, the 7th best mark in the nation. While the Bearcats rank 68th offensively in passing downs sack rate but a completely different unit on standard downs at just 2.8% (10th in CFB).
Passing downs are defined as 2nd and 8 or longer and 3rd/4th and 5 or longer.
I see Cincinnati having the best opportunity to move the ball through the air or on the ground with Desmond Ridder. Alabama has a veteran unit in the secondary led by Jordan Battle and Josh Jobe but this is the least talented group they've had in recent memory. The Tide rank outside the top-30 in opponent yards per pass attempt as well as passing yards allowed per game. Ridder hasn't needed use his legs much this season but he has in years past. Ridder using his legs is the best chance to keep the Alabama pass rush off balance and open up some holes for Jerome Ford.
When the Alabama Offense is on The Field
Over the last 4 weeks of the regular season, media and fans alike started to become concerned with the Alabama offensive line and their ability to protect quarterback Bryce Young. Over that time period the Tide gave up 17 sacks, 7 of which came against Auburn in the Iron Bowl. LSU, Arkansas and Auburn cooked up a ton of blitzes and played a lot of press man coverage. As good as Jameson Williams is he's like a Lamborghini, he's quick off the line and has speed that not many players can keep up with, but he's not built to deal with physicality.
Georgia took a different approach, trusting their nasty front 4 to get pressure without dialing up too many blitzes and the DBs staying off the line of scrimmage. It resulted in the Tide offensive line holding up and Young having plenty of time to throw. If you give the Alabama wide receivers time to get through the route tree they're going to get open.
To me the obvious choice for Cincinnati is to play like those LSU, Auburn and Arkansas teams did. It exposes you to giving up some big plays but it can mask the mismatch in skill set between the two teams. The Bearcats should be able to trust their secondary, opponents are completing just 53% of their passes (3rd in NCAA), averaging 5.7 yards per attempt (2nd) and allowing just 169 passing yards per game (2nd). Ahmad "Sauce" Gardner is a future first round pick at cornerback, his numbers this season are ridiculous. He's been targeted just 26 times, allowing 12 receptions for 87 yards and recording 3 interceptions.
Will Luke Fickell keep Gardner on his outside boundary or have him follow Jameson Williams around the field? With John Metchie out it seems as good an idea as any for him to shadow Bryce Young's top target. Along those same lines, Alabama will need one of their highly recruited wide receivers to step up. Slade Bolden's role in the slot will certainly become more important. But there is plenty of time between now and the semifinal for a player to emerge. I'm predicting 5-star freshman Ja'Corey Brooks as the player that emerges, he's got great size (6-foot 3-inches) but still creates separation and wins at the point of attack.
I can see the Tide turning pretty one dimensional in this game as they've struggled all year to run the football. Brian Robinson just doesn't have the physical or athletic abilities to get more than what the offensive line gives him. The Bearcats have been good against the run too, ranking 12th in opponent yards per carry.
The difference in this game is how Luke Fickell's defense plays, do they win in the front 4 and create havoc or is Bryce Young able to sit in the pocket and pick this secondary apart.
Prediction
Alabama 38 Cincinnati 17
I don't think Cincinnati can make enough plays offensively to keep up with Alabama. They will be overwhelmed by their defensive front and be forced into throwing the ball consistently. I can't trust Tyler Scott and Alec Pierce to win their individual battles enough to get open for Desmond Ridder. The offense may lose it's patience and force a few turnovers. On the other side of the ball, the Bearcats will have a gameplan to slow down Bryce Young in the first half but Jameson Williams breaks a big touchdown to open the floodgates.
If you enjoyed the article follow us on Twitter and TikTok at @cornercfb and check out College Corner wherever you get your podcasts!